It was a delight meeting with the beautiful vivacious Bari Mears, Founder and President of PACC9ll. She informed me how different her annual event Glimmer of Hope gala luncheon will be this year in spite of COVID and these crazy changing times of strict governor mandates that force her to go virtual with her elegant luncheon and auction.
Mears is a passionate animal advocate and will be celebrating 21 years since she founded PACC911 in 1999. PACC911 is a 501© (3) organization and have succeeded in every aspect of making a difference in the lives of not only the homeless, but the critically injured and abused animals. In 2019 alone, over 800 animals were rescued and rehabilitated and you will see videos celebrating some of these stories during the live auction Wednesday Oct. 7, at 6 p.m.
Mears remembers the days when PACC911 was first beginning its mission up to 60,000 animals were euthanized in Phoenix shelters, but because of aggressive spay and neuter efforts in the valley that number is now reduced to 5,000 still being euthanized. Spay and neuter is the answer and should be and is enforced by all PACC911 partners. In Mears' words; "I see so much of the dark side, but I see the angels too and I am so grateful for the lives we do save."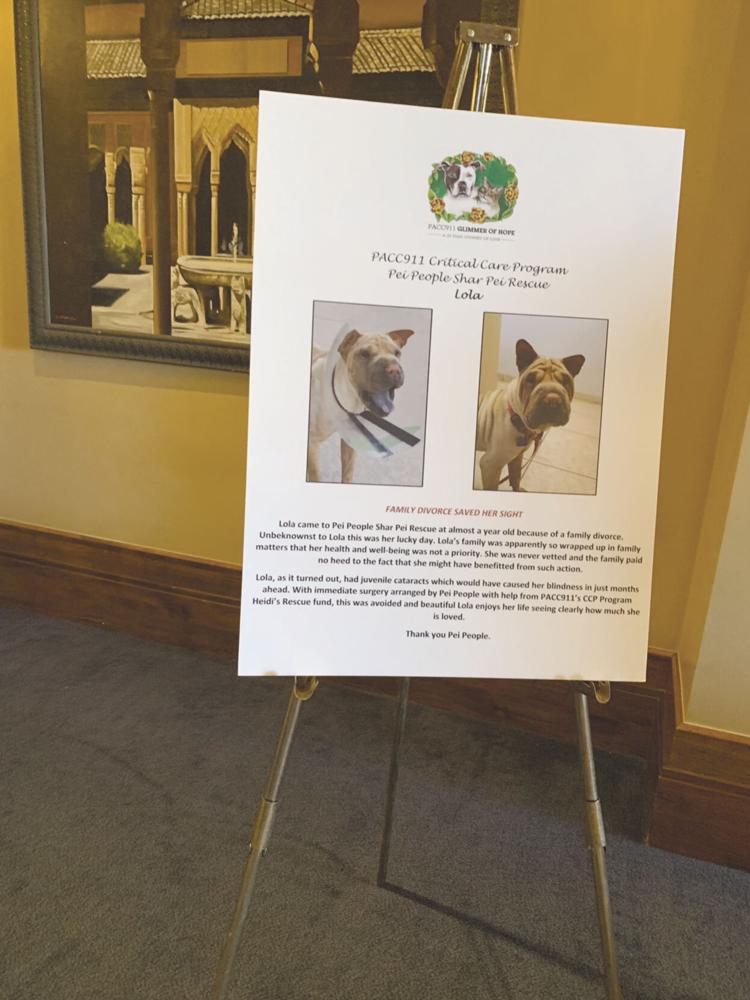 Glimmer of Hope 2020 Gala will raise funds for their Critical Care Program this year. This program provides medical help for the most at risk animals giving them a "glimmer" of hope providing them with a full life by placing them in loving homes.
The Critical Care Program is only one of the ways PACC911 benefits this tremendous need in our communities.
Mears had a vision to bring together other welfare animal organizations throughout Arizona and she has realized her vision bringing them together in over 100 partnerships including our own Humane Society of the White Mountains and Show Low Pet Allies.
PACC911 is not a rescue but an umbrella with over 100 rescues.
You can go to the website PACC911.org and find a facility closest for your needs. Every day she receives calls to rescue a kitty or dog from those who misunderstand how PACC911 operates and now with the 100-plus partners, you can dial in for help.
PACC911 and partners work together to give you specific services to care for your animal in need as you will see explained in the website. Here is a list you can read about in the website: Large Adopt-a-thons, Medical Assistance, Fund Raising, Education, Food Bank, Mercy Paws, the Critical Care Program and Heidi's Rescue. Please go to the website: PACC911.org to be better informed of these programs. You will see how you can make a difference also by volunteering at events or their store; you can donate money for programs or gently used clothing for the store; you can purchase PACC911 products; you can foster for one of the 100+ rescue partners; you can attend and support PACC911 fund raising events or share your own special services or talents.
Mears annual Glimmer of Hope Gala Luncheon is a very important event for fundraising and all funds raised are allocated to the PACC911 Critical Care Program this year. PACC911 are asking you to be a part of this important event and consider donations to save these animals and give them a second chance at life.
They are looking for any upscale merchandise, jewelry, artwork, dinners, spa services, hotels amenities, golf packages, unusual experiences, travel-anything fun and fabulous.
So many events are going virtual as this seems to be our new normal. It will have all the same glimmer and spark as always. So mark your calendar and plan to be bedazzled once again with Mears live auction and silent auction. Monday, Oct. 5 to Sunday, Oct. 11 is the silent auction with over 80 items featured. The actual show is Wednesday October 7 at 6 p.m. They will be live streaming with the celebrated auctioneer, Laticia Frye. Use the link: http://pacc911.org/glimmer-of-hope-2020.
Just to mention a couple of the fabulous items offered only in the live auction on Oct. 7 include a one of a kind piece of jewelry specially designed by Estate Jewelers, and Chef's table at Capital Grille accompanied by exceptional wine and many more. So don't forget to save this link and go on line for this exciting and worthy event and give these beautiful animals a second chance for life.