EDITOR'S NOTE: Reporters Barbara Bruce, Laura Singleton and Peter Aleshire contributed heavily to this story.
PINETOP-LAKESIDE — A Phoenix television station reported an outbreak of 41 cases of COVID-19 at the Haven of Lakeside nursing center.
Reporters for the Independent have been examining rumors that there was an outbreak at Haven of Lakeside for more than 10 days. County and state health officials have refused to speak with the Independent, and Haven management has not responded to the newspaper's inquiries and phone calls.
ABC15 in Phoenix also hit a dead-end after dead-end in its five-day long investigation and finally confirmed COVID-19 cases inside the Haven home via federal sources.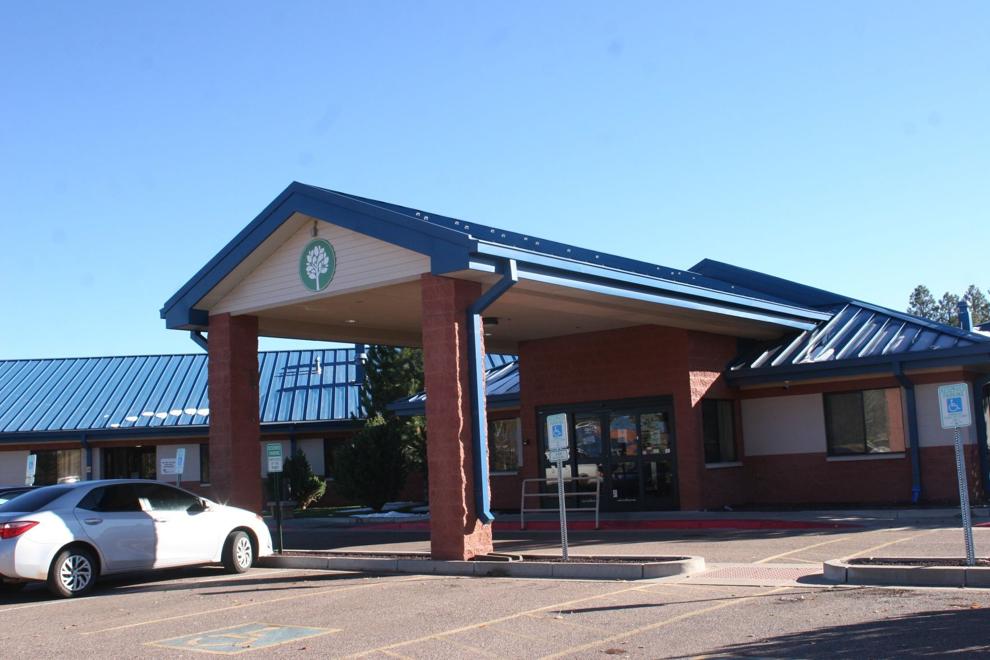 A spokesperson for Centers for Medicare and Medicaid Services told ABC15 Wednesday that Haven of Lakeside reported 41 new COVID cases in the reporting period that ended on Oct. 18.
That agency requires nursing homes to report the number of cases in their facilities to the Centers for Disease Control on a weekly basis.
ABC15 reported that Arizona Gov. Doug Ducey and state Department of Health Director Dr. Cara Christ not only did not cooperate with the station's investigation, they apparently have a history of blocking the flow in COVID-19 cases to the media.
"ABC15 and other local media went to court earlier this year to force the governor and Dr. Christ to release the information. Judge Christopher Coury ruled that while state law favored release, state law also allows the governor to keep the information under wraps," ABC15 reported.
Haven of Lakeside management members still have not commented on the suspected COVID-19 outbreak as of press time Thursday. The home has approximately 112 beds which would compute that at least one-third of all residents have already tested positive for the deadly virus.
No one knows how many Haven of Lakeside staff members have tested positive for COVID-19. It is also unknown if there are COVID-19 cases in the Haven's Show Low facility. They did not return calls to the Independent before press time.
Timber Mesa Fire District officials stated in the past 16 days they have responded 24 times for COVID-related calls at Haven of Lakeside.
In an unrelated incident, a female employee at KNNB Apache Radio in Whiteriver tested positive for COVID-19 on Wednesday.
KNNB Board of Directors President Jerry Gloshay Jr. issued an immediate and temporary closure of the station on Monday.
In a memo to the members of the Governing Body, Emergency Operations Center and all tribal employees, Gloshay stated that a mandatory self-quarantine had gone into effect for the remaining staff.
Gloshay said the employee who contracted the virus might have had it late last week and some of the other staff have been with her.
Gloshay said he was on air with the employee last Wednesday night. He said the lady before him had cleaned the area really well and he did not know the employee had the virus.
"I did the order that we go immediately into automation," said Gloshay. "All have been tested, but we will not know until Wednesday or Thursday morning.
On Wednesday, Gloshay told the Independent he had not heard anything on test results as of yet but was planning to call to check the results on Thursday.
As of press time Thursday, the results were unavailable.
As COVID-19 cases inch upward, Navajo County health officials have renewed their call for people to stay home if they feel ill and wear masks in public when they do venture out.
"We continue to see a rise in cases and our partner healthcare facilities are starting to see an increase for both flu and COVID," said Navajo County Health Director Jeff Lee at this week's Board of Supervisors meeting.
"Overall in Navajo County, we've done a good job of following the CDC recommendations, but we've let our guard down a little and now we have to do better," said Lee.
Statewide, COVID-19 cases have increased by 46% in the past two weeks and hospitalizations have increased by 21%, according to national databases. Deaths have actually decreased by 13% in that period. That's partly because death rates generally lag a month behind infection rates. Improved treatments in hospitals, however, have also cut the death rate for the most seriously ill.
In Navajo County, the case count has surpassed 6,400. In the past week, the more than 200 new cases represent an infection rate of 212 per 100,000. There were 70 new cases reported by the state the morning of Oct. 29.
In Apache County, the total number of infections has passed 3,900. In the past week, the more than 100 new cases represent an infection rate of 235 per 100,000.
The Arizona Department of Health Services (AzDHS) reported 44 new cases in Apache County between Tuesday and Wednesday. Cases went from 3,890 to 3,934 overnight. It is unclear how many of the new cases are on "off-tribal" lands.
In Navajo County, 33 new cases were reported between Tuesday and Wednesday. Cases went from 6,307 to 6,340 overnight. 19 of the 33 cases are "off-tribal" lands.
It's unclear if the daily increases represent a true 24-hour spike in cases or a lag in reporting. Either way, the upward trend in cases is present in Apache and Navajo counties.
In fact, both Navajo and Apache counties have infection rates well above the state average of 82.32 per 100,000. Navajo County and Apache County infection rates are both more than double the state average at 212 per 100,000 and 235 per 100,000, respectively. Both counties appear to be taking up the lead, again, as hot spots in the state.
Counties that have infection rates above the state average, but still less than Navajo and Apache county infection rates include Yuma County at 153 per 100,000, Gila County at 126 per 100,000 and Santa Cruz at 122 per 100,000.
Both Navajo and Apache counties are wobbling when it comes to meeting the state's benchmarks for school openings, which include infection rates, the percentage of positive tests and hospital visits.
Navajo County remains below the threshold in all three categories but has been drifting upward according to the state Department of Health Services website. However, those posted figures date back to the week ending Oct. 4. The odds are the county has since broken the barrier for even a "moderate" spread.
Apache County is doing even worse. As of Oct. 4, the county no longer met the infection rate threshold for even hybrid school reopening, based on "moderate" spread of the virus in the community. Health Services showed the county also poised to cross into the "widespread" category for the percentage of positive tests. The hospitalization numbers remained below the threshold for minimal spread, at least based on the week ending Oct. 4.
In Navajo County, several schools have reported cases, with substantial exposures of children on campus. The St. Johns School District has had positive cases that exposed 100 students and staff to the virus and is weighing whether to shut down at least for a time next week.
County health workers have been finding an increasing number of workplace clusters.
"We are linking many cases back to a situation in which someone went to work when they didn't feel well and it ended up being COVID — and they spread COVID throughout that workplace," said Lee.
So stay home if you don't feel right — and make sure to wear a mask when you can't socially distance in public.
"We need to socially distance not only in public but at work," said Lee. "We're finding more and more situations where people are not following those guidelines as closely as they have in the past."
People seem increasingly reluctant to help health officials by identifying all their close contacts, which remains crucial to containing outbreaks and growing clusters of cases.
"We're starting to experience more and more situations where we have confirmed, positive cases that aren't willing to share the information we need to break the chain of transmission," said Lee.
The precautions can slow the spread of the virus until a vaccine is approved and distributed.
Lee noted that the county meets with doctors and hospitals several times each week to work out the plans to vaccinate as many people as possible once the vaccine is cleared for public use in the U.S. He hopes that will come before the end of this year, but if issues arise in the Phase 3 clinical trials for several vaccines, the vaccine may not become available until next spring.
"We're working very closely with our state and local partners to make sure that when the vaccine is available, we have our process in place so we can deploy the vaccine to our communities," said Lee. "The timing of the vaccine is unknown right now. There is a possibility it will be available by the end of the calendar year — and that's what we're planning for. But that's based on the successful vaccine trials continuing. If there are any hiccups, it will push the date back further."
About half a dozen vaccines are currently in the midst of Phase 3 clinical trials, testing both whether the vaccine can prevent or soften an infection and whether the shots might cause rare adverse reactions that would only show up in trials with 20,000 or 50,000 people. Several vaccine trials have been paused, then mostly restarted, after someone in the trial developed possible side effects. It is common to stop and start such trials to investigate such cases. Often, the problem proves completely unrelated to the vaccine.
Historically, it takes five to 10 years to develop a safe, effective vaccine against a virus. For instance, researchers still haven't developed a vaccine that will prevent infection with the AIDS virus. The billions of dollars invested in the search for a COVID vaccine could well produce results in just a year from the onset of the pandemic, however.
Russia has already started distributing a vaccine without completing Phase 3 trials. China is reportedly closer to approving a vaccine than the U.S.
Lee noted that hospitalizations have begun a worrisome rise once again and doctors, nurses and other healthcare professionals continue to struggle with a shortage of gloves.
Statewide as of Oct. 22 some 83% of the state's adult intensive care beds were in use, but COVID-19 patients accounted for only 11% of the hospitalizations. The situation has improved since mid-July, when 92% of the intensive care beds were in use, with COVID-19 patients accounting for 57%. Still, the total number of beds occupied and the share of COVID-19 patients has been inching upward steadily since late September.
Fortunately, Lee said the county has enough test kits on hand that anyone who wants a COVID-19 test can get one. He said doctors, hospitals and clinics are also working to obtain new tests that can yield a result in 15 minutes. The tests aren't as accurate as the nose-swab test. But they're better for rapid screening in places like schools and in trying to pinpoint clusters, since it can take two days to a week to get results for the swab tests from a laboratory.
National studies and epidemiological models suggest the U.S. tests a much lower share of its population than countries that have gotten the pandemic under control.
Throughout most of the pandemic, the U.S. has focused on testing people with symptoms while people without symptoms or a documented exposure to a positive case have more trouble getting tested. Studies suggest widespread, rapid testing remains one of the keys to preventing the development of clusters of cases that seems to be driving the pandemic.
One study found that the pandemic has been driven by "super spreader" events, perhaps because 30% of those infected never develop symptoms and never realize they're spreading it.
The virus seems to spread mostly through the air during close contact especially when people are crowded, talking loudly and not wearing masks.