SHOW LOW – A two-engine airplane on a very special Angel Flight West mission landed at the Show Low Airport Thursday afternoon, May 14, loaded with PPE to help the White Mountain Apache Tribe.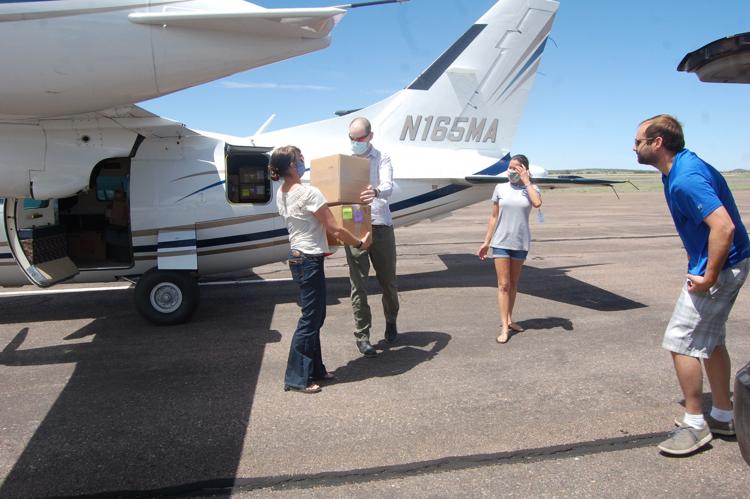 The mission was put together and arranged by the organization, With Love, from Strangers, which was founded by Pediatric Dr. Christina Thuet who is also the director of the organization.
Her husband, Dr. Wiley Thuet, is deeply involved with providing healthcare to the Navajo Nation.
He is at this time working both the Navajo and Hopi reservations to help with the COVID-19 outbreak.
With Love, From Strangers, is based in Salt Lake City, Utah near the South Valley Airport where pilot Matt Perkins picked up the medical cargo.
Perkins said he was eating breakfast at a small airport in the valley when he got the call that he was needed for the flight.
"I was almost finished with my breakfast, so I said sure," Perkins said adding that it was a no-brainer for him because after all, it was AFW asking for his help.
The Mitsubishi MU-2, flown by Perkins, landed at the airport a little after 1 p.m. on the second legs of the mission to deliver the PPE to the White Mountain Apache Tribe reservation. Whiteriver is one of the outlying locations, in addition to the Navajo Nation reservation, most in need of surgical caps, physician gowns and other essential supplies for healthcare workers on the front lines.
From Show Low, Perkins and his Mission Assistant, Jay Shepherd, would make their way back to the valley to be there Friday, May 15 to prepare for a weekend of relaxation.
But keep in mind that Perkins is one of the AFW volunteer pilots who could be called on at any time to take a mission to some part of the west.
But, said Perkins, he kind of likes it that way.
Shepherd has been doing this for AFW for about 7 years and Perkins has been doing it for about 10 years.
Hospitals that AFW pilots have flown supplies to include the Tuba City Regional Health Care Corporation, the Navajo Northern Medical Center, Gallup Indian Medical Center, Crownpoint Health Care Facility, Tsehootsooi Medical Center, Chinle Comprehensive Health Care Facility and the Hopi Health Care Center.
Paula Inhelder is the local representative for Angel Flight West and the person who tipped off The Independent that the flight was coming into Show Low with PPE designated for Whiteriver.
She and Missa Foy were at the airport when Perkins landed to help unload the boxes of PPE into Foy's mini van for transport to the reservation where it will be dispersed as needed.
Foy is a Vice President of the local Democratic Party Executive Board and is also a volunteer as much as she can with AFW.
AFW mostly provides air transportation to non-emergency patients for needed procedures at no cost to the patient whatsoever.
But their volunteer pilots with their privately owned airplanes have been used a lot lately to ferry needed medical supplies to the Navajo Nation because that part of the state has been so hard hit by the virus.
Since AFW operates on donations, Inhelder and Foy both said it has been a big help that so many people have donated different things like sheets to make hospital gowns and masks to help staff at the hospitals mentioned earlier in this story.
"People have just been coming out of the woodwork to help," Inhelder said.
Perkins said he too has been pleased by how much people have stepped up to help.
He started with AFW doing the annual Santa Flights and progressed to medical flights.
He became a pilot right out of high school in 2007 and has been one ever since.
Shepherd said they have done at least 30 trips like the one on May 15 during the COVID-19 outbreak.
For more information about the organization, visit withlovefromstrangers.org or follow them on Facebook.