APACHE COUNTY – With COVID-19 causing school closures across the state, many parents in southern Apache county have wondered what this might mean for their children, particularly graduating seniors.
St. Johns Unified School District
"We're still a little early with all of the decisions being made," Ed Burgoyne, Superintendent of the St. Johns Unified School District said. "But the general trend has been to not harm schools and not harm students, to hold them harmless as a result of this. As far as Aims testing and AzMERIT testing, at this point, most likely, the kids won't even take them this year."
Schools are generally assigned their grades from the state based on many factors, but proficiency on the AzMERIT test is a vital component. The AzMERIT test was adopted by Arizona in 2014, and it tests grades 3 through 12 on proficiency in English language and mathematics in every school. Without this vital part of the letter grade measurement, school gradings will not be altered for this year.
"We're in the process of setting things up and getting things going [online], and that's the way things are now," Burgoyne said. Students without access to computers at home have been offered the ability to check out their Chromebooks from the schools when they come to pick up the free lunch at St. Johns Middle School. For the past few days, students have been able to log-in, play educational games and study online, and chat with fellow students in their classes. Currently, for students in elementary and middle school, any work done online and at home will count as extra credit and not for a grade.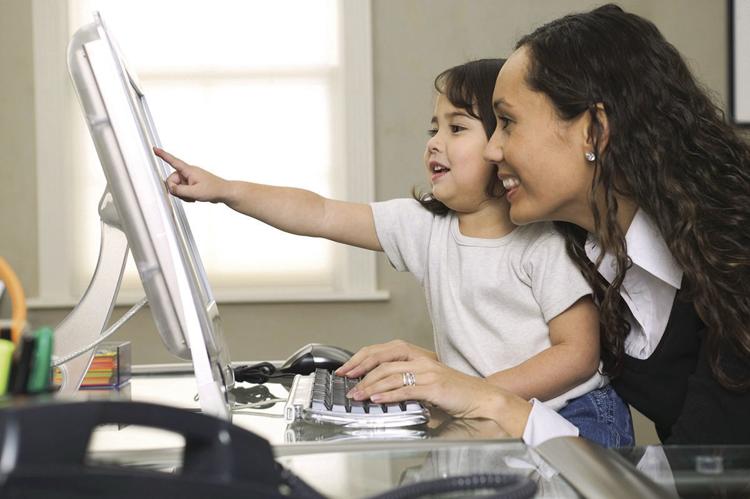 When asked how the online work might be counted in the event that the school closure is continued through the end of the year, Burgoyne said: "If we're going to be an online school for our students, and we go into the end of the school year, that policy will change. It won't be just an extra credit that you won't have to worry about. There will actually have to be some expectations from students if we're going to go long-term for the rest of the school year."
Graduations have not been cancelled yet as schools wait to be notified on any closure extensions. In an email, the Superintendent admitted that he expected the school closures would likely continue, however.
"We really don't know what is going to happen," Burgoyne said. "We just have to kind of plod along as things unfold and make decisions based on the information at the current time."
Round Valley School District
Travis Udall, the Superintendent of the Round Valley Unified School District, has been working diligently with his staff to plan for an unknown future. "We're just in discussion stages, analyzing different scenarios," Udall said. "We haven't finalized anything at all. We're hoping to do that in the next two weeks."
The school district has been trying to do as much online as possible, handing out Chromebooks to students in need and providing wi-fi in the parking lots of every school. Unfortunately, the infrastructure and services for internet in the Round Valley area can be poor at times, especially given the heavy load of sudden internet users all trying to log in at the same time. The new high-speed fiber line run to the area schools cannot currently be utilized for the wireless internet needed by students outside.
To that end, the school district has ordered mobile hotspots which use cellular signal to assist with the need for wi-fi. "We were able to locate some, but have not received them yet," Udall said of the mobile hotspot units. "They don't have enough [of them]."
"The ACT has been cancelled and moved back, so we are trying to figure that out as well," Udall said. "And the regular AzMERIT testing has been cancelled. There's not a whole lot going on there. We are worried about the juniors who did not get to take the ACT."
The American College Testing Test, or ACT test, is used as an indicator of "college readiness" and it is usually given to high school juniors during their Spring semester.
"We're trying to set up something so that ACT might let them take the test at the beginning of next year," Udall said.
But in the meantime, high schoolers would do well to continue their online studies during the closure, especially if it continues through the rest of the school year.
"It will count towards moving to the next grade," Udall said of the online schoolwork. "They do need to participate and turn this stuff in."