NAVAJO COUNTY — Navajo County Health Director Jeff Lee this week implored people to stay home if they feel sick, avoid crowds and wear masks in public.
He said Navajo County had 1,800 new cases in June — roughly equal to the number of cases confirmed in March, April and May.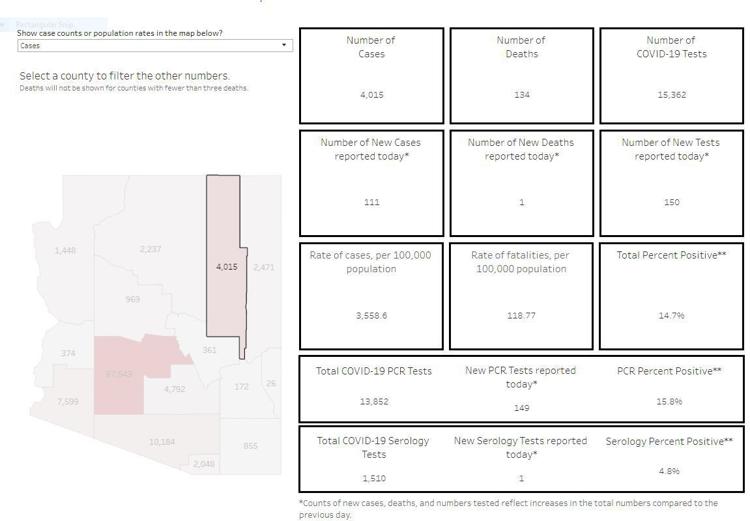 The county has so far confirmed more than 4,000 cases. Studies suggest only about 10% of people infected ever get tested and 30 to 40% of people will never have noticeable symptoms, although they can still spread the virus.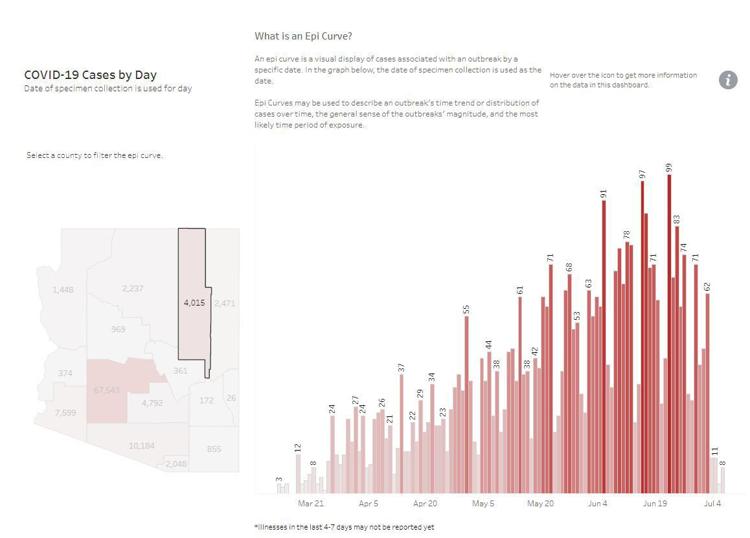 "I don't have any positive news to report," said Jeff Lee at Tuesdays' Navajo County Board of Supervisors meeting. "Our numbers continue to rise. We are trending in the wrong direction. As of this morning, the state reported 117 new deaths. We have to treat this virus like it is everywhere we go. The virus is in every one of our neighborhoods, our back yards, our streets — unfortunately, our behaviors are just helping to spread the virus. We all need to really do our part to slow the spread. There isn't currently a way to prevent it or stop it completely, but we have tools we can use in our daily lives to reduce the risk and slow the spread."
He urged residents to stay home if they feel sick — or even a little off.
"Many of our cases have linked back to a workplace exposure. Please, if you feel sick – contact your employer and stay home," he said.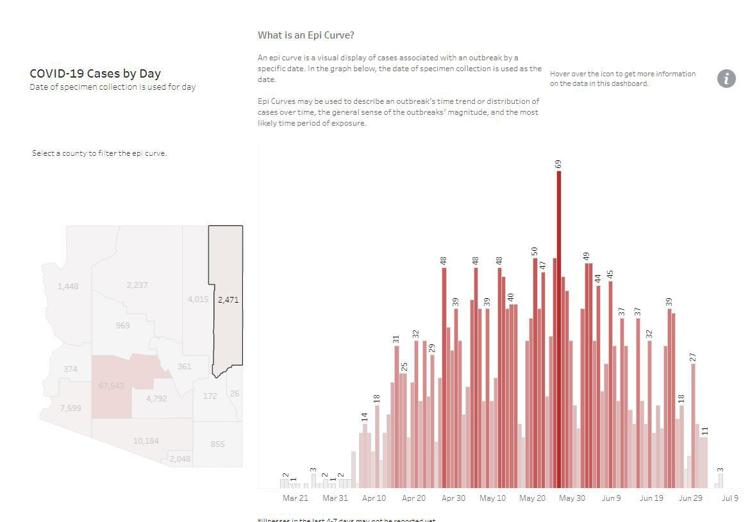 He also urged people to wear masks in public in any setting they can't guarantee keeping at least six feet away from other people.
"It prevents us from passing it on to others who might have a pretty severe reaction. Let's do this for each other. Let's add these recommendations into our daily lives and do our part to slow the spread," said Lee.
The number of confirmed infections has exploded since Arizona Doug Ducey lifted the stay-at-home order on May 15.
Statewide, the number of confirmed cases has risen from about 500 per day to about 4,500 per day — an eightfold increase. The number of tests done has doubled — from about 10,000 to 20,000, do increased testing accounts for only a portion of the rise in new cases.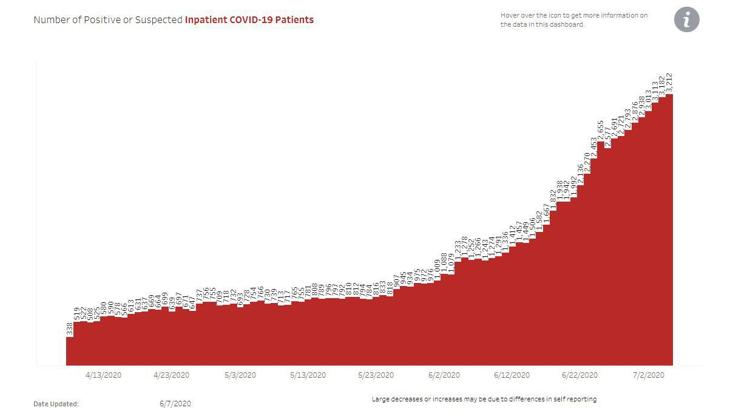 The number of people in the hospital with COVID-19 symptoms has risen from about 800 to about 3,400 — a four-fold increase.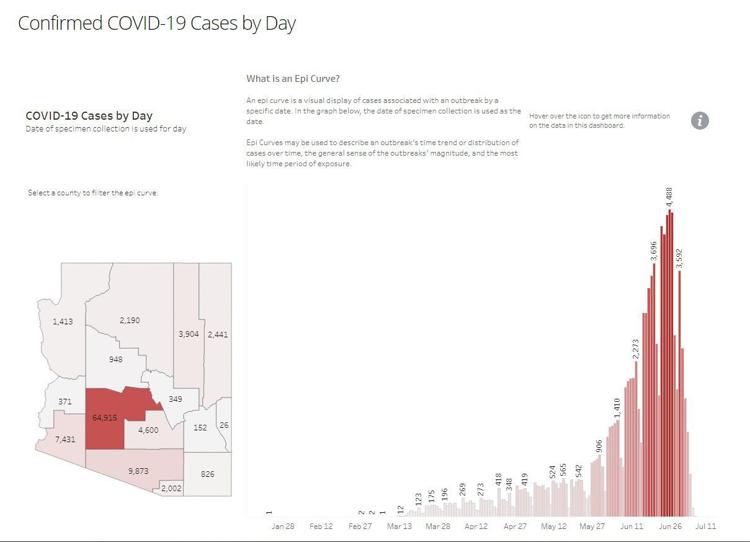 Fortunately, deaths have only risen from about 15 or 20 per day to about 30 or 40 per day in the past week or two. This could reflect the month-long lag between when someone gets infected and when they get sick enough to die. It could reflect the much faster infection rate among younger people, who are less likely to die. It could also mean we're in for a surge of deaths in mid to late July. As a worrisome portent, on Tuesday the state reported 117 new deaths – about three times the previous one-day record. Those deaths may not have all occurred on the same day, since there's a lag in reporting deaths on the state health department website.
In Navajo County, the number of confirmed cases has risen from about 45 per day when the governor lifted the stay-at-home order to about 100 per day – bringing the three-month total to about 4,000. The number of tests per day has actually declined in Navajo County – from about 500 per day to about 150 per day. The 50 percent decline in daily tests stands in stark contrast to the state, where the number of tests done daily has roughly doubled.
In Apache County, the daily case average has actually declined, from about 50 per day to about 40, although testing has roughly doubled – rising from about 100 per day to about 200 per day.
Another worrisome sign — the percentage of tests coming back positive continues to rise — suggesting we're still not doing enough tests to have a grip on how widespread the virus has become. Statewide, 13% of the tests are coming back positive — about twice the percentage as during the stay-at-home order. In Navajo County, 15% of the swab tests to detect an active infection are positive and in Apache County about 12%.
Navajo County has an infection rate of 3,559 per 100,000 and a death rate of 119 per 100,000 – one of the highest in the country. Apache County has an infection rate of 3,441 per 100,000 and a death rate of 138 per 100,000 – the worst rates in the state.
Statewide, Arizona has 1,443 deaths and 26 deaths per 100,000.
The Navajo County supervisors bombarded the health director with questions, many centered on the shift on the advice of the experts since the onset of the pandemic in February.
"I try to tell my constituents to wear face masks" when out in public in places they can't be sure of remaining at least six feet away from other people, said Supervisor Lee Jack, Sr. whose district includes the hard-hit Navajo Reservation. "But I guess what I don't understand is that way back in February when this all started, there was talk that when it warms up, things will probably slow down. But it seems like just the opposite."
Jeff Lee said that health experts hoped the COVID-19 virus would mimic the flu virus, which flares in the winter and subsides in the winter. Unfortunately, the virus has not slowed down at all as the summer set in. Now, the experts expect COVID-19 will still be widespread in the winter, when the return of the flu will compound the problem.
"One of the difficult things about this virus is we're learning as we go," said Jeff Lee. "We don't have years of research like we do with other virus. So things have changed and a lot will continue to change based on the research and data we get."
Supervisor Jason Whiting asked a series of questions about masks and the increasingly urgent recommendation that people wear masks anytime they're out in public.
"What I see happening is that the public's demanding answers that just aren't there," said Whiting. "Those who are the 'experts' are trying to provide data, but they're always prefacing that by saying, 'we don't know what this is going to do.' Early on, they talked about masks not being the best solution. But it sounds like that's changing today. Do you mind explaining that?"
The U.S. Surgeon General in February said people did not need to wear masks to protect themselves, which was later explained as an effort to prevent a run on surgical masks already in short supply for doctors and nurses. Since April 3, the federal Centers for Disease Control has recommended wearing masks in public whenever you're unable to maintain social distancing.
The recommendation has grown increasingly emphatic as research has shown 30 to 40% of infected people never develop symptoms, but can still spread the virus. Other studies suggest even people who later develop symptoms may be most infectious several days before symptoms develop. Research shows the virus mostly spreads in large droplets produced when someone coughs, sneezes, shouts, sings or talks loudly. However, the virus can also spread easily in microscopic droplets produced by simply breathing. Most of the large droplets drift to the ground within six feet, but the smaller droplets can easily travel 30 feet and linger on the air for hours. On the other hand, researchers have found relatively few cases in which the virus was transmitted by touching an infected surface.
All those discoveries have convinced doctors that both social distancing and the use of masks in public represent the two best way reduce the spread of the virus, said Lee.
"This virus is different from any other virus that we've dealt with in recent history," said Jeff Lee. "As we learned more, we learned that the virus really likes the closed, close-contact setting. We see that it thrives in that scenario — so adding another barrier in the form of a mask helps slow the spread. It doesn't fix it. But it adds another barrier."
Whiting said he's heard mask wearing must become widespread before it significantly slows the spread of the virus. If one person in a room with 10 people wears a mask, it doesn't have a big impact on the odds everyone will get infected. But if eight of those people wear a mask, at dramatically slows the spread.
"That's right," said Jeff Lee. "By wearing a mask, you are protecting others. In a group, masks are only effective if the vast majority are wearing those masks and keeping their droplets to themselves. The number of asymptomatic people testing positive without even knowing they're sick is rising. So waiting until you're sick to put on a mask is ineffective."
Supervisor Whiting appealed to people to stop making mask-wearing a political issue. "The mask is something that's so controversial. To me, that's a little sad that we care that much about whether we wear a mask. I understand government overreach is sometimes concerning, but we've got to be better citizens and slow this thing down. I'm hearing physicians talking about running out of bed space, talking about having to make decisions about who gets health care and who doesn't That's not good."
Supervisor Dawnafe Whitesinger, whose district includes the White Mountain Apache Reservation, took advantage of the session to thank the public for an outpouring of support and donations after a COVID-19 cluster developed on the reservation.
"I'm overwhelmed with gratitude for the abundance of people who have donated. When one part of our community is hurting, it seems that other communities are willing to help each other out. I'm so grateful to be able to witness that," Whitesinger said.
Supervisor Jesse Thompson thanks the frontline workers, especially doctors and nurses.
"They're out there ever week trying to prevent the spread of this very, very, very weird virus. I know they can't predict how it's all going to work and where it's all going to go, all we can do is try our best and hope it goes away one of these days," he said.