WINDOW ROCK, Ariz. — On Tuesday, June 22, Navajo Nation President Jonathan Nez and Vice President Myron Lizer issued a proclamation that called for all flags on the Navajo Nation to be flown at half-staff from June 24 through June 25. This motion is in honor and memory of Navajo Police Officer Michael Lee, who passed away due to COVID-19 on June 19.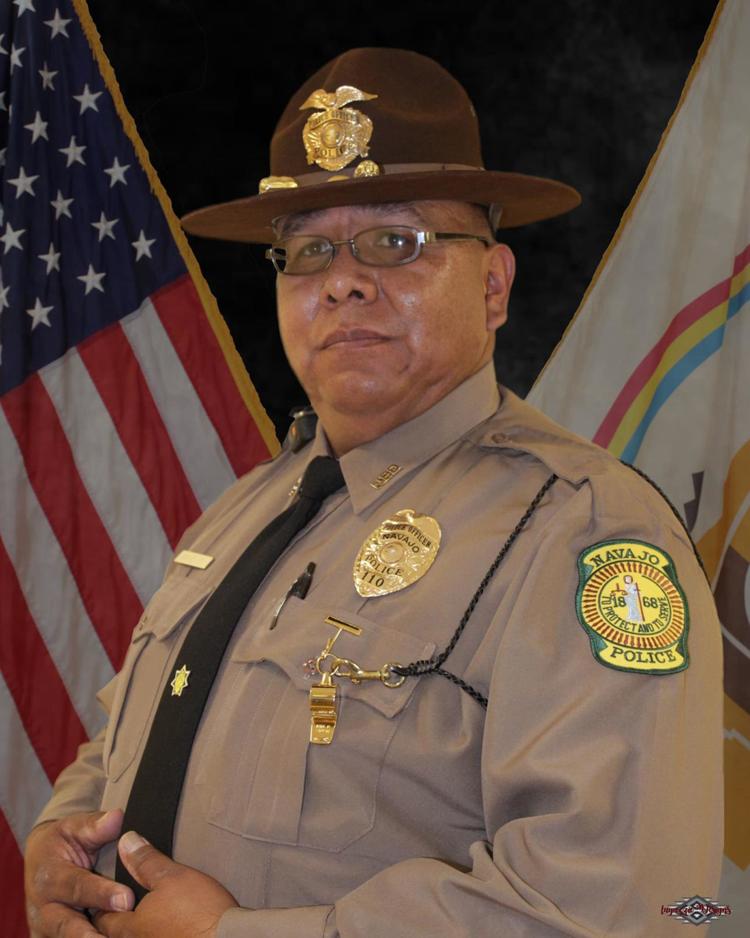 Officer Lee was the first law enforcement death as a result of COVID-19, according to the Navajo Nation's social media page.
"As we lower all flags to honor the life of Officer Lee, let's also take time to pray for strength and comfort for his family, fellow officers, and many others who had the honor of knowing him," wrote President Nez on the Tribe's social media page. "We will never know how many lives he saved during his 29 years of law enforcement service for the Navajo Nation, but we know that he gave his own life serving and protecting our communities. We will always cherish him and all that he gave of himself to serve others."
Officer Lee began his law enforcement career for the Navajo Police Department in October 1990, also, according to a press release issued by the Tribe. Officer Lee was a patrol officer, a Sex Offender Registration and Notification Act (SORNA) officer, and a supporter of the department's information technology component. During his first seven years with the police department, he served within the Window Rock District and dedicated his remaining years to the Chinle District said the release.
"We thank God for the life of Officer Lee," said Navajo Nation Vice President Lizer. "By all accounts, he was a compassionate and giving person who cared greatly for his people and communities. He impacted many lives and saved many as well. We offer prayers for his wife and children and we honor him with the lowering of flags on the Navajo Nation."
The funeral procession and service for Navajo Police Officer Michael Lee was held on Thursday, June 25, 2020 at the Potter's House Christian Center in Chinle, Ariz.
Lee's death brings to light the grim reality of the Navajo Nation's struggle to control the spread of COVID-19 on its vast lands. As of Thursday, June 25, there were over 7,100 cases of the virus on the Navajo Nation which includes Arizona, New Mexico and Utah. In Arizona alone, the reservation includes areas in both Apache and Navajo Counties.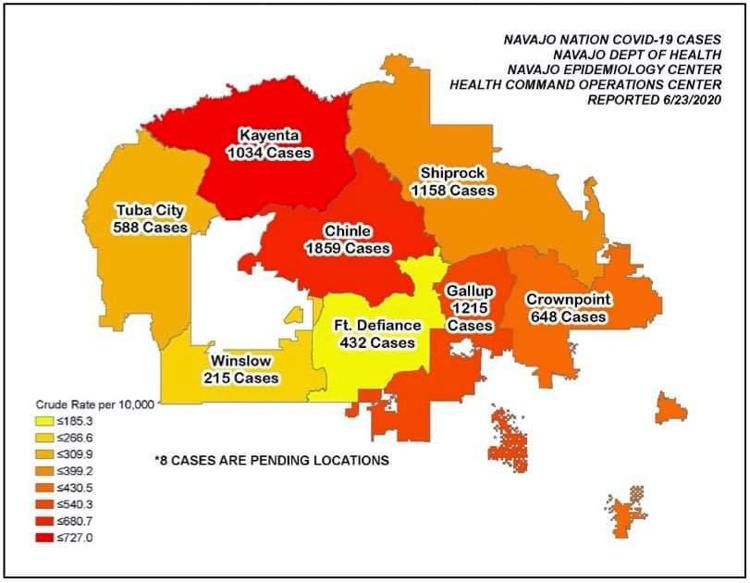 In the first week of May, there were 73 deaths and over 2,300 cases of COVID-19 according to the Navajo Department of Health and Navajo Epidemiology Center and Health Command Operations Center.
At the end of May, the National Institute of Environmental Health Sciences reported the Navajo Nation as having the the highest, per capita, COVID-19 infection rate in the country.
Now, less than a week before July begins, the new numbers of cases is 7,157 with 347 reported deaths. This means the number of cases has tripled and the number of deaths has increased by 4.75.
With a population of roughly 170,000, the Navajo Nation is still considered an epicenter for the coronavirus.
As of June 24, the Nation reported a total of 40,852 negative tests and isolation sites have been set up on the Reservation. The sites are "not hospitals but temporary accommodations that allow patients with a lab-confirmed COVID diagnosis—or those under investigation for COVID—to safely self-isolate," according to the Navajo Nation Department of Health. Information about eligibility for an isolation site can be found at https://www.ndoh.navajo-nsn.gov/COVID-19/COVID-19-Resources.
To donate to Officer Lee's memorial fund:
The family is respectfully requesting donations be made electronically through Wells Fargo Bank under "Memorial Account for Officer Michael Lee", Account Account: 5341652773. Donations can also be made through Zelle transfers can through Erica Jake by calling 928-551-3225.