NAVAJO COUNTY — The coronavirus (COVID-19) continues to spread in Arizona, but health officials remain hobbled when it comes to expanding testing for people with mild symptoms for potential exposure.
As of Wednesday, doctors have reported no cases of the virus in Navajo or Apache counties. Arizona has nine reported cases, including three in Maricopa County and two new cases in Pinal County. Several of the cases have no known connection to anyone who has traveled overseas, which means the virus is now circulating.
Navajo County Public Health Director Jeffrey Lee took questions about testing for the virus from the county supervisors on Tuesday.
He said doctors can take a throat swab from people who have symptoms, then send that sample to the county health department. The health department then uses an overnight courier service to rush the sample down to the Arizona Department of Health Services in Phoenix, if the case meets certain criteria. It then takes roughly 24 hours to get the test result, based on finding fragments of the viral DNA.
According to information posted on the Navajo County website, the criteria for patients who will be tested for COVID-19 include individuals who have been hospitalized, those who are diagnosed with severe, acute lower respiratory illness such as pneumonia, people who have traveled to affected countries and several other criteria.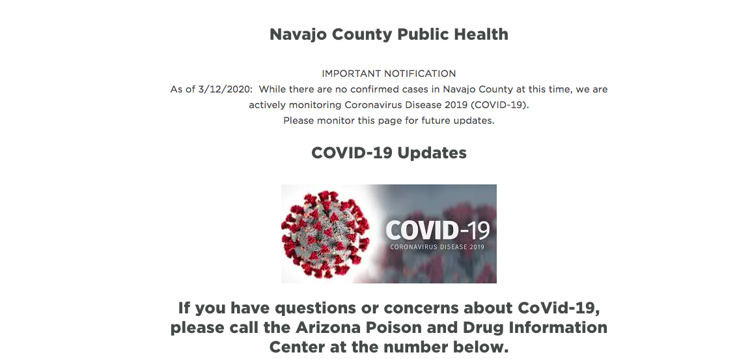 Lee said he expects the state will loosen the criteria for testing soon. The federal Centers for Disease Control (CDC) has contracted with a drug manufacturer to produce millions of test kits, which could make it much easier for people to get tested quickly in the future.
On a video posted on the Summit Healthcare Regional Medical Center Facebook page on Wednesday, Diana Anderson, infection prevention specialist, said that two patients met the criteria and were tested. A Summit staffer later posted that the tests came back negative on another community Facebook page. Summit has since set up an informational COVID-19 text alert system. They also hosted a community coronavirus symposium held Thursday night.
Congress last week approved $8 billion in emergency funding to combat what is now officially considered a global pandemic, according to the World Health Organization. Lee said the state has allocated an additional $500,000 for testing "to make sure we can test anyone we need to test."
"Do we have any test kits?" asked Supervisor Daryl Seymore.
"The state health lab (in Phoenix) is the only lab in Arizona currently allowed to run the test. That's going to change. Right now, an individual has to meet certain criteria (to be tested). There are plenty of tests available at the state lab – there are just requirements people have to meet."
"Do people have to leave the community to be tested?" asked Supervisor Dawnafe Whitesinger.
"They can get the swab from the patient on site – the swab then goes to the state laboratory," Lee replied.
"What's the turnaround?" asked Supervisor Lee Jack.
"About 24 hours from the time it arrives at the lab," Lee said.
Lee said the health department participates in weekly briefings from both the federal CDC and the state health department, then holds additional conferences with health providers, schools, towns and other agencies. The county puts out a weekly press release and posts the latest information on Facebook and the Navajo County home page.
Just 100 people in Arizona had been tested as of Wednesday, with 59 tests coming back negative, nine testing positive and 32 still pending.
Worldwide, confirmed cases have topped 125,000, including 1,215 in the US, 80,891 in China, 12,462 in Italy, 7,869 in South Korea and 620 in Japan.
The lack of test kits to check for infections in people with few or mild symptoms leaves many elements of the epidemic unclear — such as how many people actually have the virus.
The World Health Organization says that the fatality rate of the virus is about 3.5 percent, similar to the Spanish influenza, which killed some 60 million people in 1918-19. However, that's based on the death rate among people who tested positive for the virus.
A growing body of evidence suggests the virus spreads easily but usually causes mild symptoms. Researchers in the Seattle area conducting a broad testing program looking for the flu virus retested samples and found the coronavirus may have been circulating in the area for weeks before the first reported cases.
So the death rate could turn out to be below 1 percent overall, but higher for the elderly or people with existing health problems, according to some evidence.
If the virus spreads easily and widely without causing serious symptoms, then the people sick enough to get tested may represent the tip of the iceberg. The good news is that the death rate is most likely much lower than the WHO estimate. The bad news is that the virus may already be widespread, which means efforts to contain it may fail.
The growing evidence suggests that young people without underlying health issues may have such mild symptoms they don't know they're infected — and so they continue to unknowingly infect others.
The evidence also suggests older people and those with underlying health issues – especially breathing problems — may face a much higher risk of death when infected.
Supervisor Jason Whiting praised the health department's response.
"I've been really impressed with how you guys have organized and started communication. We have a lot of people who are scared about it. I got home last night. My wife got my ear and said 'your daughter is kind of scared you need to talk to her.'"
"I called my family all together and we had a good conversation about whether they should really be scared or just alert and aware and responsible for our actions. Clearly, the information's reaching all the way down to my youngest child. No handshaking? That's hard for me. Washing your hands for 20 seconds? My daughter told me that last night. I wanted to argue with her — but you just confirmed what she said."
Editor Trudy Balcom contributed to the story.