SHOW LOW — A public symposium regarding the Coronavirus (COVID-19) was hosted by Summit Healthcare last Thursday to educate the community about how to minimize spread of the new virus which causes respiratory disease. Summit staff also shared some of the changes already implemented to preserve the health and safety of patients and staff.
Summit Prevention Specialist Diana Anderson and Summit provider and Emergency Preparedness Team member Dr. John Mansfield provided a brief history of pandemics and explained how "viruses constantly, adapt, mutate and change."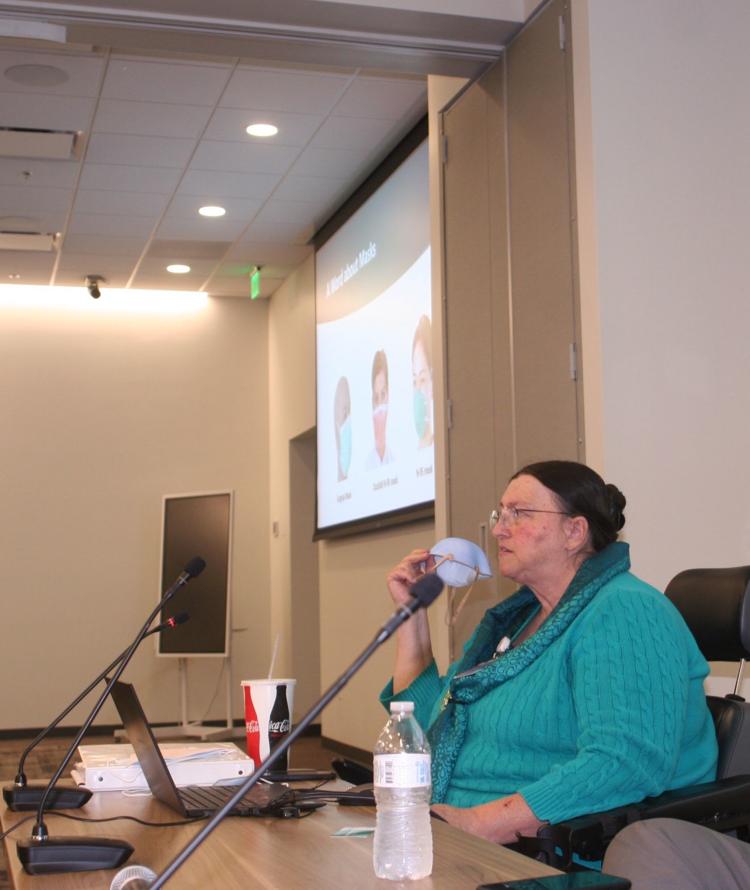 "We're here to share with you what we know and what we don't know in a calm way," says Anderson.
"Pandemics have been in existence for a long time and we've had 10 in the last 300 years. These things do happen; in fact history tells us this is going to happen," says Dr. Mansfield. "I have no doubt that the disease will [eventually] arrive on the Mountain."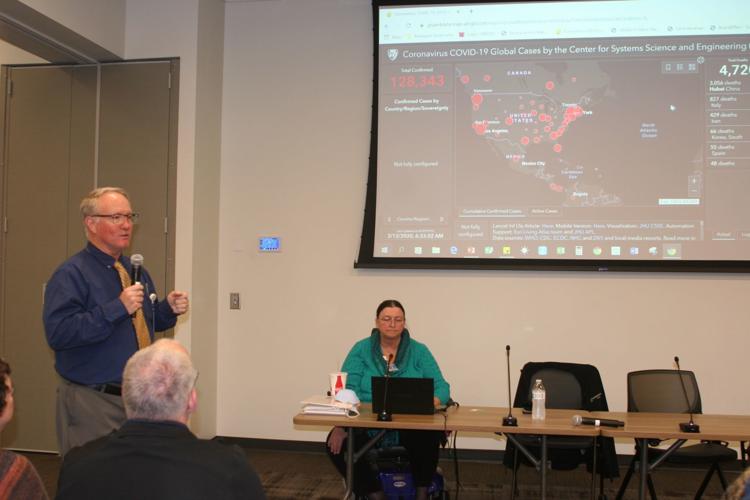 90 days in
"It's literally only been about three months for coronavirus," says Mansfield. "The virus emerged from bats, rodents, camels and some odd animals. It probably mutated and jumped from animals to people in the market in Wuhan, China and spread."
Currently, there are 1,629 cases in the US and 41 people have died from COVID-19, according to the CDC.
"There are no documented cases of coronavirus at Summit," confirmed Mansfield but "This is spreading."
"We know an incident where one person infected about 188 people during a two-hour church service," he said. "It's going to be critical that everyone takes steps not to help prevent the spread by washing their hands, disinfecting and social distancing, etc."
How contagious is COVID-19?
"About 1 in 1,000 people that have the flu will have complications – they will have a hard time recovering," says Mansfield. "Now, here comes COVID-19 on top of the flu and it's very contagious."
Both the flu and COVID-19 are viruses that cause respiratory illnesses and patients present with similar symptoms including fever, cough, body aches, fatigue and sometimes vomiting, diarrhea and pneumonia in some cases.
"Like the flu, it can be contracted through breathing on someone, touching someone and through the face, hands and eyes," he explains. "The virus can be aerosolized with cough and remain in the air for about a half an hour."
"The virus can also live on hard surfaces for about three days and one study said it can live on surfaces for nine days," explains Mansfield. "The germ particles are very tiny and they can stay in the air for a long time; flu particles are huge and drop to the ground."
"Of the cases documented, there is about 3.7% mortality rate in China, 6.6% in Italy, 2.5% in the US and 0.7% in South Korea," he says.
In addition to being highly contagious, "there are no vaccines and no medications that treat COVID-19 effectively and we don't know the effect on pregnant women and newborns."
"Also, most patients that experience severe symptoms or die from COVID-19 are elderly or those with underlying health conditions,"says Mansfield. People with COPD, emphysema, asthma, diabetes or those in chemotherapy and with compromised immune systems may experience more difficulty if they contract the virus.
Testing the system
Mansfield explained that this pandemic may translate into large numbers of people needing medical care at the same time. "Healthcare providers and hospitals may be overwhelmed," he adds. "The key is to slow this down to keep it from hitting all at once."
"We need to protect those at risk by keeping them at home," and we should all avoid crowds recommends Mansfield. "It is reasonable to make these changes, especially for those at risk not to have to go out into the public and shop."
A rapidly-spreading disease like COVID-19 "has the potential to overwhelm current healthcare systems and significantly impact daily life in the US," assures Mansfield.
"We need to protect the weakest among us and we need to protect the elderly," urges Mansfield. "We have kids and grandkids and goals and dreams so we need to protect one another."
What Summit is doing to protect you
Summit implemented visitor restrictions on Monday to prevent the spread of respiratory illness, including COVID-19 and the flu. "Our patients, providers and staff are our number one priority," says the press release.
"Effective immediately, the hospital will only allow one immediate family member. Children under the age of 17 will only be allowed on the hospital campus if they are actively receiving treatment," explains the release. The restriction applies regardless of whether or not a visitor is healthy, due to COVID-19 being contagious prior to the person having symptoms.
"To prevent the spread of coronavirus, we are asking the community not to come to the hospital if you are not a patient or in need of medical attention," says Angie Fabian, Chief Marketing & Development Officer of Summit Healthcare, "This restriction only applies to the hospital.
If a patient has a scheduled appointment with their health care provider at Summit Healthcare's Outpatient Pavilion, please keep your scheduled appointment."
Additional measures
"You're going to see other changes at Summit," says Anderson. "Patients with injuries such as a broken leg or something like a heart attack, will go in one direction (in the hospital) and people with respiratory illness will go another direction."
This is called cohorting said Anderson and means putting people together that have the same disease.
Separating patients that present with COVID-19 or flu symptoms should prevent infection. Summit will also be limiting visitors to one at a time and less time per visit.
"We are looking at patients to see why they are here," says Anderson. "Every single day, I look at everyone admitted to see what kinds of labs do they have? Do they meet the criteria for COVID-19 testing? We want to catch them while we have them here."
Staff is also looking for people who may be symptomatic but have the flu. "The flu season is not as bad as we expected so, for now, we are in reasonably good shape that way," she adds. "But things can change."
You will see Summit staff wearing personal protective gear. "We are working really closely with the Navajo County Health Department," assures Mansfield. "They are doing an excellent job and will will collaborate with them and other providers outside of Summit as well."
"We want to be a community resource and will post everything on our webpage as well as using the text alert system," says Anderson. "We want to be as transparent as we can but we will protect patient identity."
Summit Healthcare will follow CDC criteria for testing. "If the person is sick enough to require hospitalization, has a negative respirator panel, chest X-ray shows pneumonia, fever greater than 100.4 F, they will be tested," says Anderson. "Currently it's taking up to 3 days to get the test results."
Summit is already preparing to use a drive-up triage and testing system so that sick people don't come into the hospital or offices and infect others explained Mansfield. Summit staff will be able to test people that meet certain criteria from their car if that becomes necessary.
Educate, prepare
Anderson's final word of advice is, "Don't panic. Don't spread rumors and don't overwhelm the healthcare system. Educate yourself and your family."
"Washing your hands is the best thing that you can do," says Anderson. "Holding your fingertips under running water is not washing your hands. Get between your fingers, under your rings and up past your wrists."
Cleaning frequently touched surfaces is also important says Anderson. "Think about all of the surfaces that can become dirty in your house."
If you are sick, call one of the resources first," says Anderson. "Don't tie up the healthcare system. The State of Arizona has contracted with Poison Control to act as a call center. They can tell you if you might need testing, medical care or if you should just stay home until you are well."
For more information
If you feel sick, avoid contact with others. Call your provider or Arizona Poison and Drug Control at 1-800-222-1222 and describe your symptoms. They can advise you of whether or not you should be seen in person.
Anyone may download the "SummitCares" tele-health app or visit www.summitcares.net to request a healthcare visit over the phone.
For updates:
Receive COVID-19 "Alerts on the Go" from Summit by texting "JOIN COVID19" to 66893.
Navajo County Public Health will be routinely updating their CoVid-19 dashboard with the most recent information at: www.reports/mysidewalk.com/ebaab58e56
Also visit the CDC website at www.cdc.gov/COVID19.