ARIZONA — The reopened economy has spawned a host of dilemmas for both businesses and workers, with COVID-19 cases rising faster than ever across the state.
For businesses, the confusing fine print of the potentially forgivable workplace loans has spawned anxiety and uncertainty.
For workers, calls from former employers to return to work have also posed thorned dilemmas.
Help's coming for businesses.
For workers, not so much.
The US Senate this week approved changes to the Paycheck Protection Program, intended to cover payroll costs for businesses forced to shut down or losing revenue as a result of the COVID-19 pandemic and the shutdown orders it has provoked. One survey found that perhaps 75 percent of businesses in the region have applied for money through the program, intended to prevent layoffs during the downturn. Businesses don't have to pay back the loan, providing they either don't lay anyone off or rehire workers once all the restrictions expire.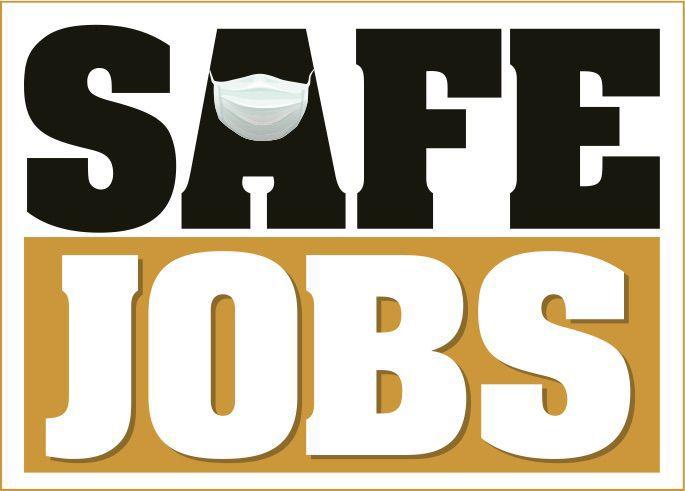 Extend coverage beyond the current eight-week period.
Eliminate restrictions that required 75 percent of the loan to cover salaries.
Don't require repayment within two years, providing the business didn't qualify for outright loan forgiveness.
Ensure businesses can still defer payroll tax payments during the loan period.
Don't penalize businesses who can't get workers covered by enhanced unemployment benefits to return.
Arizona US Senator Kyrsten Sinema supported the bill in the Senate. A similar bill has already passed the House.
"Every day I hear from Arizona employers worried about burdensome timelines and restrictions in the current Paycheck Protection Program. Increasing flexibility will help Arizona businesses safely re-open and save more Arizona jobs," she said.
The House and Senate must still reconcile minor differences in their versions of the bill and President Donald Trump must sign it before it takes effect.
The House and Senate remain deadlocked on other COVID-19 relief measures, like another round of stimulus checks for voters, an extension and expansion of the business loan measures, more money for local governments, more money for hospitals, an immunity shield for businesses if workers or customers get infected and other measures.
In the meantime, people who have managed to get through the overwhelmed state unemployment system also face some difficult choices.
The CARES Act boosted the maximum unemployment benefit in Arizona by $600 per week – increasing payments from $240 to $840.

It also offered coverage to part-timers and the self-employed including business owners whose business shut down. The creaky state computer system had trouble handling claims from the self-employed and part-part timers and many people who applied a month ago still have not received benefits.
However, reopening business are now asking laid off workers to return. But many of those workers now make more on the enhanced unemployment system than they did working full time – especially those in hard hit sectors like restaurants, stores and other low-wage sectors. Some 38 percent of leisure and hospitality workers in Arizona lost their jobs, according to state and federal figures.
Navajo County Economic Development Director Paul Watson said he has talked to business owners locally who can't get workers to return – at least not until the enhanced benefits expire at the end of July.
In Payson at a recent meeting of the Main Street Guild, business owners expressed similar concerns.
Mary Hanson, who owns the Oxbow Saloon on Main Street, said, "DES has a policy an employer becomes responsible to pay for unemployment (if the worker will not return to work because unemployment pays more than more than salary). Some (workers) have said, 'I don't want to report that."
However, elsewhere the state has cut off unemployment benefits to the worker if an employer reports that the worker won't return to work.
Federal rules allow the worker to refuse to return if the risk of infection is "unreasonable." However, it's unclear whether workers can also cite their own risk factors for a more serious COVID-19 infection. Studies show that diabetics, people older than 55, Native Americans, African Americans and even people with Type A blood have a greater chance of life-threatening illness. In most cases, doctors don't yet understand why certain characteristics make someone more vulnerable to the virus.
It's also unclear what happens if a business lays off workers, accepts the payroll protection loan and then can't get workers to return. Will the employers have to pay back the loan? The rules would seem to suggest they can hire other workers, so long as they don't reduce the total of positions in the allowed time period. But that interpretation hasn't been tested in court.
Moreover, the law isn't clear on whether employers must meet any particular standard to protect the health of returning employees – and whether a worker can cite the lack of such protections in refusing to return to work.
Senate Republicans have pushed for a liability shield for businesses in any additional aide package. House Democrats have refused, saying businesses should be required to first abide by things like social distancing restrictions and other measures recommended by the Centers for Disease Control.
Current rules suggest that a business can report a refusal to return to work, which would trigger a cutoff of unemployment benefits.
Previous contractors have proposed things like turning biomass into jet fuel or particle board, but none of those plans penciled out. Flagstaff has experimented with portable burning units to dispose of slash piles – but that's expensive and produces pollutants. Northern Arizona University demonstrated the potential for filling shipping containers with slash from thinning projects to ship to South Korea for conversion into wood pellets for power plants. However, it's unclear whether a stable market for shipping wood pellet to South Korea would ever offer a stable market for 30 to 50 tons of biomass for each of the 2 million acres in need of clearing every 20 years.
The single biomass power plant in Arizona can process the slash from about 15,000 acres of clearing projects annually, which has kept forest restoration efforts alive in the White Mountains. NovoPower owner Brad Worsley has said the plant in Snowflake will have to shut down in several years if the ACC doesn't adopt a biomass mandate and the 4FRI contractors don't enter into long term agreements.
Meanwhile, an underlying dispute about when to cut old growth trees continues to simmer below the surface. One of the chief accomplishments of 4FRI was the creation of a stakeholders group involving environmentalists, local officials, power companies, loggers and others. They all agreed on the need to return to a low-density forest dominated by the remaining, old-growth trees. This opened the way to the landscape-scale environmental studies and an escape from the logjam of lawsuits and appeals that had contributed to the demise of the old timber industry, which relied on cutting the high-profit, old-growth ponderosas greater than 18 inches in diameter.
The 4FRI restoration model focuses on the small trees, while leaving as many of fire-resistant old growth standing as possible. Those trees can survive frequent, low-intensity ground fires but provide fuel for crown fires if the thickets of small trees carry the flames into their lowest branches.
The 4FRI formulas allow the harvesting of old growth trees to open up clearings, protect meadows or achieve other goals. In early contracts, that has endangered the uneasy truce between loggers and environmentalists that lies at the heart of the 4FRI approach.
So 4FRI remains poised to either break a decade of frustration and experiment or tumble once again into delay – depending on the still-secret bids and the creation of a market for biomass.
Navajo County Supervisor Jason Whiting remains cautiously optimistic, given the 20-year contract term and the months of negotiations with potential bidders.
For starters, he hopes that once the bids are released in September – or soon after – power companies like APS and Salt River Project will renew their long-term contracts with NovoPower.
"APS has kept an open line of communication and sincerely appears to be trying to find ways forward in the biomass conversation," Whiting said. "Hopefully SRP, who actually has watershed efforts, will follow APSD's lead and come to the table and do what is best for Arizona sooner rather than later."