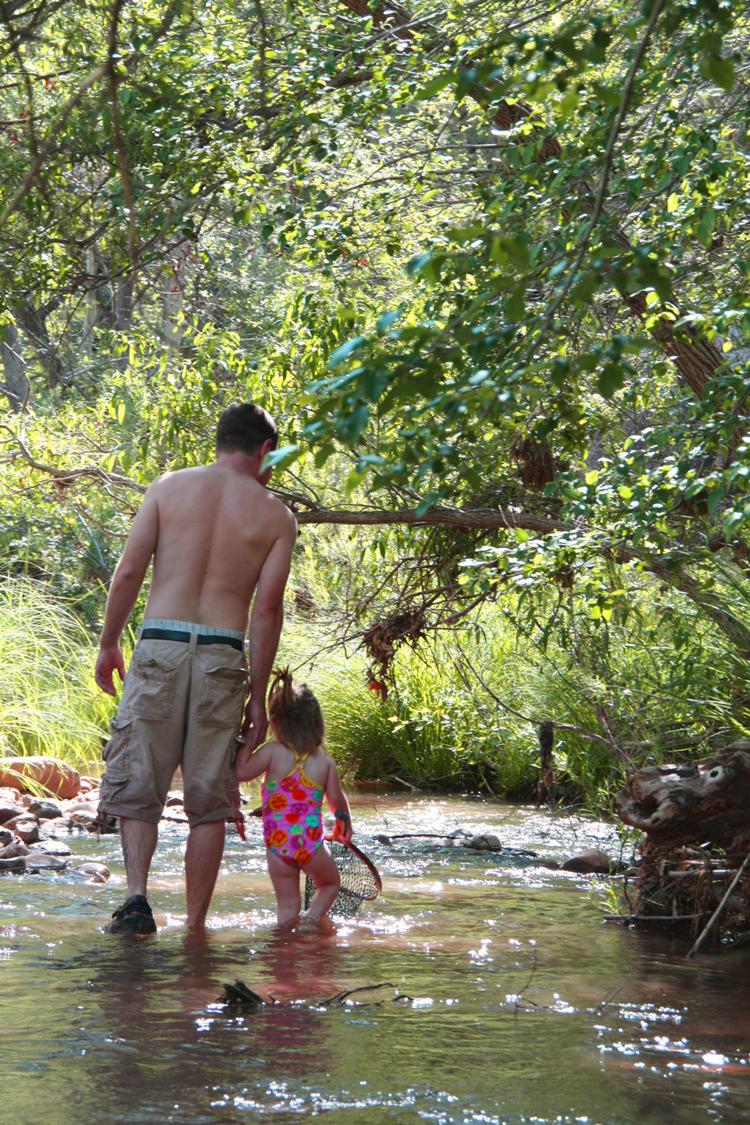 WHITE MOUNTAINS — We're all like a happy family on a late summer day, splashing about in the clear, cool waters of the East Verde River – in the narrows of Water Wheel.
The water's making a soothing sound. The winds rustling through the trees. Trout dart in the pools. An eagle circles overhead. What could possibly go wrong on such a beautiful day?
Except just upstream, the steep slopes on the face of the Rim have barely stopped smoldering after the fierce passage of the Highline Fire. Just above the Rim, a sullen black slug of monsoon clouds has gathered. Back in July of 2017, those clouds opened up and dropped several inches of rain on the seared slopes. The storm unleashed a debris flow – which swept down Ellison Creek and into the East Verde. The black wall of logs and mud swept away an extended family of 10, scattering their bodies miles downstream.
It seemed like a freak storm, a tragedy impossible to predict.
But actually, it was just a portent of things to come.
The streams and watersheds of Rim Country and the White Mountains face just such a potential for disaster, according to the environmental impact statement (EIS) for the 1.2 million-acre 4-Forests Restoration Initiative Rim County Project.
In this installment of our special series on this unprecedented effort to save Arizona's forests through a bold mix of thinning, logging and prescribed burns, we'll take a look at the urgent danger faced by the region's streams and watersheds. They sustain the wildlife, forested towns like Payson and Show Low and even millions of Valley residents.
However, a century of mismanagement has converted the once fire-adapted, low-density, diverse forest with 50 or 100 trees per acre into a tinderbox, with 1,000 trees per acre just waiting for the kind of stand-destroying, town-consuming wildfires that have threatened California.
Unfortunately, the most vital ecosystem in that forest faces the greatest danger.
Turns out, some 27 percent of the 21,000 acres of riparian areas and wetlands in the 1.2-million-acre study area are already in "poor" condition, according to the EIS, now available for public study and comment on the Forest Service's 4FRI website. Another 58 percent are in "fair" condition at best.
All told, the study area includes 4,200 miles of stream courses – but most only carry water after a rain. The area includes 667 miles of intermittent streams and only a precious 169 miles of permanent streams like the East Verde, Tonto Creek, Haigler Creek, the White River, Silver Creek and the Black River.
However, those riparian areas remain critical to some 80 percent of the wildlife.
Now, step back from the stream and consider the condition of the watersheds themselves. Those watersheds supply the reservoirs and water tables.
However, only 15 percent are rated as "functioning properly." Some 83 percent are considered at risk, which means the streams are drying up or silting up, the slopes are prey to dangerous erosion, the soils are washing away or wildfires have caused worrisome changes in water absorption and runoff.
That's according to the EIS, which runs for hundreds of pages and brings to bear intensive satellite measurements as well as hundreds of studies on the ground.
Most of them carry a dwindling amount of water thanks to that enormous increase in tree densities. Many also face problems with water quality, including bacteria, metals and other pollutants caused by faltering septic systems or runoff from urban areas and mine tailings. Diminished stream flows will only make the problem worse.
Moreover, even the soil is in trouble. The tree thickets keep the sun from hitting the forest floor and have piled up 20 or 30 tons of pine needles and branches on almost every acre. So the grasses and shrubs that could enrich and bind the soil can't grow. Instead, a thick mat of pine needles has formed. A fire or other disturbance that breaks through that mat would leave the rootless soil prey to erosion, according to the EIS.
Some 70,000 acres in the study area already has "impaired" or "unsatisfactory" soil conditions.
Brace yourself. It's going to get worse. Way worse.
Almost three quarters of the forest is now vulnerable to a high-intensity active or passive crown fire, capable of producing a 100-foot-tall wall of flame that would consume every plant and sear the soil. Such a high intensity fire would destroy already vulnerable riparian areas and watersheds.
For starters, the seared soil can no longer absorb water normally. As a result, erosion can increase a thousand-fold in the wake of a high intensity fire.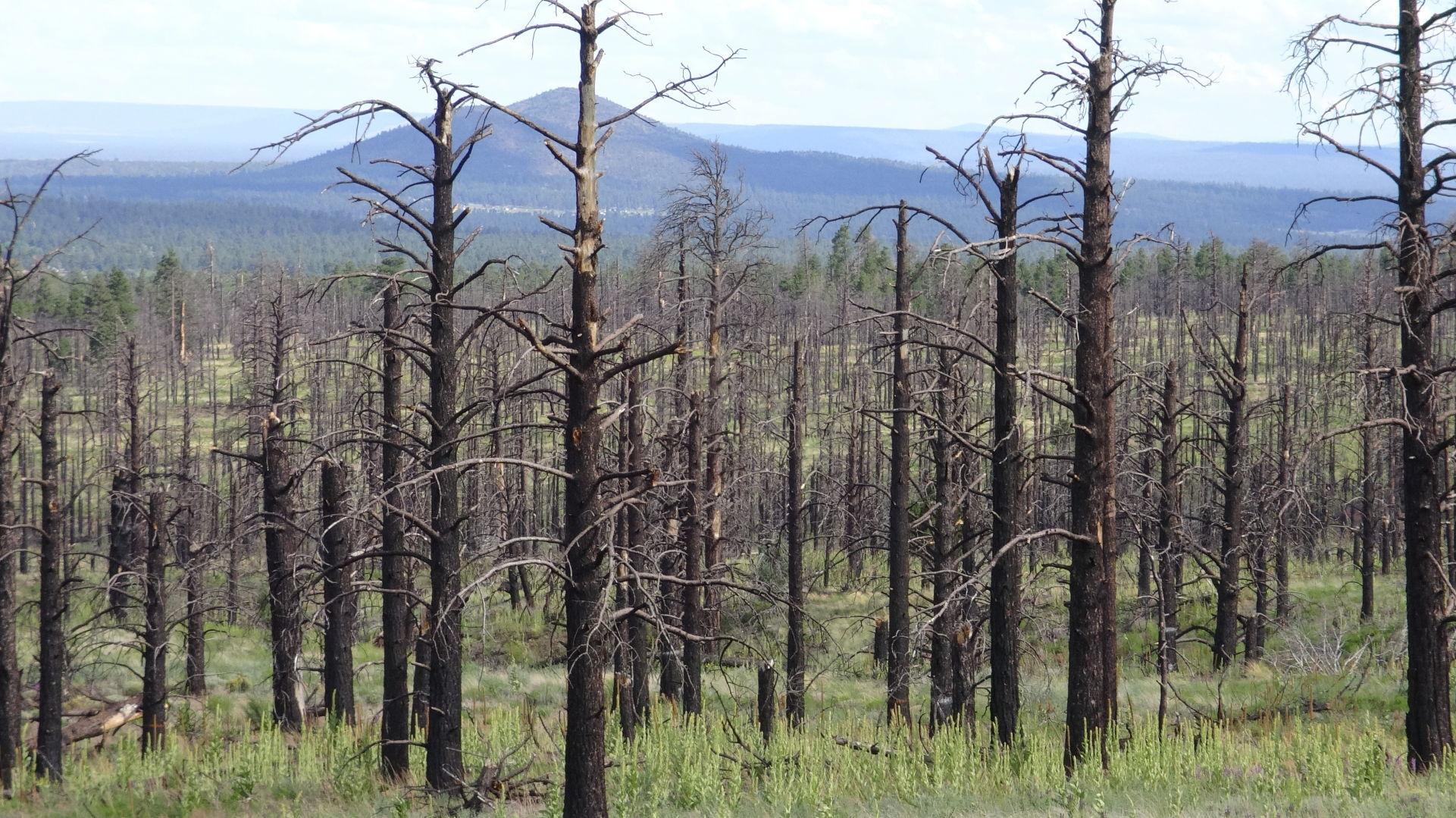 After the Schultz Fire caused a monsoon flood that wiped out dozens of houses and killed a little girl, Flagstaff did a study on what a similar fire on the thickly forested slopes above the city would produce. The answer: A billion dollars in flood damage that could wipe out Flagstaff's historic downtown.
Moreover, such a flood can fill in reservoirs. Denver spent hundreds of millions dredging a city reservoir after a wildfire. Storm models suggest that Flagstaff's Lake Mary, Payson's C.C. Cragin Reservoir and even Salt River Project's Roosevelt Lake could all suffer catastrophic flooding.
Finally, the floods that follow a high intensity crown fire can smother streams with silt and debris. That's what happened to Dude Creek after the Dude Fire nearly 30 years ago.
So a high-intensity wildfire could have devastating consequences throughout the 1.2 million acre study area where 43 percent of the ponderosa pine and mixed conifer areas already face a "moderate to severe" threat of erosion. Some 400,000 acres have slopes that are 14 to 40 percent. Another 300,000 acres have slopes greater than 40 percent.
So will a combination of thinning and controlled burns get us out of this mess?
Most likely, but not without some short-term damage, concluded the EIS.
The thinning projects would involve a lot of soil disturbance as loggers with trucks cut down many of the trees smaller than 18 inches in diameter, load them and haul them away on hundreds of miles of new, temporary roads.
One study found a 40-fold increase in erosion in the year after a thinning project and a 10-fold increase in erosion in the second year. However, by the third year erosion rates had returned to normal.
The EIS listed all kinds of short-term impacts from the preferred Alternative 2, which would treat 900,000 acres with a combination of thinning projects and controlled burns. The treatments would also restore 184 springs, stream habitat along 777 miles, decommission 1,300 miles of roads, construct 300 miles of temporary roads, and put up 200 miles of protective barriers around springs and groves of aspen, native willows and big-toothed maple.
So that adds up to a lot of impact and a lot of erosion.
But that's nothing compared to doing nothing.
The analysis estimates that at least a third of the forest will suffer high-severity crown fire burns in the next 20 years if we do nothing. This would result in catastrophic damage to streams and watersheds.
And there's one more problem with not doing anything.
The fire danger's likely to get much worse — the climate's also heating up, making fires far worse and streams more stressed.
The overwhelming scientific consensus predicts a roughly 8 degree increase in average temperatures in Arizona by the end of this century in part due to human activities that have increased heat-trapping gases in the atmosphere, concluded the EIS. It's not entirely clear how that will affect rainfall and wildfires in Arizona.
Most likely, we face a future with hotter days, a smaller snowpack, longer droughts and more extreme weather. All that could make the shift to an era of megafires even worse.
Just keep that in mind next time you find yourself sitting next to a mountain stream.
Peter Aleshire covers county government and other topics for the Independent. He is the former editor of the Payson Roundup. Reach him at paleshire@payson.com