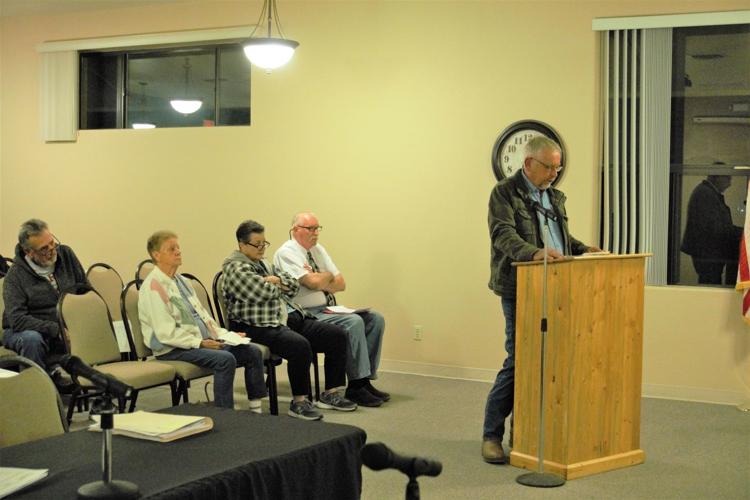 EAGAR — Residents of the Hillcrest subdivision in Eagar met before the town council on Nov. 5 to appeal to the council for another vote on their re-zoning petition.
A tie vote of 2-2 by the Planning and Zoning committee left their application denied. The motion was not recommended by the commission for review by the town council, so the residents then petitioned the town council directly to break the tie vote and rezone their subdivision from a R1-10 to a R1-10R, effectively barring any more manufactured homes or "tiny" homes from being built in the community.
"It's within their rights and town code that they can appeal decisions made by the commission," the town Planning and Zoning administrator, Jeremiah Loyd, said. "So, they chose to proceed in that route."
The petitioner, Chris Compton, owns 10 parcels in the subdivision, and he was joined by almost all of the six neighbors who also signed on to the petition. Two other parcel owners came to oppose the measure and urge the council to consider their rights in the matter.
"Our concern was with preserving the character of the neighborhood and maintaining long term property values. There are currently six houses in the proposed rezoning area. Each house is a custom, site-built home," Compton said as he addressed the town council. "We feel that by mixing manufactured homes with site-built homes, it would undermine the character of the neighborhood and the property values." Compton went on to explain that he and his neighbors understood that the subdivision's 'Covenants, Conditions & Restrictions' (CC&R's) meant that no manufactured home could come into their subdivision, and that all homes would be required to be site built. They claimed that the CC&R's were "legally ambiguous" and that, without rezoning, rewording and then enforcing a new revision of the Hillcrest CC&R's would "impose undue legal processes" that would require them to enforce the rules parcel by parcel using legal action in the future.
"We therefore respectfully appeal to the council to break the tie vote of the planning and zoning commission to approve our rezoning application," Compton said to the council.
Gerald Kepler, with his mother-in-law Nadene, also live in the Hillcrest subdivision and spoke to the council on their concerns on the deed restrictions. Concerns included that nearby manufactured homes would negatively impact their property's value.
David Allen, who owns two parcels in the Hillcrest subdivision, spoke to oppose any action by the council to support rezoning.
"They may have cause against a realtor for telling them incorrect information, but the information hasn't changed since 1987," Allen said of the original CC&R rules for the subdivision. "I purchased two lots in Hillcrest a little over a year ago, with the intention of developing that at some point, and knowing that I could do a modular home if I chose to. With the weather and everything here, that might be easier to bring in a home rather than construct it from the ground up. I haven't made that decision yet, but as a property owner, I feel like I purchased it based on that, and nothing has changed. Why would my property rights as an owner be diminished? Our rights are being taken away. I just suggest to the council that this is a restriction of our rights."
Nancy Golightly also spoke to the council, bringing her expertise as a realtor to the discussion.
"'All buildings shall be of new construction and shall be constructed or assembled on the lot'," Golightly said, reading off the original Hillcrest CC&R's, dated November 23, 1976. "I've talked to three attorneys, two prior to the planning and zoning meeting, and I even called a hotline for realtors… 'assembled on lot' is the definition of a manufactured or modular home. 'Assembled on lot' is delivered to the lot. It states also in here that if 60% of the owners of the subdivision in Hillcrest want to make any other changes, they can do so once they have 60% of owners. Only 53% of are owners are on the petition that was submitted to planning and zoning." Golightly pointed out that no realtors came with any of the property owners and called the fact that the people were misled by their relators when they bought the properties "tragic."
Denise Graves, a retired x-ray technician from New York bought property in the subdivision in the mid 1990's and made plans to put a manufactured home on the lot this year.
"This is my dream," Graves said. "This is what I want. I want peace and quiet. All I've ever known is New York. I love it. It's beautiful here!" she said of the area. It was shortly after she arrived in Eagar and began to plan out her property that the issue was formally raised to rezone the subdivision.
"I've been in Eagar since March," Graves said in a telephone interview. "I was on the site, visiting with the surveyor and everything, and people were coming up and asking, 'What are you doing?' I said, 'Well, I'm going to have a manufactured home on the property.' Nobody seemed like they were bothered by it. The next thing I know, I got a letter from the town hall saying that the people got together and wanted to change the zoning rules and regulations. I couldn't believe it. I never knew from the time I bought the property that it would be a problem."
"I don't understand the thinking that my manufactured home is going to take away from a stick-built home," Graves said before the town council. "From my understanding, when they do the evaluation, you don't evaluate stick built with a manufactured home. I'm not putting a shack on my property. I planned this for a long time. I don't understand how anyone could think that my manufactured home is going to take away from their value. Live and let live. That's my motto."
As there has already been a manufactured home in the Hillcrest subdivision since at least 2007, the timing of the petition for rezoning leave some wondering. As a minority, (Graves is African-American) and coming from another state, the question leaves her and others feeling uneasy about the situation. "I never once felt it was about the manufactured home. I always felt that it was about what was going into the home," Graves said in the interview. "And that's me."
Do manufactured homes affect property values?
The Independent reached out to professionals to clarify some facts, namely Chief Appraiser for Apache County, Barbara Gomez, and Jeff Brewer of Brewer Real Estate Appraisals, LLC, for more information on how a manufactured home could impact property values and taxes.
When asked if a manufactured home moving into a neighborhood of site-built homes would impact appraisals for tax purposes, Barabara Gomez said: "Not for tax purposes. Generally, in Apache County, because most of our areas are kind of hodge-podge anyway, it doesn't really to matter. It's not going to really effect it." A quality manufactured home should not have a negative impact upon the taxes collected in a community, she confirmed.
Jeff Brewer, who has over 40 years experience as an appraiser, was asked if a manufactured home would harm a neighboring site-built home in resale value. "I've answered this many times," Brewer said, chuckling. "I could say yes and I could say no." In his professional experience, he has seen instances where well-built manufactured homes even rival older, site-built homes that were previously in the neighborhood. However, he would definitely not advise putting a cheap manufactured home next door to a $300,000 house, for instance. Such extreme cases of mismatched value would be more likely to have a negative effect on the site-built homeowner's property. Each case would depend upon the site-built and manufactured homes in question.
Buyers from California are driving the market, which is also changing a lot of notions on the value of homes. "Buyers now do not care," Brewer said. "It's a totally different buyer [today]." Old stigmas, such as a home located near a cemetery or homes surrounded by manufactured homes don't seem to phase new home buyers as it did previously. With better building regulations and finishes, manufactured homes can hold their own if they are built for quality.
For appraisal purposes, any manufactured home of quality should have little impact on neighboring site-built properties, as manufactured homes cannot be used as a comparable to site-built homes in all but the most extreme cases.
After all the discussion was over at the council meeting, the measure was tabled. The mayor, Bryce Hamblin, Councilman Phelps, and Councilman Hadlock were not present during the town council meeting, and with limited numbers left on the council, the vote was delayed until the following town council meeting scheduled for December when more members could be present.
Amber Shepard is an local journalist covering municipal governments and other Apache County topics.