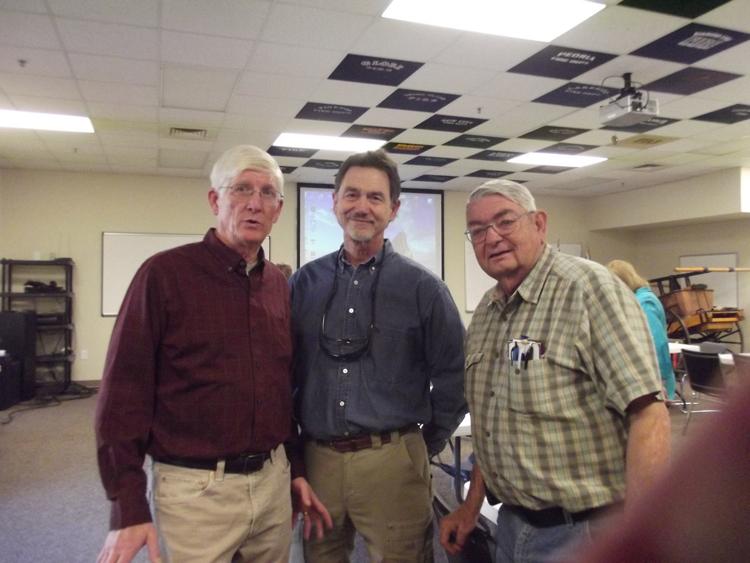 PINETOP-LAKESIDE — For 32 years, Ed Collins has served the White Mountains as the District Ranger of the Lakeside District on the Apache-Sitgreaves National Forests. His district is the smallest of the five districts at 265,000 acres, but it has the most private land intermixed within the district which runs from Clay Springs to Vernon.
Collins has accomplished a lot in those years and though he could have retired in 2004, he stayed another 15 years to make sure his "home" was taken care of. The Rodeo-Chediski Fire in 2002 was the reason he wanted to stay.
"I wanted to make sure it wouldn't happen again," he said during an interview in early October, a week after he officially retired.
His 48-year career with the Forest Service started in 1968 on a hotshot crew in southern California. He had three temporary jobs between 1968-70 and finally started full-time in 1972 on the Coconino National Forest. During that time he graduated from Northern Arizona University with a degree in Forest Land Management. He came to Apache-Sitgreaves in 1987.
"It's unusual for a ranger to stay so long in one district," said Apache-Sitgreaves Forest Supervisor Steve Best at Collins' retirement party held October 26 at the Pinetop Fire Department. "Ed's big thing is the community and his knowledge of it and the lasting relationships he's made. He's going to be hard to replace."
Everyone interviewed for this article said the same thing about his commitment to the communities and people he served. Nick Lund, former president of the TRACKS organization for 11 years said he worked with Ed "hand and glove. He had knowledge to impart and to get anything done we went through him. He was very patient."
Asked about his time on the Lakeside District and what he accomplished, Collins provided a long list. First was the construction and management of the Fool Hollow Lake recreation area which started in 1991 and was completed and opened in 1994.
"It was unique as we had one federal agency (the Forest Service), two state agencies (State Parks and Game and Fish), one local agency (the City of Show Low), and two private organizations (APS and McCarty Development involved in the process," said Collins.
Another highlight was the White Mountain Trail System which started in the late 1980's when the White Mountain Horsemen's Association asked Collins if the Forest Service would create non-motorized trails for horses.
"Whe had one trail on the district back then and didn't think more trails would be used if we built them. We now have over 200 miles of trails. TRACKS took over the building of trails and we had a superb partnership and still do."
The Porter Mountain communication towers site was also another accomplishment that involved multiple agencies, as is the Woodland Lake Park acquisition that after 30 years is close to being done, and the Camp Tatiyee land exchange.
His biggest success came in the aftermath of the Rodeo-Chediski Fire, but it was hard won.
"I was raised in the generation of managers that didn't do prescribed fire before timber sales because of all the extra work. The Rodeo-Chediski and the Wallow fires taught me that we are on borrowed time as to treatment of the forests before devastating fires it do for us," he explained.
He credits the fire management officer at the time, Chris Ruff, with changing his thinking. "We now burn anytime of the year that meets our objects."
Karen Warnick is a (mostly) retired journalist and art teacher who lives in Pinetop-Lakeside.