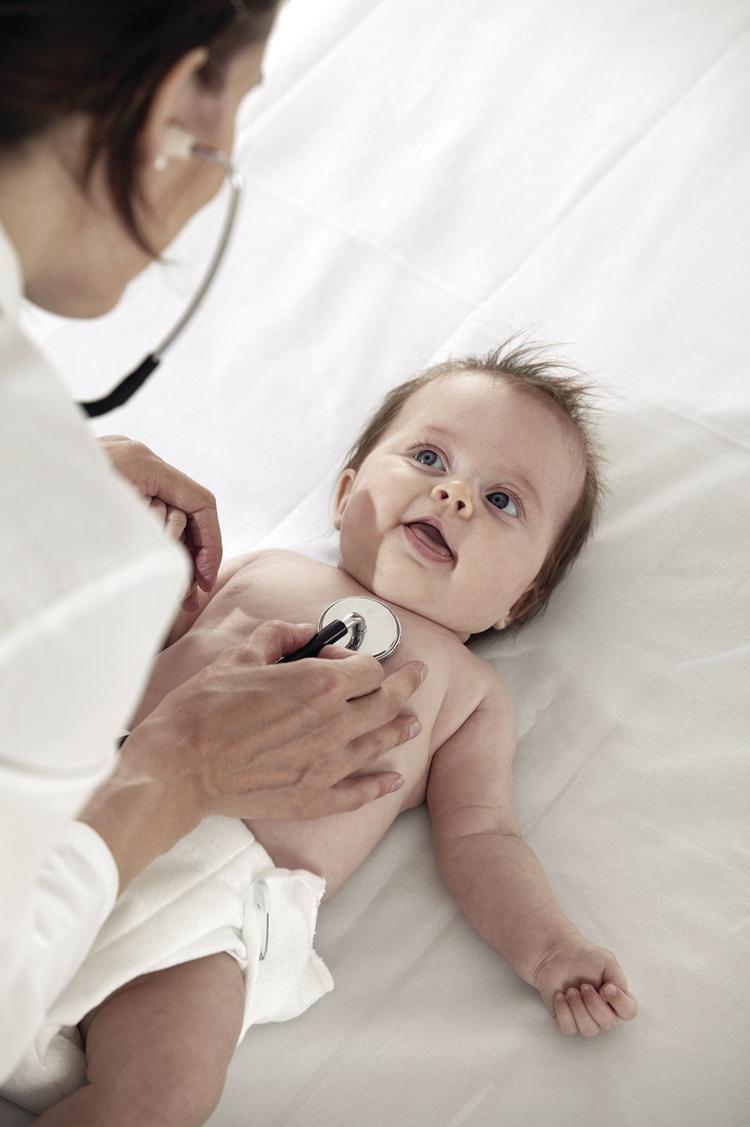 NAVAJO & APACHE COUNTIES — White Mountain communities in Navajo and Apache counties continue to struggle with daunting health challenges, according to the state's 2019 Health Asssesment.
Apache County residents have the lowest life expectancy in the state at 74 years. That compares to the statewide average of 80 and a national average of 79. Navajo County residents also die relatively young – at 76 years old on the average.
So why do people in some places live longer than others? Is it good genes? Good medical care? Or something else?
That's the question the Arizona Health Department tries to answer every five years when it releases its community health assessment, focused on the state of health in every one of the state's 15 counties – including Apache and Navajo.
The report delves into just about everything – prenatal care, childhood vaccinations, impact of high school graduation rates, drug use among teens, cancer death rates, suicide, violent crime, diabetes, public health services, health in retirement, access to doctors – you name it.
The latest assessment just came out, blending census data, youth surveys, disease incidents, vaccination rates and any other trackable statistic to compare the counties to the state and national averages.
The report comes to the conclusion that health remains a community affair, with things like high school graduation rates, poverty, access to medical care and many other factors potentially under our control playing a leading role in who dies, who gets well and who lives a long and happy life.
Nationally, Arizona ranked 30th among the 50 states when it comes to overall health. We're doing best when it comes to cancer deaths, reducing preventable hospitalizations and lowering the smoking rate. We're doing worst when it comes to high school graduation rates, air pollution impacts and violent crime.
Other challenges when comparing Arizona to other states include sexually transmitted disease, mental disorders, low rates of childhood immunization, children living in poverty, lack of medical insurance, drug deaths and funding for the public health system.
On the other hand, we're looking better than the average American when it comes to obesity, excessive drinking, infant mortality, food poisoning, on the job deaths, physical inactivity, and disparities in health status based on race and age and income and other factors.
But that's at the statewide level.
How are we doing in Apache and Navajo counties?
We'll try to answer that question in this series on the health assessment's take on the state of our health in the White Mountains and beyond.
Infant and maternal health
Today, let's start at the beginning: Delivering healthy babies.
Providing comprehensive prenatal care for pregnant women remains one of the best values in the whole healthcare system, according to numerous studies going back for decades. Every $1 spent on prenatal care saves $3 in medical care costs related to delivery and care for the newborn. That $1 spent on care for a pregnant woman averts $20 in long-term medical and social costs, mostly by reducing the number of infants born with serious medical problems.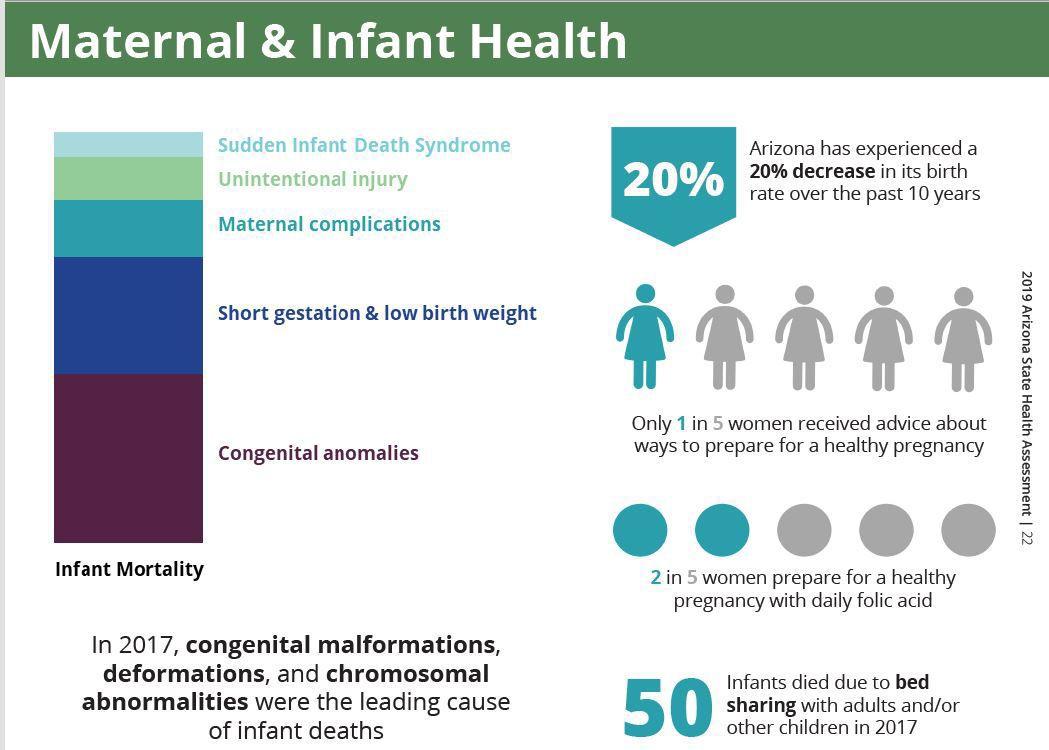 Some research has tried to tease out whether the health problems that come from the lack of prenatal care in part reflects characteristics of the mothers who don't persist in seeking out care rather than just the value of the medical care itself. Maybe the very women who most need prenatal care don't seek it out – even if they have coverage. That's no doubt a factor.
However, the overwhelming medical consensus suggests that comprehensive prenatal care and timely intervention pay huge dividends for mother, child and reducing medical costs overall.
So how we doing with that?
Not so good.
The number of births has declined steadily statewide, despite the rising state population – which topped 7 million this year. Back in 2007, 102,687 Arizona women gave birth. In 2017, just 81,664 babies were born.
Navajo County welcomed 1,504 babies in to the world and Apache county 946 – both relatively high birth rates given Navajo County's population of 112,000 and Apache County's population of 73,000.
The decline in births in Arizona mirrors the national trend, as the nation's demographics shift.
So fewer births could mean more resources to lavish on the precious babies still coming into the world.
But not in Navajo and Apache counties.
Once more, Apache and Navajo counties are struggling when it comes to making sure every pregnant women gets even adequate prenatal care – which means at least half of the recommended visits to the doctor starting in the fourth month of pregnancy. That's certainly not setting the bar too high, but remains a challenge.
Only 76 percent of pregnant women in Navajo County and 78 percent of women in Apache County got at least "adequate" prenatal care between 2014 and 2017.
That's way better than La Paz (45 percent) and Santa Cruz (61 percent) counties. But it's less than the 80 percent statewide average.
Neither Apache nor Navajo counties did as well as some other rural counties, including Yavapai (85 percent) and Coconino County (81 percent).
The problem starts even before a woman gets pregnant, since fewer than half of women of childbearing age get any advice on having a healthy pregnancy. Only about 30 percent of the women planning to get pregnant start taking folic acid, a routine measure recommended by doctors.
The lack of prenatal care contributes to a grim increase in maternal death rates – both in the US and in Arizona. Between 2010 and 2016, Arizona's maternal death rate rose from 18 per 100,000 population to 20 per 100,000 population. The national rate rose from 22 to 26.
"While maternal mortality in Arizona remains below the national average, Arizona has also seen increasing rates," concluded the report.
Race and poverty play a key role, with a death rate within a year of giving birth among minorities 2.5 times higher than non-Hispanic whites. The maternal death rate among Native American women has risen to a shocking 284 per 100,000 live births – four times higher than the rate among whites.
This post-birth death rate from things like hemorrhage, organ failure and stroke has been steadily increasing for reasons that remain unclear – claiming the lives of 50,000 women in the US in 2014.
Navajo and Apache counties both have large populations of Native Americans living on the reservations, which has a big impact on all the statewide averages when it comes to measurements of poverty and healthcare – as well as challenges with chronic diseases like diabetes.
The dangerous outcomes are reflected by the conditions of the fetus and infants, according to the figures in the Health Assessment.
Arizona actually looks pretty good when it comes to low birthweight infants – ranking 17th nationally. Nonetheless some 7.5 percent of babies in Arizona are born dangerously underweight, which is associated with malformations, chromosomal abnormalities, premature birth and maternal complications. The number has been creeping upward – from 6.9 percent in 2013 to 7.5 percent in 2017.
Infant mortality rates also look better than the national average, but still stubbornly high. The infant death rate rose from 5.3 deaths per 1,000 live births in 2013 to 5.6 per 1,000 births in 2017.
Once again, minorities suffer much higher infant death rates, which may also reflect higher poverty rates. The infant death rate among Native Americans is twice the statewide average and rising.
Sudden Infant Death Syndrome is also rising, with a 5 percent increase from 2016 – or 84 babies statewide.
One other major factor has hit infants hard – drug use by their mothers, especially opiates. Neonatal abstinence syndrome (NAS) occurs when a newborn essentially goes into withdrawal from the drugs the mother has taken during pregnancy. Between 2012 and 2017, the rate of NAS more than doubled – from 3.7 per 1,000 hospital births to 7.9. On average, babies born with this problem remain in the hospital for two weeks at a cost of about $63,000.
Next: How are the kids doing?
Peter Aleshire covers county government and other topics for the Independent. He is the former editor of the Payson Roundup. Reach him at paleshire@payson.com