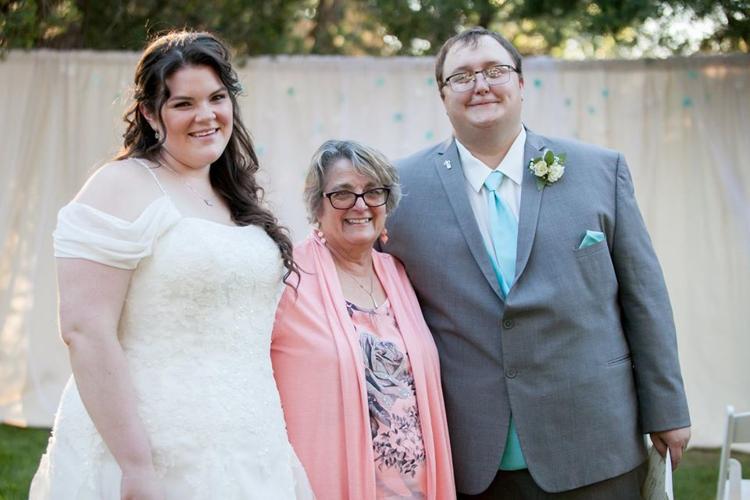 WHITE MOUNTAINS – If you are consulting the stars for the best day to get married in 2020, astrologers say it is not Valentine's Day but Feb. 20 — not just because it will be an easy day for you and your spouse to remember, but the planets that matter are all aligned in the right position.
Though many people do tie the knot or get engaged on Valentine's Day, three local wedding officiates say they have never been asked to perform a Valentine's Day wedding. They do, however, have plenty of wedding stories they deem as memorable.
Anna Ash
Anna Ash, who will be married 47 years in May, started doing weddings in 2008. Though she is now retired, she was, at that time, employed with the Pinetop Justice Court. Her judge asked that she find out what she needed to do to officiate weddings. She did and was ordained through the World Christianship Ministries. From the time she began keeping count, she has done 183 official ceremonies and has 5 on the books so far for this year.
Ash recalled an unusual wedding she did that had a bit of a shock factor that quickly turned to laughter.
A couple came to her and said they wanted to be handcuffed in the middle of the ceremony – their way of demonstrating being joined forever.
"As I did the 'Do you take … and Do you take,' explained Ash, the person they had appointed approached the couple, all dressed in Johnny Cash-black, grabbed them both and handcuffed them.
"People were saying, 'What is going on?" said Ash. Obviously they figured it out and laughter erupted, but the laughter didn't linger for the couple because they forgot their marriage license and had to go and get it the next day, plus find two witnesses.
After the incident with the marriage license, Ash had a private wedding to perform in Greer. She told the couple to bring their license. After the ceremony, she asked for the license. They produced their driver's licenses which is what they thought she meant. They, too, had to go to court the next day to make things official. Ash said they found two witnesses and did the quick legal thing in the hallway so she could finally say, "OK, you are married."
Ash now gently clarifies that a marriage license is what is needed and must be brought to the wedding. When she meets with a couple she goes over the details of what they want, and if the couple has children, she suggests including them in a circle ceremony as a family — an idea many had not thought of but lovingly embrace.
Ash charges $100 if the wedding is in the Pinetop-Lakeside area, but elsewhere it depends on the location. Ash can be reached by email at pinetopanna@msn.com.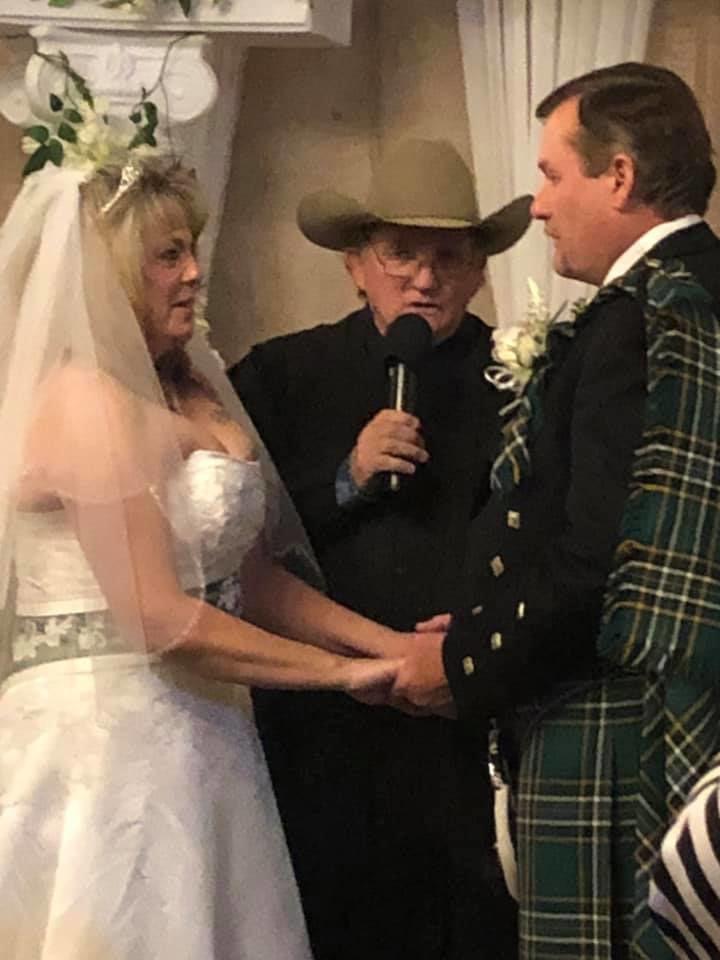 Butch Gunnels
Apache County Justice Court Judge Butch Gunnels of St. Johns is another frequently called upon to officiate. It is no surprise that as a judge he would marry people, but he is not your ordinary judge. He also has a band, Wyld Ryde, and is in demand to play for events as well – maybe even for your wedding.
Gunnels said he has done all kinds of weddings in all types of venues – he did a Hawaiian wedding in Greer, has married people on horseback, on Harleys, on the roof of the courthouse, a roping arena and the middle of nowhere, but the funniest took place in a bathroom.
"That couple is still together," said Gunnels. "They said if it started in the crapper and ends in the crapper, it will always be in the crapper."
Gunnels, who is known for his sense of humor both in and out of the courtroom, says when he talks with a couple, he "gets a feel of what they want, and looks at their personalities."
"I have married people in t-shirts and jeans," said Gunnels. He also married two beautiful ladies who looked like they came out of Lord of the Rings.
"It all depends on the bride and groom," said Gunnels. He says he tries to keep it light hearted – some want a religious ceremony and traditional vows and some not. "I make a joke at the wedding – and say, "Do you still want me to do the obey thing?' Most people today want to leave that out."
These days Gunnels says he will only do weddings for family and friends, but almost everybody winds up being a friend.
If someone wants to engage the judge for a ceremony, he said they can just call the ladies in his office. That number is 928 337-7558.
The judge, incidentally, is getting married on May 2 in St. Johns City Park. He is not looking for an officiant himself because he has five judges who all want to do the honors.
Tina Brown
For years, Tina Brown, who owned The Center for Divine Awareness in Show Low, has performed weddings. Though she too, is now retired, she is still in demand as an officiant. Her most memorable story is definitely unusual.
On Sundays when she was in business, Brown held a spiritual gathering at her business each week. One Sunday, as was customary, she was still there after everyone left. A lady from the Valley came in and said to her, "This is going to sound weird."
"She said, 'I just got out of another bad relationship. I am 32 years old. Luckily, he left me;lhe found somebody else and I realized I had fallen into a pattern – I did everything for the man. I could not have a voice in that relationship; my feelings were invalidated. I want to marry myself. I want to make a solid commitment to myself. I have to follow through and be committed,' she continued."
Brown said the lady had a list – it included self respect and not talking down to herself; she also had the vows she had written. She told Brown she would never allow anyone to put her down again, and she would not allow that kind of behavior in her life again.
Brown said the lady was there about two hours. She told her it was not legal but she could do it for her, and could print out a certificate for her.
"What a way to commemorate a commitment to yourself than to marry yourself," said Brown. "It was awesome; more women should do this."
Brown is available for weddings, and like Ash and Gunnels, she, too, meets with the individuals and goes over the details of what the couple wants for their wedding day. Last year she did a steampunk wedding at Unity that graced the Independent's front page. She is ordained through the Universal Life Church. She can be reached at 928-369-8862.
Regardless of the date you choose, Valentine's Day or another, remember that your wedding will be a memory not only for you, but for all who attend. And, if you should choose Valentine's Day, dinner reservations, flowers and candy will always be your competition. And, if you choose another date, you have the opportunity to celebrate your love twice.
Happy Valentine's Day.