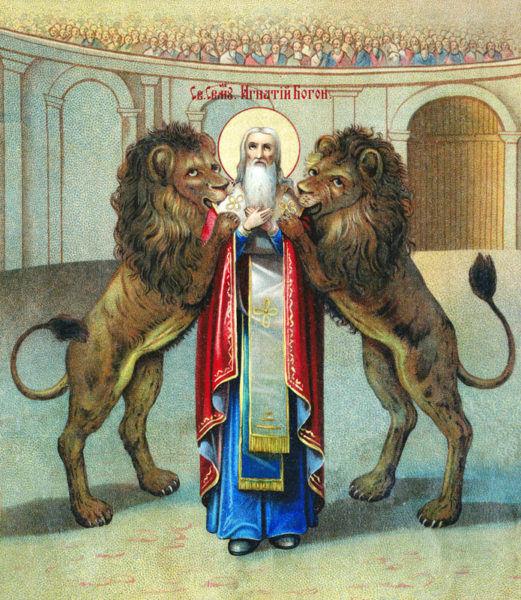 Saint Ignatius of Antioch, Bishop, Martyr (50-107). Feast Day: 17Oct.
Born in Syria, Ignatius, whose name comes from 'ignem patiens,' which means 'being afire with love of God' was a disciple of John the Evangelist and eventually became the bishop of Antioch. We read that he wrote a letter to the Blessed Virgin Mary in these terms: "To Mary the Christ-bearer, her Ignatius. You ought to strengthen and console me, a neophyte and disciple of your John, from whom I have learned many things about your Jesus, things wondrous to tell, and I am dumbfounded at hearing them. My heart's desire is to be assured about these things that I have heard, by you who were always so intimately close to Jesus and shared his secrets. Fare you well. And let the neophytes who are with me be strengthened in the faith, by you, through you, and in you."
The Blessed Virgin Mary, Mother of God, answered him as follows: "To my beloved fellow disciple Ignatius, this humble handmaid of Christ Jesus. The things you have heard and learned from John are true. Believe them, hold on to them, be steadfast in carrying out your Christian commitment and shape your life and conduct on it. I will come to you with John to visit you and those who are with you. Stand firm and do manfully in the faith. Do not let the hardships of persecution shake you, and may your spirit be strong and joyful in God your salvation. Amen."
Ignatius believed strongly that his life and death did not belong to himself alone. It was his responsibility as a bishop to strengthen the faith of his flock, and his ultimate concern was that he not give scandal by doubting the teaching of the Resurrection. "We have not only to be called Christians, but to 'be' Christians," he wrote. The intense conviction that death suffered for the sake of Christ would lead to eternal life helped sustain Ignatius. In the end, Ignatius was not impeded from fulfilling his hopes. So respected was blessed Ignatius's authority that even Dionysius, the apostle Paul's disciple who was eminent in philosophy and supreme in divine knowledge, adduced Ignatius's work as authoritative in confirmation of what he himself taught. We read in the "Tripartite History" that Ignatius heard angels standing on a mountain and singing the antiphons. He thereupon made it a rule that the antiphons were to be sung in the Church, and the Psalms to be intoned in accordance with the antiphons.
Ignatius is well known for the seven letters he wrote on a long and arduous journey from Antioch to Rome. Five of these letters are to churches in Asia Minor; they urge the Christians there to remain faithful to God and to obey their superiors. He warns them against heretical doctrines, providing them with the solid truths of the Christian faith. He had for a long time prayed for the peace of the Church, fearing the danger of persecution not for himself but for weak Christians. Therefore when the Emperor Trajan, who came to power in the year of the Lord 100, was returning from a victorious campaign in the East and was threatening all Christians with death, Ignatius went out to meet with him and declared openly that he was a Christian. Trajan responded by having him loaded with chains and turning him over to soldiers with orders to take him to Rome; he also warned Ignatius that in Rome he would be given to the wild beasts and eaten alive.
On the road to Rome with the emperor and his soldiers and stopping periodically along the way, Ignatius was able to meet with representatives from the local churches, some of whom traveled great distances to pray or celebrate the Eucharist with this servant of God. In one of the seven letters he wrote and addressed to Rome, he asked the faithful there not to interfere with his martyrdom. In this letter he says: "From Syria to Rome, by land and by sea, already I fight day and night with the beasts, being linked and chained to ten soldiers as savage as leopards, whose assignment is to guard me and get me to Rome. Kind treatment simply makes them more ferocious, but I learn more and more from their wickedness… O salutary beasts that are being readied for me! When will they come? When will they be turned loose? When will they be allowed to feast on my flesh? I shall invite them to devour me! I shall beg them to begin, lest they be afraid to touch my body as they have been with some others. I shall use force, I shall throw myself upon them! Pardon me, Romans, I beg of you! I know what is best for me—fire, crosses, wild beasts, my bones scattered about, limb being torn from limb and flesh from bone, all the devil's tortures piled upon me, if only I may gain Christ!"
Upon return to Rome, Ignatius was tortured to near death by the Roman soldiers under Trajan's orders. The emperor issued orders of torture such as "…Beat him about the shoulders with leaded scourges! Tear at his sides with nails and rub his wounds with sharp stones!" And, "Bring live coals and make him walk barefoot over them!" Furthermore, Trajan ordered "Tear his back open with hooks and pour salt in his wounds!" Ignatius only replied to Trajan's ranting with "…Neither fiery flames nor boiling water can quench the love of Christ Jesus in me! The sufferings of this time are not worthy to be compared with the glory to come!" Three days later the emperor, the Senate, and the whole city gathered to see the bishop of Antioch in combat with the wild beasts, and Trajan said: "Since Ignatius is so haughty and hardheaded, bind him and loose two lions at him, so that there won't be any relics left of him!" Ignatius again replied, "…I am the wheat of Christ! May I be ground fine by the teeth of the beasts, that I may be made a clean bread! It is not by my own strength that I endure all this, but by the help of Christ!" Thrown to the lions, Ignatius then began to provoke the lions, egging them on to attack him and eat him. Two savage lions therefore leapt upon him, but they only smothered him, not breaching his flesh in any way. Seeing this, Trajan's wonder knew no bounds, and he left the scene with orders that anyone who wanted to remove the body should be allowed to do so. Christians then came and took the saint's body and gave it honorable burial.
"The blood of the martyrs is the seed of Christianity."—Tertullian
Bibliography:
Ellsberg, Robert. "All Saints." New York: Crossroad Publishing, 2010.
Foley, Leonard, O.F.M., and Pat McCloskey, O.F.M. "Saint of the Day-Updated and Expanded." Cincinnati: Franciscan Media, 2013.
Voragine, Jacobus de. "The Golden Legend-Readings on the Saints-Volume I." Princeton, N.J.: Princeton University Press, 1993.