SNOWFLAKE-TAYLOR — Nexus Coalition for Drug Prevention (NCDP) hosted a town hall-style meeting at the Snowflake Fire Department last week to find out how big of a problem is our community facing with counterfeit pills, fentanyl and methamphetamine — specifically use by teenagers and young adults?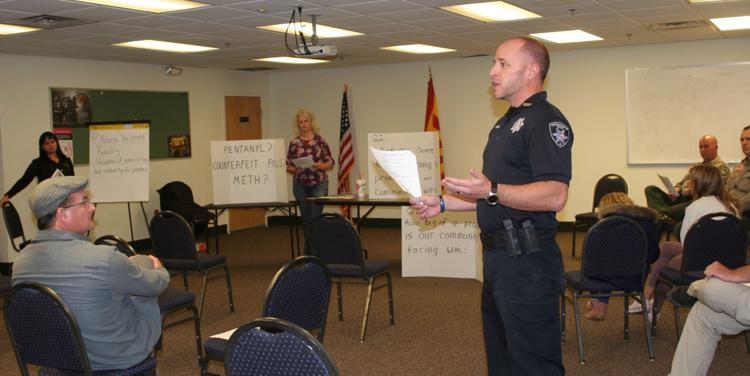 "We want to get information about these dangerous drugs out to the parents so they can educate their kids," said NCDP Executive Director Vicky Solomon.
Are young adults taking prescriptions that aren't theirs to treat pain or to suppress their emotions during the pandemic? And, where are students and youth getting these pills?
Three recent, unrelated deaths in Snowflake and Pinetop-Lakeside, involving two young adults and a 44-year-old male, have parents and families on high alert. So the information could not have come at a better time.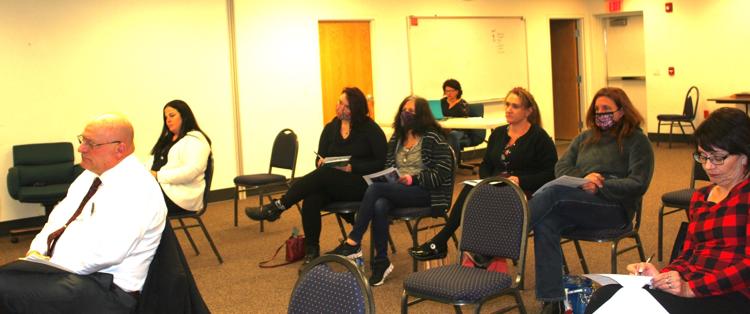 Information provided by Solomon from the Navajo County Medical Investigator reported the following breakdown of 114 total death cases between Jan. 1, 2020 and Nov. 15, 2020:
43 Natural deaths (37.72%)
20 Suicide (17.74%)
19 Overdose (14.91%)
12 Motor vehicle accidents (10.53%)
7 Homicides (6.14%)
7 ETOH /Alcohol poisoning (6.14%)
6 Accidents (5.26%)
The breakdown of overdose deaths did not include ages but did cite fentanyl as the highest cause of death with 8 of the 17 cases. This was followed by four opioid and four meth overdoses. Next in line was a death described as "various RX (non-opioid) overdose." There were two pending overdose deaths where the substance had not yet been confirmed.
Snowflake-Taylor Chief of Police Robert "Bobby" Martin coordinated with NCDP in the meeting to help educate the community.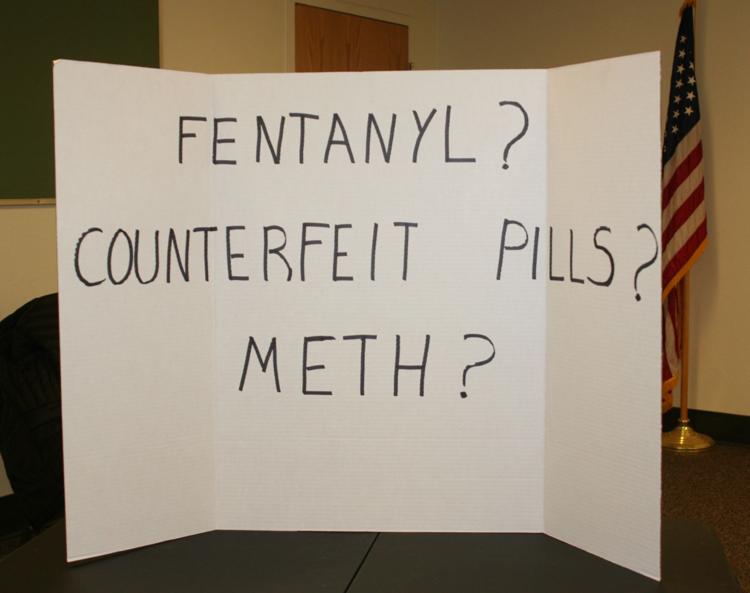 "Our biggest problem is education about these dangerous drugs — and not just in youth," said Martin. "Most of our drug arrests that we encounter involve the Major Crimes Apprehensive Team (MCAT)."
Chief Martin described a situation in July where the STPD arrested a couple (man and woman) for selling illegal and/or counterfeit drugs. They were released during pre-trial services and were arrested in November for the same drug charges.
"They were selling fentanyl between court dates and it may have led to someone's death," said Martin.
"How many people know they can get NARCAN over the counter?," asked Martin. "You don't need a prescription for NARCAN and it could save someone's life who has just overdosed."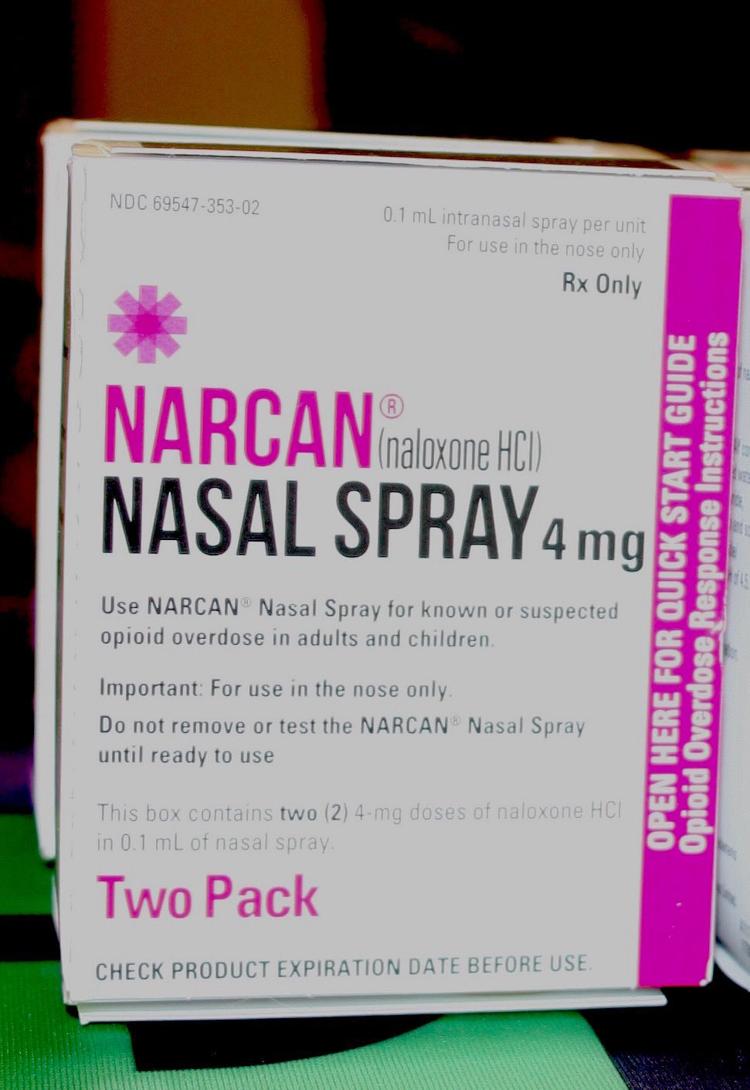 NARCAN is a brand name for the drug, Naloxone HCI, which does wear off. The medication is used specifically for the treatment of a known or suspected opioid overdose emergency.
"You still have to call 911 to get the person immediate medical treatment," said Martin. "You can administer NARCAN and think everything is perfectly fine but you are back in the same boat 20 minutes later."
Not just in the big cities
The issue is clearly occurring across Arizona and in rural, small-town communities like the White Mountains.
In 2019, the Prescott Valley Police Department and Yavapai County Medical Examiner's Office reported two 19-year-olds had died of a fatal drug overdose involving counterfeit pills which also contained fentanyl.
In 2018, at a Halloween party, the Tucson Police Department reported a 19-year-old had fatally overdosed on a counterfeit pill known as "Mexican Oxy" which contained fentanyl. Three other individuals at the party also took the counterfeit pills and were saved with naloxone.
All four party-goers, according to the press release, thought they were taking oxycodone.
According to the DEA, fentanyl is "a potent synthetic opioid drug approximately 100 times more potent than morphine and 50 times more potent than heroin as an analgesic." And, according to the CDC, approximately 68% of the reported 70,237 drug overdose deaths in 2017 involved an opioid (including prescription opioids, illegal opioids such as heroin, and illicitly manufactured Fentanyl).
Navajo County is also considered a High Intensity Drug Trafficking Area partly due to the high volume of drugs interdicted on Interstate 40, according to Navajo County Sheriff's Office Chief Deputy Brian Swanty.
"Fentanyl is much more dangerous than anything we've seen before," said Clouse. "When we went through the academy, Fentanyl was not brought up."
Clouse also said that, three to four years ago, law enforcement started seeing a rise in fentanyl use. Then, two years ago, the use noticeably increased in Arizona. Now, it's without a doubt that it's reared its ugly head in Navajo County.
"What we are seeing in the fentanyl overdose cases is that the drug dealers are using counterfeit pills as a decoy to get the fake Hydrocodone into the community," said Clouse. "The overdose deaths associated with fentanyl are much higher than before."
Fentanyl is now our biggest threat and it's killing youth and the one-time users," said Clouse. "Kids falsely think, 'A pill can't be that bad because it comes from a pharmacy.'"
The exact cause of death in the three adult residents of Navajo County adults have not been confirmed. A few family members and close friends of the deceased reached out to the Independent.
"Please help us get the word out," said Show Low resident Stacy Butora. "Someone very close to me died because they took something they thought was safe because it was a 'prescription' medication. I want kids (and adults) to THINK before they try these drugs."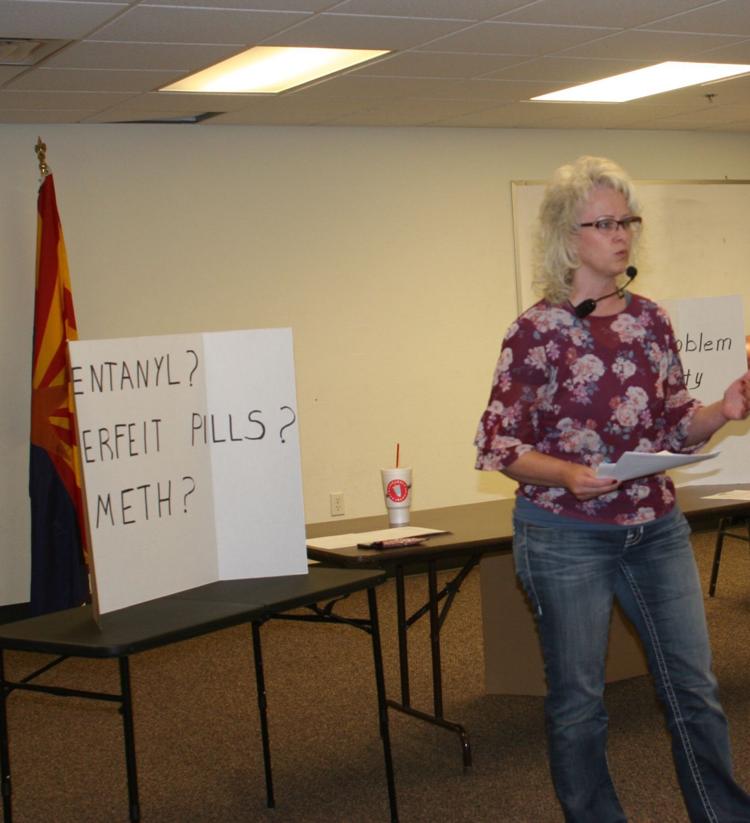 Nexus Coalition Executive Director Vicky Solomon and her staff personally knew two Snowflake High School alumnis that died in November — possibly from taking a counterfeit prescription opioid, (possibly Xanax), that may have been laced with fentanyl. 
Families, friends and communities are devastated.
In mid-November, several parents attended a Blue Ridge Unified School District (BRUSD) Governing Board meeting to voice concerns about suicide prevention and other issues impacting youth.
"We feel the full weight of the need to increase social and emotional supports for all students, with particular emphasis placed on grade 7 -12," wrote BRUSD Superintendent Dr. Michael L. Wright. "The District remains committed to working more closely with our Parent Teacher Student Organization to ensure we are doing all we can to understand and respond to shifting student and family needs during this crisis."
Prior to that Nov. 10 board meeting, a Blue Ridge High School student died unexpectedly from what may have been an overdose. Again, this information has not been confirmed to the Independent but the resulting panic and anxiety of parents in White Mountain communities is still bubbling over.
Nexus plans to hold the same type of community forum in Show Low and Pinetop-Lakeside with those respective departments being represented.
If you have information you would like to share with Nexus or would like to be get involved in helping educate the community about the dangers of Fentanyl and other drugs, visit www.NCDP.rocks or call Nexus Coalition at 928-243-2014.