SHOW LOW — U.S. Senator Martha McSally traveled to the White Mountains on Friday, Aug. 14.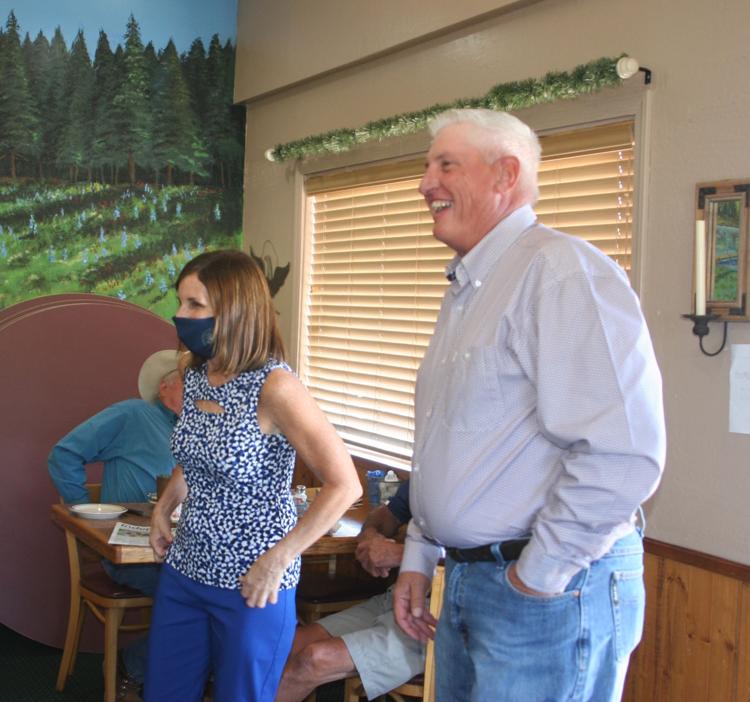 Her first stop was Show Low Cafe, where she was welcomed by a restaurant full of supporters and community members. The crowd was full of questions and eager to hear how the Arizona Senator and the Republican party will campaign in the 81 days leading up to the general election in November.
Congressional District 1 candidate, Tiffany Shedd, spoke before McSally arrived. She was followed by Show Low Vice Mayor Mike Allsop who said, "This is a lady that will fight for us," of Senator McSally.
McSally, who stands close to five feet tall, had no trouble making her platform, her beliefs and her priorities known right out of the gate.
"I spent some time with reflection and prayer and what we need to do going forward between now and the election," she said. "COVID-19 is the first 2020 challenge that we've had. So, my words for 2020 are peace, joy and gratitude."
She then turned back to the immediacy of the coming election and the need for Republican voters to make every effort to speak openly to their neighbors and the community about the issues and the sheer necessity of voting in November.
"It's an honor to be with you today because we are on the verge of a great American comeback," said McSally. "We have 81 days to save the country," referencing the number of days until Nov. 3. "This election will bring generational impact."
She shared four points she feels are at the crux of this campaign — the economy, the military, border security and judges.
"Under President Trump, we have the strongest economy that we've seen in our history," said McSally. "And that wasn't by accident it was through conservative policies like cutting taxes and deregulation."
"There is a positive vision for the future but we've got to turn it around by bringing manufacturing home from China," she said. "For example, there are 200 medications we are short of in the US. Lidocaine is one of them and these drugs are being made by our adversaries."
"The Democrats want to slash our military," she said, sharing her personal experience in the military. "Under the Obama administration, our military was cut 25% at a time when threats to our country were growing. We had Marines looking for airplane parts in museums. We were decimated for readiness against national threats. Under President Trump, we are investing in our military and doing what we need to do."
When it comes to border security, McSally spoke about the recent completion and commemoration of the two hundredth mile of the border wall.
"Despite the wall being built, we still have drugs, illegal immigrants and sex trafficking taking place," said McSally. "Border security is a public health issue; borders matter when you are trying to protect America."
If Biden wins the election, McSally says he will open the borders and American citizens will have to pay for healthcare for all illegal immigrants.
Finally, transforming the judiciary landscape with conservative judges is pivotal according to McSally. She said that it's key to have conservative judges and "we need to cut off from the Ninth Circuit."
In reference to her own work on these four issues, McSally said she tied for the most bills signed into law according to the govtrack.us/congress. She introduced 46 bills and resolutions in 2019.
Most of them were land exchange bills (giving more local control over land) and the Colorado River Drought Contingency Plan to preserve our water. They include but are not limited to S.1057: Colorado River Drought Contingency Plan, S.48: Cottonwood Land Exchange Completion Act, S.54: La Paz County Land Conveyance Act, S.55: Udall Park Land Exchange Completion and S.243: Black Mountain Range and Bullhead City Land Exchange Act.
"Our economy, the military, veterans, border security and judges — these things matter," said McSally. "A drought contingency plan here in Arizona and giving access back to local communities for economic development is also important. It literally takes an act of Congress to get this done and I have accomplished five of these things."
McSally spoke in favor of care for veterans and veterans treatment courts as a valuable program to help some who suffer with Post Traumatic Stress Disorder (PTSD) and depression and addiction to "get their lives turned around."
She said that such programs allow veterans to come back home after war to heal by making them accountable through the help and support of other veterans.
McSally's take-away message was, "As of today, August 14, we have 81 days to save the country. We are at the tipping point. This is about saving our fundamental liberties and our way of life. The stakes are high even if Trump gets re-elected. We need to talk to our friends, our neighbors, our community and make sure everyone understands the importance of this election."
"This election is about whether you love freedom — it's not about whether you like astronauts or fighter pilots in television commercials," said McSally.
"When you talk to others about this election, think about who you will trust to maintain your social security, medicare and your retirement, McSally said. "Who will you trust to keep your military to keep your country safe? And, Who do you trust to keep your community safe from those that want to defund the police?"
"We are on the verge of Democrats flipping the house and the senate. We've got to hold the line," said McSally in closing.
The Senator, after her time in Show Low, was heading to Snowflake/Taylor then onto several places in Apache County.
Congressional District 1 candidate, Tiffany Shedd, spoke before McSally arrived, describing district 1 as "an amazingly big district" that needs representation on the rural level. She also said that the district "needs representation that won't just follow liberal Washington party lines."
Shedd is a national resource attorney that belongs to a fourth generation farming family in Pinal County. She cited forest health, natural resources, healthcare and border security as some of her priorities.
"Whether it's over regulation on farmers or lack of access to healthcare, I have felt some of those same issues," said Shedd. She also spoke about her opponent, incumbent Tom O'Halleran.
"97% of the time Congressman O'Halleran votes with Pelosi and his votes in Washington D.C. are against things like rural broadband. What he says and what he does are two different things," said Shedd.
Apache County Republican Party second vice chairman, Mike Humphrey, was in Show Low to show support for Senator McSally.
Humphrey candidly shared his thoughts with McSally and the crowd saying, "If Trump loses the election, this country will turn into a marxist, mob rule, socialist, dictatorship. We will lose all our freedoms, our constitution, the right to bear arms and our way of life."
Legislative District 7 Republican candidates, David Peelman and Jim Parks as well as LD6 Representative Walt Blackman of Snowflake were at Show Low Cafe in support of McSally.