EDITOR'S NOTE: The lands of the Fort Apache Indian Reservation referenced in this article are only accessible by tribal-issued permits, and are currently closed for the winter season. Anyone attempting to access will be treated as a trespasser and subject to fines and property seizure, according to the White Mountain Apache Tribe.
WHITERIVER — "It was quite a day on a sunny Sunday afternoon," said Ron Carlson. That was the day he and his buddy jumped out of a vintage Navy warplane, as smoke and flames erupted from the engine, skimming over the forest east of Whiteriver.
Carlson, the owner of a Chicago architectural firm, was flying on May 5 of this year from Torrance, California, to Chicago, Illinois, in a Grumman TBM Avenger bomber he had purchased and just picked up.
He didn't have any plans for parachuting into the forest that day, but thankfully, he had spent some time convincing his traveling companion, Ken Franzese, to join him in watching a video on how to successfully parachute out of the heavy Navy World War II bomber they were riding in. Franzese is a family friend and commercial real-estate broker who doesn't own a plane but is a pilot and loves to fly, so he came along for the experience.
Carlson is now offering a $20,000 reward to find his missing treasure that is lost, somewhere in the woods. Much of the area where the aircraft could be located is on the Fort Apache Indian Reservation, and tribal officials urge everyone to avoid trespassing, as the area is closed for the winter season. 
The lands of the Fort Apache Indian Reservation at issue in that article are only accessible…
He became interested in flying when he went on a caribou hunt in Alaska. A seaplane, a de Havilland Beaver on floats, came to pick him up and Carlson pledged to himself to one day be able to go out into the wilderness with his own plane. That was 25 years ago and he said it took awhile, but he now owns a few planes.
Carlson bought the vintage aircraft after being fascinated by history and especially the World War II era. "I wanted to see and feel what it was really like for those pilots back then. All those famous guys back then, what were they thinking?" said Carlson.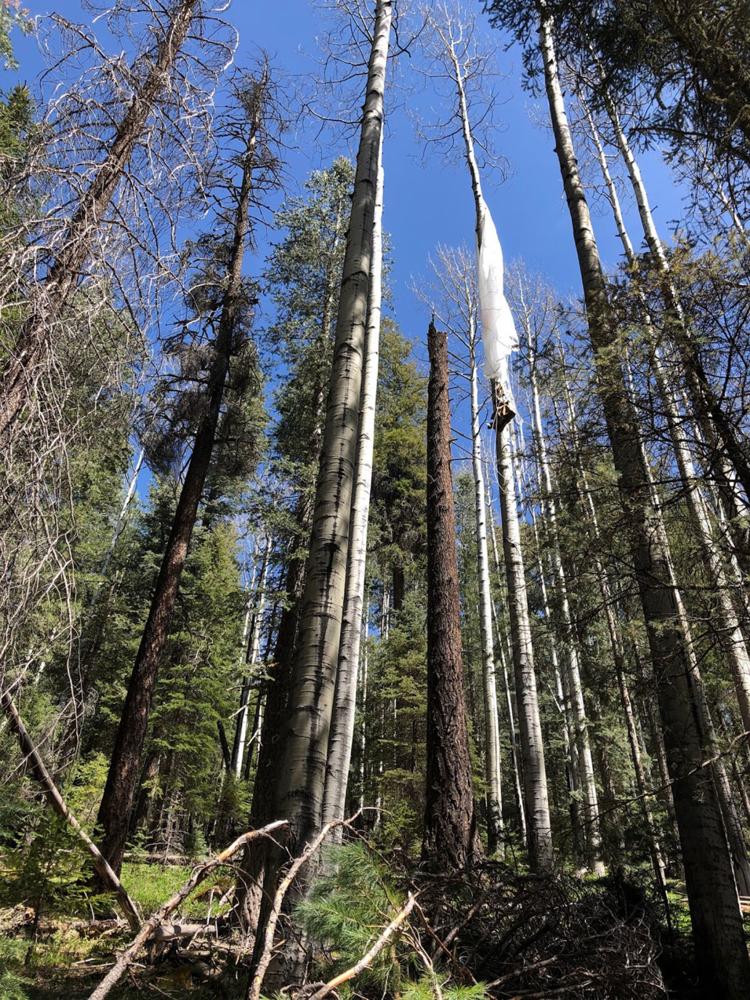 The Avenger was used extensively in the Pacific theater during World War II. It was primarily based on and operated from the fleet of aircraft carriers; it was the exact same kind of plane that President George H. W. Bush flew and crashed into the Pacific during the war. There are less than 20 left in the world. Carlson bought the plane for a little less than $400,000 and said he had put about another $100,000 into it. The engine had been completely rebuilt and the plane was virtually in like-new condition. "That plane was like a flying museum," Carlson said.
His beautifully refurbished bomber weighed nearly 14,000 pounds and Carlson referred to it as a "flying tank." It was originally equipped with a 50-caliber machine gun in a ball-turret, two more in the wings and a bombardier cabin below, where torpedoes could be dropped.
On that lovely May day, Carlson and Franzese were cruising peacefully across the forests of the White Mountains when a loud bang came from the engine. The plane began to shake wildly and Carlson feared the worst.
An experienced pilot, Carlson had flown to the North Pole more than once, crash-landed amongst polar bears in the extreme Northwest Territory of Churchill, Manitoba, and fended off the bears with a rifle until rescuers arrived. He had survived two crashes before, so was ready for what would come next.
As the plane began to shake harder, thick gray smoke began to roll out of the engine. Franzese, sitting behind in the middle seat, could see some flames amid the smoke, but the pilot, Carlson was blinded by it.
"I couldn't see anything outside the plane's cockpit — I was enveloped in smoke all around me and could see my instrument panel but nothing else, so I just tried to handle the altitude of the plane with my joystick by watching the (altitude) meter." The meter gives a graphic of the plane and it's proximity to the horizon. Carlson figured he needed to at least try and stay level and figure things out. The communication system the two were using in their Kevlar replica WWII helmets was hard to hear over the sound of the engine. Ken was at least able to tell Ron that he could see some flames and sheets of oil coming out.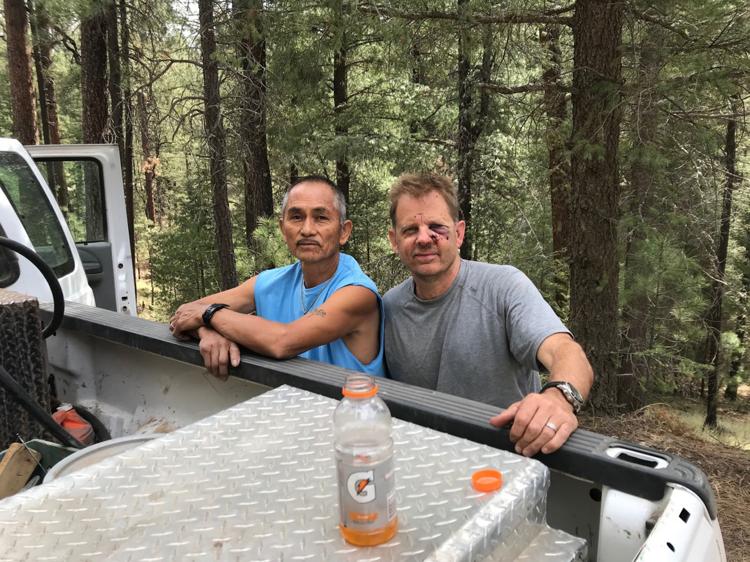 As the smoke built and became darker, Carlson knew they were in trouble. The engine was still idling, but there was not enough thrust from it to keep the heavy plane aloft.
Carlson didn't think he'd have much of a chance to save the plane and live through a crash landing, because of the weight of the plane going about 100 mph through the trees.
The plane was shaking hard and dropping fast as the pair had each opened their cockpit above them. Carlson had spent a fair amount of time showing Franzese how to use the parachute and it paid off. Franzese crawled out onto the wing.
Carlson thought Franzese had jumped, but he was still holding onto the plane and somehow didn't blow off. Apparently, he found a recessed hand-hold that kept him with the plane until he wanted to jump. When Carlson realized it was his time to jump, he knew the plane was too low to try and land in a swamp he had seen a minute before. At about 800-1,000 feet above the trees, Carlson turned the plane so he could avoid hitting the tail with his body on the way out. It was from watching old World War II movies that depicted bailout procedures that he learned the maneuver. The maneuver helps to lessen the G-force. When the plane turned, Franzese bailed and pulled his chute. He came close to hitting the tail section.
He had never parachuted in his life.
"I had to push pretty hard to get out because of the G-force and when I got out, I was upside down, then I pulled the D-ring and the chute opened with a tremendous shock, it was so violent, I thought it might have actually broken my neck. I had a second or two to see Ken above me in his parachute and then about 1-2 seconds later, I covered my eyes and lifted my knees up and hit the trees, totally stunned. They say you should parachute from about 3,000 feet minimum, but I didn't have much choice because we were so low," Carlson said.
Tumbling through the trees, he broke one ankle and severely sprained the other, broke some ribs and landed with a thud.
Franzese was still hanging high in a tree, stuck in his parachute for some time but finally got himself down from a virtually branchless aspen tree. He hurt himself further when he fell to the ground.
When darkness came, each sheltered himself from the cold with pine needles and branches, still not knowing the other's fate.
Carlson said he spent hours wondering if he would die there. He had a bad headache, leg cramps and exhaustion. "I lay there and thought, if I'm gonna die anywhere, this is the most beautiful place." He said he fought the bad feelings off.
"I just tell myself to think about something else, so the bad thoughts go away. Mainly, I thought of my family and other things."
Carlson said that both he and Ken had heard large animals passing by in the darkness and he was hoping they weren't mountain lions. He thinks they were probably elk, but he could definitely hear them passing by as he lay there in excruciating pain. "I was in my shelter of pine needles and branches and the bugs couldn't get in, but you had to be very quiet with them passing by."
In the morning, Carlson began walking with one ankle broken and the other lame. He said he was leaving a trail of plastic, clothing and anything he could think of to help Franzese find his trail. Carlson said he found an old plastic water bottle that possibly saved his life. He was very dehydrated and finally found a small creek and filled the bottle.
He knew that you always go downhill when you're in the mountains, that's where the creeks run and you might find a road and hopefully, people. He finally stumbled onto a road (Fort Apache Reservation Road Y-55) and lay there for a bit, just west of a sign that said "Trailhead 73." Hurt, tired and worried he lay by the road as Franzese came stumbling out of the same trail Carlson had used to find the road. Franzese had two good legs but his face was badly battered from falling out of the tree.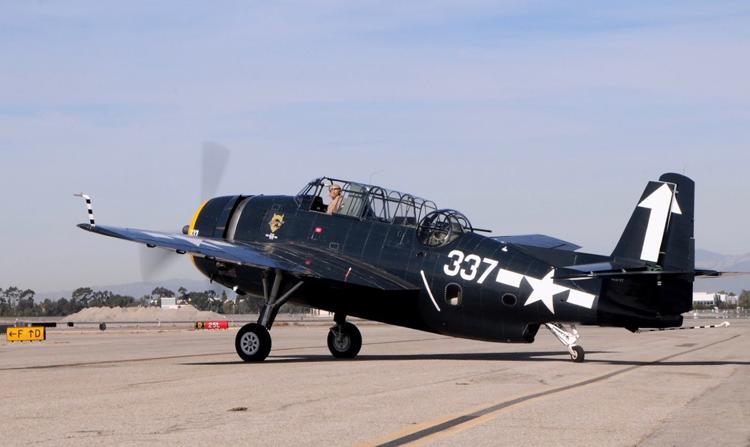 After a rest, Franzese went further down the road to find help. He finally came upon a truck and he began looking for the keys when two men approached, possibly staff from White Mountain Apache Tribe Game and Fish Department.
The men went back up the mountain to get Carlson they radioed for an ambulance. The injured men were eventually transported first in the truck down the mountain and then transferred to an arriving ambulance that took them to the Whiteriver Indian Hospital where they spent about a week. Carlson said that without the efforts of Ken Franzese and his two good legs, he thinks that both of them may not have made it.
Carlson said the key to their survival was not just preparation, but attitude. "We had watched the old footage from World War II on how to exit the plane in an emergency, but we also had to think straight, neither one of us panicked and we stayed positive. I also do have a lot of survival training under my belt."
Carlson, when asked if he's thought about giving up flying said, "No, I got right back on that horse."
Carlson also said the two men owe their lives to the men and women who took great care of them while in Whiteriver. "I am so grateful for the treatment and compassion, they really rallied to help us. They saved us."
Carlson said he wrote a letter to the Tribal Chairwoman Gwedena Lee-Gatewood, offering his sincere thanks to the people who helped save their lives.
Franzese, Carlson later learned, had watched the plane going down from his parachute. He said the plane kind of leveled off and went somewhat further before coming down in an unknown location. Carlson theorizes that because of down-sloping terrain that they were over and the direction of travel, the plane could have possibly gone another four to five miles. Somehow, the plane didn't start a wildfire in the parched forest.
Carlson is now offering a reward that is being published in this edition, for $20,000 to the first person who can give him the GPS coordinates of the location of the plane. The National Transportation Safety Board doesn't conduct searches for planes if there is no loss of life involved, but the Civil Air Patrol has conducted two searches since the spring accident as part of their training exercises, but no sign of the plane was found. Carlson said he did get his parachute back from someone who found it.
Carlson has drawn a detailed map of where he thinks the crash-site could be, by using pings that the NTSB had recorded while tracking the plane's route. He thinks the plane disappeared from radar when it went behind Mt. Baldy and it is somewhere south of Big Lake and Mt. Baldy and east of Whiteriver.
The White Mountain Apache Tribe issues permits seasonally to access areas on the Fort Apache Indian Reservation, but the area is now closed for the winter. "Anyone attempting to recover the plane by entering the restricted area of the Reservation will be treated as a trespasser and be subject to resulting fines and property seizure; such individuals will also be considered legally and financially responsible for any damage and emergencies created," a WMAT release reads. Tribal Game and Fish can be reached at 928-338-1023.
Carlson's account of the incident can be found at his blog at: