APACHE & NAVAJO COUNTIES — It's the most common violent crime. It's the most dangerous call for police. And it has baffled the court system.
Welcome to the tragic, confusing, contradictory world of domestic violence – and the uneven effort of the courts and police to respond to a social scourge.
The Navajo County Board of Supervisors last week declared October Domestic Violence Month, with the Apache County boards of supervisors expected to follow suit.
The Navajo County proclamation called upon citizens to speak out against domestic violence and support local effort to assist victims of a crime that accounts for more assaults and murders than any other factor in the nation.
Some 21 percent of female high school students, 43 percent of women in college and one in three women in their lifetime suffer physical or sexual abuse from a spouse or dating partner, according to national statistics.
Often, bystanders blame the victim.
Moreover, even if police arrest the alleged abuser – the conviction rate remains shockingly low. Judges dismiss some 38 percent of cases, according to one statewide study.
In Navajo and Apache counties, the documented conviction rate is only 16 percent, according to a 2013 statewide tally, although the study could not track the outcomes of many cases. In Gila County, the conviction rate stood at about 22 percent, just above the statewide average.
The Navajo County resolution cited sobering statistics:
• Every day domestic violence hotlines nationally receive 20,000 calls
• Some 72 percent of all murder-suicides involve domestic violence.
• One in 15 children will suffer or witness domestic violence.
• Women account for 76 percent of the victims of domestic violence.
• Some 50 percent of youth who suffer violence and rape also report a suicide attempt.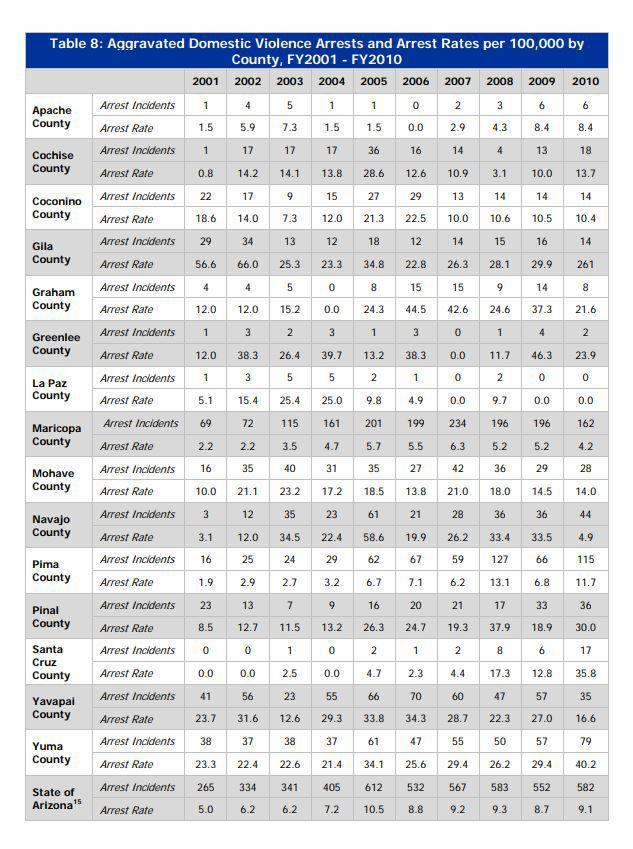 A study by the Arizona Criminal Justice Commission found domestic violence arrests in Navajo County increased 53 percent between 2000 and 2010, the highest rate of increase in the state.
Statewide, the arrest rate stood at 396 per 100,000 residents.
The Navajo County annual arrest rate ended up well behind the statewide average – 296 per 100,000 residents. That compared to 212 in 2000.
Apache County's arrest rate was even lower – about 110 per 100,000. That compared to 91 per 100,000 in 2000.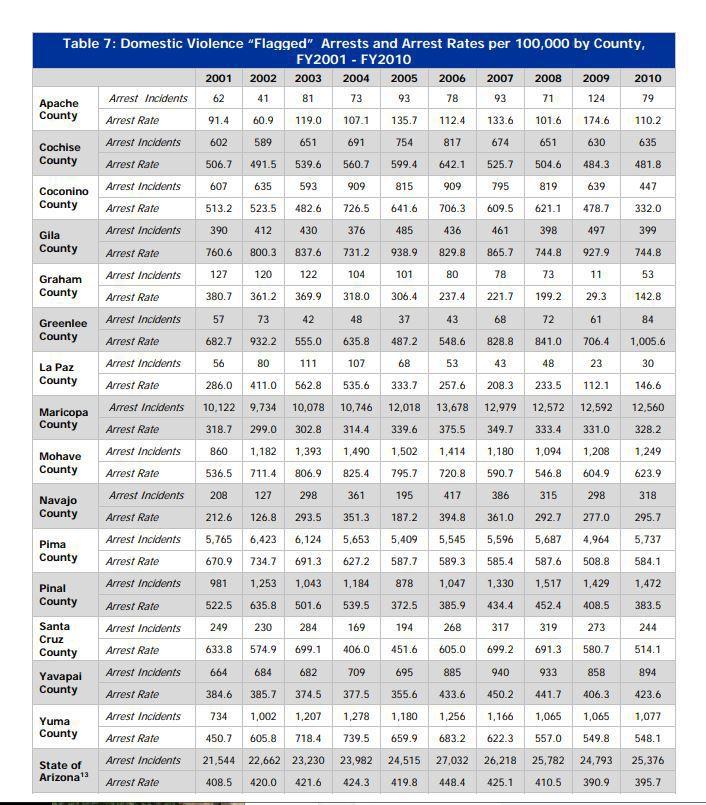 Gila County's rate was the highest in the region – 744 per 100,000, nearly twice the statewide average. The county's rate actually declined slightly from the 760 reported in 2000.
The arrest rate doesn't necessarily reflect the incidence of domestic violence in a given county. Domestic violence arrest policies vary widely among different cities and counties. In some departments, officers are urged to arrest both parties even if there's no clear-cut evidence of violence when they arrive. In other departments, officers are trained to make an arrest only if there's physical signs of violence, like bruising, blood, broken bones or a smashed up room.
Police statewide made 42,000 arrests in 2010 for domestic violence, according to the 2013 Arizona Criminal Justice Report. The number of arrests rose 18 percent between 2001 and 2010, although the rate per 100,000 residents dropped slightly.
Arrests for aggravated domestic violence doubled. If you control for the growth in population, the number of the most serious domestic violence cases rose 82 percent. The aggravated domestic violence arrest rate rose from 5 per 100,000 to 9 per 100,000 – a total of nearly 6,000.
Domestic violence accounts for a staggering 10-13 percent of all arrests, depending on the year and county. The rising arrest rate in most areas could reflect a greater willingness on the part of police to intervene when faced with domestic violence.
On the other hand, it could reflect a rise in the incidence of domestic violence.
And that could reflect the relatively low rate of conviction – or even prosecutions – when police file charges.
Up to 38 percent of domestic violence charges are ultimately dismissed by the court. Only about a third of those cases resulted in conviction – although the statewide study couldn't determine the outcome of about 24 percent of all those cases. In some counties and years, the conviction rate dropped as low as 16 percent.
About 90 percent of those arrested for domestic violence were male.
Aggravated Domestic Violence Arrest rates/100,000 in 2010
Domestic Violence Charge outcomes (2010)
All Convictions: 23 cases
Misdemeanor Convictions: 25 percent
Felony convictions: 15 percent
Missing disposition: 42 percent
Domestic Violence Charge outcomes (2010)
All Convictions: 22 cases
Misdemeanor convictions: 17 percent
Felony convictions: 13 percent
Missing dispositions: 22 percent
Domestic Violence Charge outcomes (2010) Statewide
All convictions: 95,894 cases
Misdemeanor convictions: 20 percent
Felony convictions: 16 percent
Missing dispositions: 36 percent
Peter Aleshire covers county government and other topics for the Independent. He is the former editor of the Payson Roundup. Reach him at paleshire@payson.com