WHITE MOUNTAINS — Granted, getting up your hopes for the 4-Forest Restoration Initiatives (4FRI) is just a little like Charlie Brown trying to kick the football, with Lucy grinning at him like a crazy person.
Still, the most recent developments point to potenial improvements. This might really work out well for the struggling wood products industry in the White Mountains.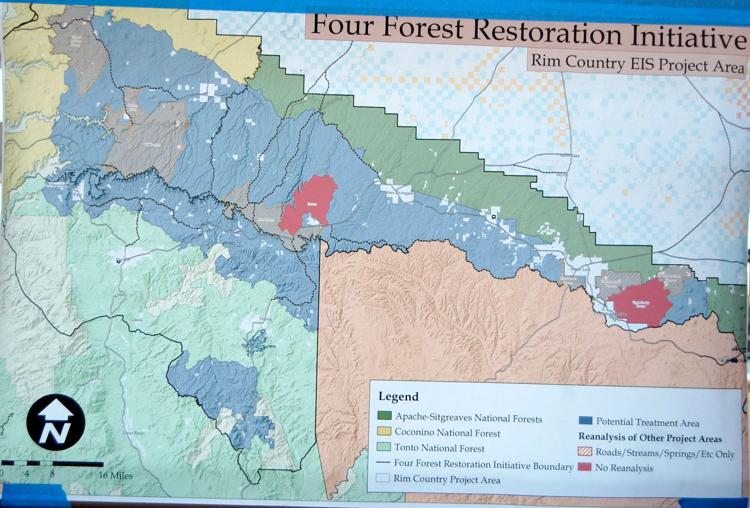 The Four Forests Restoration Initiative is the most ambitious forest restoration effort in the country, with the goal of thinning tree densities on more than 2 million acres of ponderosa pine forests in Arizona from perhaps 1,000 per acre to more like 100 per acre. Environmentalist, local officials, loggers and foresters agreed that a combination of prescribed burns and small-wood logging operations restoring the forest and returning low-intensity wildfires to their natural role. In the process, 4FRI hopes to reduce catastrophic wildfires, protecting watershed and saving forested communities. The project include much of the Kaibab, Coconino, Tonto and Apache-Sitgreaves national forests. However, the effort has floundered in the past seven years for lack of infrastructure and a market for the wood slash that constitutes half of the material to be removed — the biomass.
Novo Power President Brad Worsley says he's feeling optimistic the 28 megawatt biomass-burning power plant in Snowflake may stay in business, now that the Forest Services has released the Rim Country request for proposals (RFP) on some 800,000 acres in dire need of thinning.
"I'm happy with the RFP, mainly because they continue to prioritize the biomass – that was really big," said Worsley.
The wood products industry spawned by the decade-long White Mountains Stewardship Project accounts for hundreds of jobs in an area beset by unemployment and low growth rates. The shutdown of coal-fired power plants combined with the earlier shutdown of mills has thinned the job supply further.
But if things go just right – the Forest Service's new flexibility and emphasis on getting rid of the could prove an economic boon to the White Mountains.
And that's in addition to keeping the whole place from burning down.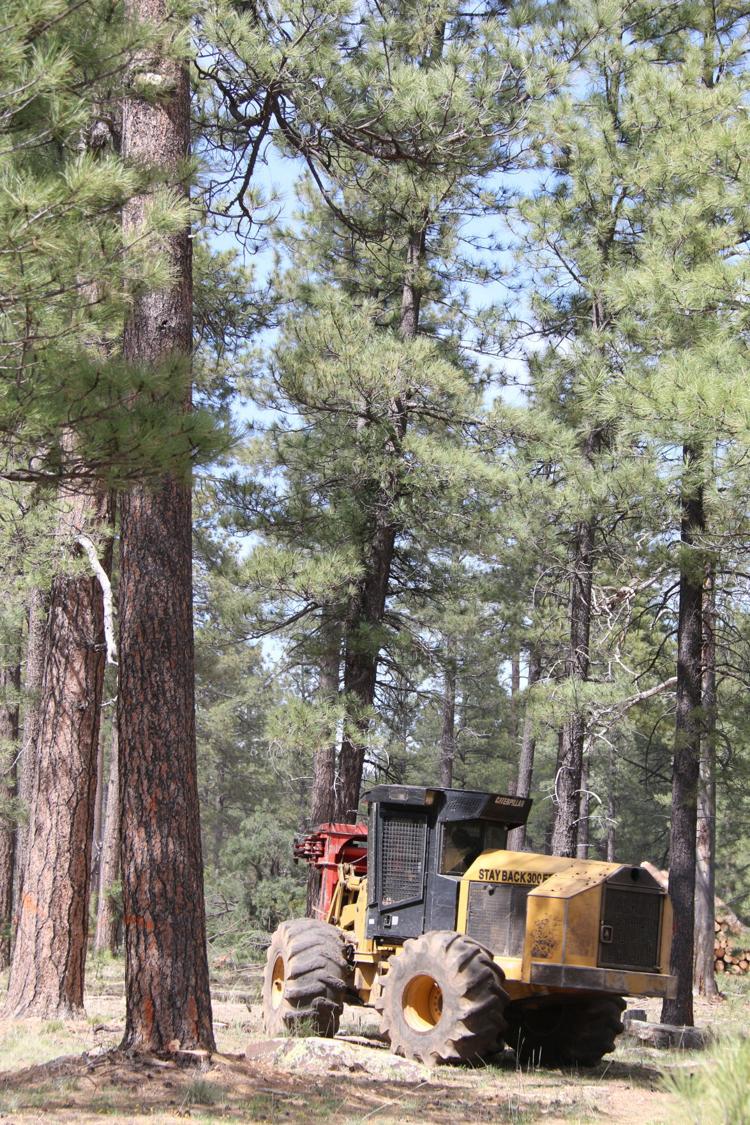 A month ago, Worsley was warning that the Arizona Corporation Commission's refusal to require power companies to generate electricity from wood slash would doom his operation – and likely Tristar Logging, which operates thinning crews and the sawmill nearby.
Now, he has hope that not only will the current industry cluster survive – but new businesses could set up nearby.
The existing cluster of wood processing operations made it possible to thin more than 50,000 acres as part of the White Mountains Stewardship Project and thousands of acres more since that contract ended. The amount thinned in the White Mountains dwarfs the efforts of the official 4FRI efforts – mostly because NovoPower can handle 150,000 tons of biomass per year.
The plant has remained in operation largely because the Salt River Project and Arizona Public Service entered into long-term contracts to buy 28 megawatts of electricity annually. That was mostly in response to an earlier ACC mandate to buy power from renewable sources. Those contracts end in 2024 and it's now more economical to generate renewable energy from solar.
However, the new 4FRI rules make it clear contractors won't get to cut the profitable saw timber unless they have a way to get rid of at least 50-80 percent of the biomass. Currently, biopower remains the only large-scale, economical way to handle that much material – roughly half the biomass generated by a thinning project.
Worsley said APS has left the door open to a long-term extension of the current contract to buy power from the plant, even without a new ACC rule.
"What we're being told by APS is that as long as we're the most economical solution, there's an opportunity to continue this facility with suppliers and buyers," said Worsley.
And now SRP has made similar statements, based on the RFP's stress on processing biomass. SRP has about a million customers and supplies both power and water to the Valley – which means it has a vital stake in the watersheds a successful 4FRI project would protect.
SRP Director of Water Supply Bruce Hallin said "we've had several meetings with Brad. We've been very supportive of this RFP process. Let's see what kind of responses we get and make a well-informed decision about how to move forward."
SRP will sit on an advisory panel to review proposals. Hallin said handling the biomass remains critical. "We're looking for contractors who can not only remove the timber – that's critical – but we also need organizations that can remove and treat the biomass."
A host of government officials and industry representatives are still trying to convince the ACC to revisit the biomass rule. This would open the door to the conversion one unit of the soon-to-close, coal-burning, APS-owned Cholla Power Plant to biomass – another boon to local industry.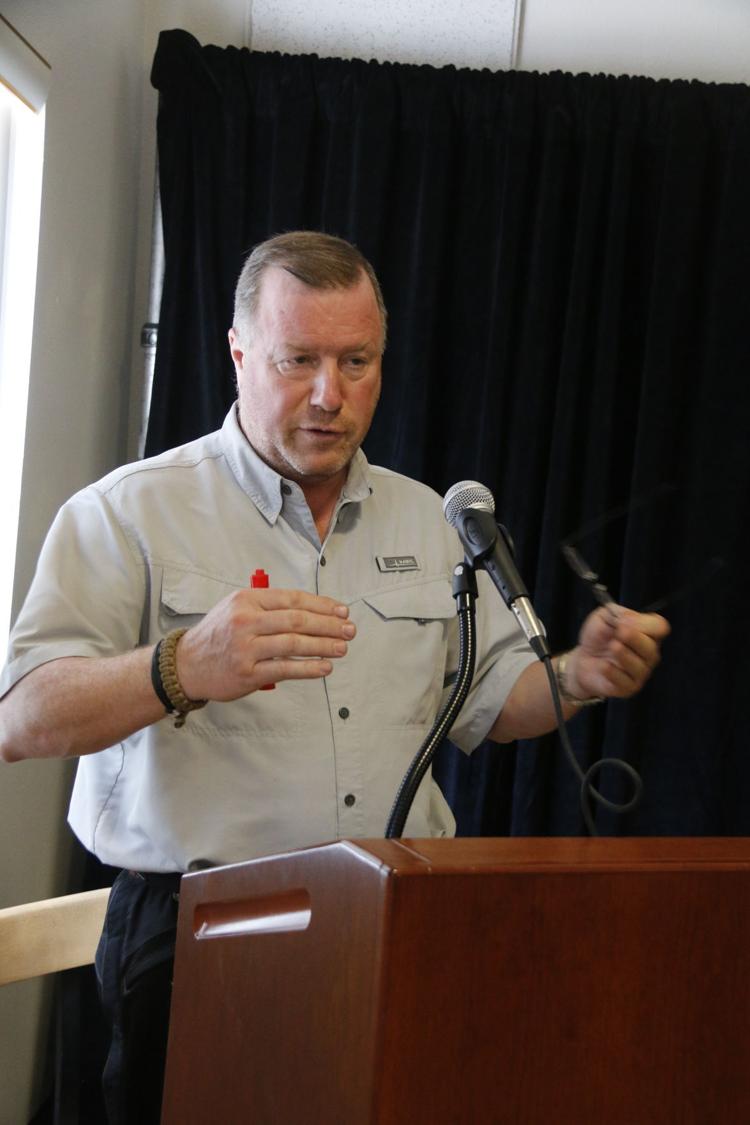 Eastern Arizona Counties Association head Pascal Berlioux said last week he and a group that included SRP and the Forest Service briefed the ACC commissioners on the status of 4FRI. "Before, they said we need to see the RFP before we do anything. OK. Fine. So the RFP is out. And one of the things they could see is that any proposal that removes less than 50 percent of the biomass is unsatisfactory. So the questions of whether biomass will be available is answered."
Berlioux said only turning wood slash into electricity offers an immediate answer to the biomass problem. He noted that California had a thriving biomass industry based on government mandates 30 years ago, but essentially allowed that industry to die off. The destruction of Paradise California and the death of 85 residents has spurred renewed action.
"They allowed the biomass industry to shut down and then 'oh my God' they discovered again they are vulnerable to forest fires. And now the governor of California is having an emergency to reboot the bioindustry in California. So wouldn't it make sense that we don't allow our existing industry to collapse? It is not really about producing electricity – it's disposing of 300,000 tons of biomass every year with near-zero emissions. That is the service industry like Novo Power provides. If we shut them down tomorrow, we lose the forest restoration industry. So we need to think of it as a service these guys provide," Berlioux added.
Worsley said recent statements by both APS and SRP have given him renewed hope that both power companies will at least extend their existing contracts.
This would allow him to put in a bid for a 4FRI contract as part of a group.
For starters, that could include Tristar and the other contractors already operating in the White Mountains.
The whole point of the RFP process is to dangle the promise of a 20-year contract for a massive amount of wood to lure a major timber company into the state. Thinning efforts can only ramp up to 50,000 acres annually if someone invests hundreds of millions of dollars in processing facilities, including sawmills, small-tree processes like OSB plants, more biomass power plants and other operations.
"But we're in a good position to move forward," said Worsley. "We don't need a three-year ramp up. We're ready to go."
Worsley said his plant can econoomically burn biomass cut within a 40 or 50 mile radius of the Snowflake plant, due to trucking costs. If someone builds an OSB plant nearby to handle some of the higher-value wood, the economic radius for the power plant could extend to 70 miles, supporting thousands of acres of additional thinning projects.
"If there is an OSB plant, I hope they would consider building right next to our facility – it will decrease transportation costs. We have rail and water access that even the west side doesn't have and we have the water rights secured – that's why the paper mill was located here 60 years ago.
"I'm not pushing this as the only place to locate. If they're going to invest a couple hundred million dollars – some say in Winslow – they'll have to make sure they have the water rights secured. We'd love to team up with any legitimate bidder."