SPRINGERVILLE/EAGAR — Round Valley Elementary School has a lot of a good things. The only problem is that even good things need space to grow.
In this case, its kindergarten students.
During a review of enrollment numbers for the the Round Valley Unified School District, Superintendent Travis Udall reported that "enrollment is up by 38 students from the same time last year."
Udall also reported that the high school has 389 students, the junior high has 418 and the elementary has 551, 108 of which are full-day kindergarten students.
The elementary serves grades K-4. The K-2 student population was described during the meeting as "bulging at the seams." Round Valley Elementary School Principal Michael McClellan added that "all the classrooms are filled to capacity and have 30 to 35 students."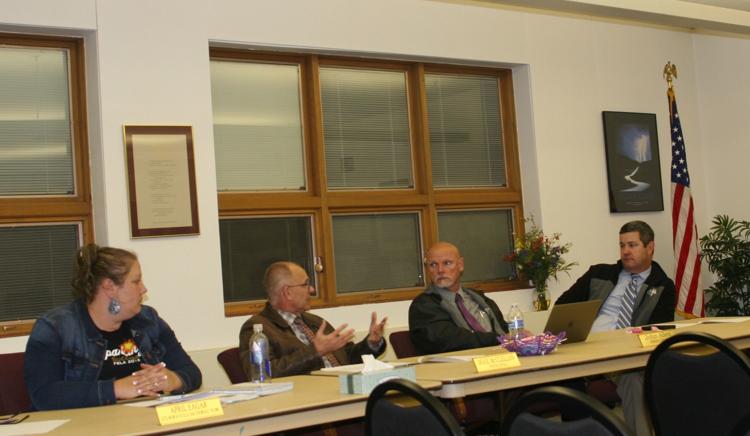 Kindergarten is held at the elementary school in Eagar and is supported by five teachers. "This is the first time in many years that we have had five teachers; in the past we have had just four," says Udall.
"We could move them (kindergarten) but it would be a last option due to costly logistical issues such as office, nurse and food service," which, he explained, would need to follow the kindergarten classes. Such rearrangements would require the district having office, nurse and food service support duplicated which comes with an associated cost.
"If the kindergarten population holds steady, we would have to add more staff," predicts Udall. "Determining that enrollment number is difficult because sometimes on paper it looks like we have larger enrollment but when school actually starts we have lower numbers show up. If the population drops, one of the kindergarten teachers might have to follow that class up to first grade to assist with those high numbers."
"It's a difficult situation to determine what decisions need to be made in a timely manner," adds Udall. "We usually wait till after school starts before we make a decision due to the fluctuation in the student population. We will be evaluating preschool, day care and Head Start numbers to try and see how we can best serve the kindergarten students of Round Valley for 2020."
The Independent contacted other school districts to compare kindergarten populations but districts vary greatly in size and how elementary schools are structured.
Blue Ridge Elementary reports approximately 150 kindergarten students which is a large number for them, according to staff. Whipple Ranch, a larger K-2 school than some of the outlying areas, has 133 kindergartners which is average for them.
Taylor Elementary School has only 76 students but Highland Primary, also a K-3 in the same district, has 111 kindergarten students which is average for them, according to staff.
Vernon Elementary, a K-8 school has 138 students total — only 12 of those are in kindergarten. Concho Elementary, also a rural K-8 school, has 20 kindergarten students which is about average for their district.