PINETOP-LAKESIDE – Sometimes it's the things that we pull together at the last minute that actually turn out the best – especially when we are doing it from the heart. Such was the case with the New Year's Eve Give Back Concert hosted by Fat Chance Band at the White Mountain Nature Center in Lakeside.
The combination potluck-charity presentation-music and dancing event began at 6 p.m. and ended at 10 p.m. — plenty of time to hit another event or get back home and bring in the New Year at midnight.
As often happens when there is a potluck without a sign-in sheet, it just turns out right. The people who came did not just grab any ole-thing to bring to the potluck, they brought their best and lots of it.
Walking Down Ranch, Navajo County Friends of CASA, The Blue Ridge High School music department, the Lion's Club Camp Tatiyee, The Nature Center, Save the Park, Native Women Scholars and Rainbow Housing Assistance Corporation were invited to make an appeal for charitable gifts. Each one had an opportunity to give a presentation in between the food, music and dancing and everyone paid attention to the folks that have such passion for their organizations and work so hard to make the lives of the people they serve, better. Each had a table or display and had representatives to provide more information about their group.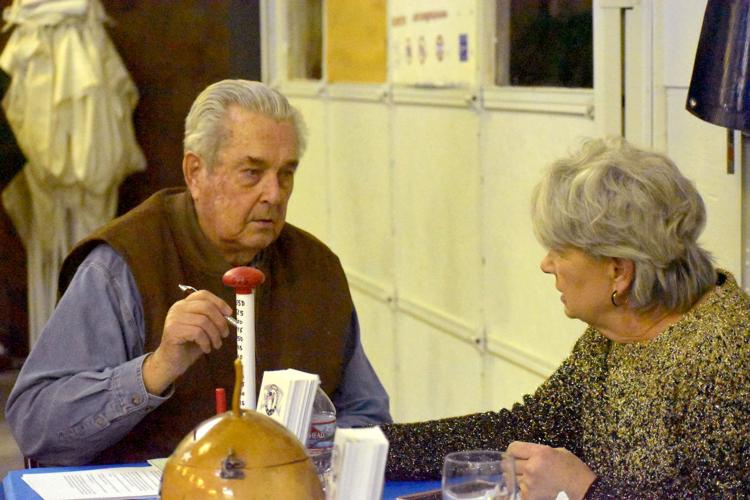 Blue Ridge High School's music department had a table alright – they were the display. They did speak about their plea, but rather than distribute pamphlets, they displayed their talents by performing two numbers that exemplified why they are worthy of any monies given them to attend a music competition this year. One of their group even passed the 2020 New Year's Eve top hat around the room for anyone to drop in their folding money or checks.
There was no admission charge and no one was obligated to contribute, but many – as requested in the flier – brought their checkbooks and plastic because they wanted to.
Fat Chance band was missing one of their own, Art Gillespie, yet with the help of two other accomplished musicians, Jeff Barber and Kerry Neuhardt who filled in, Steve Knutson, Everett Peterson and Jason Miller kept the tempo upbeat and people on the dance floor.
Though there was no tally at the end of the night as to gifts raised, people were exposed to information about the groups and made contact with their representatives. It seemed everyone had a great time and this, no doubt, will be an annual New Year's Eve event with a way to end the year on a good note.