SHOW LOW — Playgrounds have become sophisticated. A triangle frame with three swings, a ladder slide and a teeter totter is a relic.
Playground projects have become all the rage and, if you have the funding or can raise the money, the sky is the limit.
As playground equipment has expanded, a desire has grown to create play areas for children of all abilities. Such designs are referred to as inclusive playgrounds.
The Show Low Community Services Department, responsible for the public library, parks and recreation, recently unveiled a plan to involve the community in the construction of an inclusive playground and splash pad at Frontier Park located at 660 N. 9th Place.
The total playground area is expected to be 8,300 square feet – 1,500 of which will be dedicated to a splash pad. Parking will also be increased by 164 spaces to accommodate the new facility which will be maintained by the city.
Community Services Director Jay Brimhall will spearhead the committee and already has a $200,000 commitment from the City of Show Low administration which will go towards the estimated $850,000 playground price tag.
During a Nov. 20 meeting, representatives from Unlimited Play and Little Tikes provided a detailed vision, theme, layout and playground amenity list.
Unlimited Play describes themselves an "award winning nonprofit organization that "builds universally inclusive playgrounds to promote health and wellness and change communities by providing freedom of play for ALL children."
A slide show, brochure and personal testimonials from company representatives and specifics were provided by Unlimited Play Executive President Natalie Mackay and Project Manager Jim Volmer.
Mackay and Volmer described how inclusive playground equipment is different by sharing at least eight playground characteristics deemed important.
Americans with Disabilities Act (ADA) approved ramps and entryways onto the play surface. Wheelchair accessibility and safety is built into the framework of the entire playground. Using "safe, smooth, spongy surfacing" instead of pea gravel or wood chips is a requirement.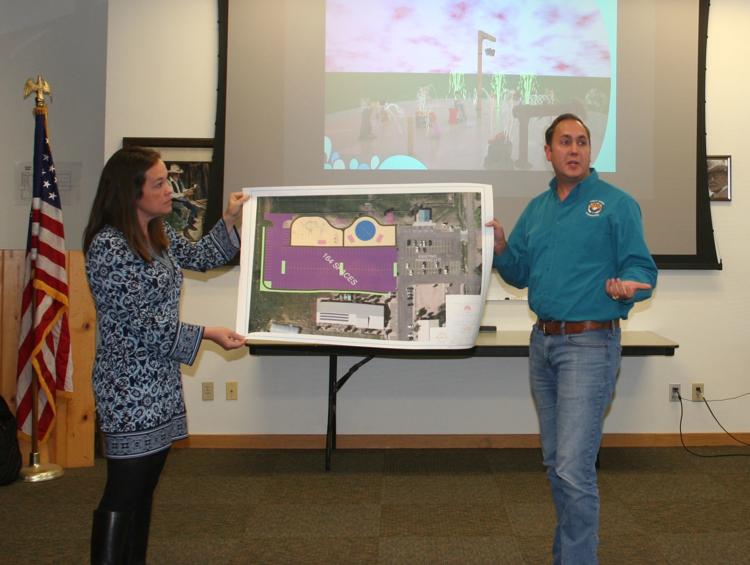 The playground design should also "promote independent and integrative play," says Mackay. Appropriate fencing will also be built around the area.
Equipment that uses "active motion" to offer the "thrill of swinging, spinning, climbing and building friendships" is incorporated as well as "social inclusion".
The play features are built in such a way that children or adults with disabilities can play with their peers. Transfer stations (for wheelchairs), specialized seating and handholds, high back swings, saucer swings, musical elements and educational play panels are included. Meeting areas that have shade structures are also typical of Unlimited Play designs.
"Kids need to be free to play," says Mackay. "Graduating complexity is also used in the design so that entry level kids can choose their challenge and learn new skills."
A western theme that blends with Show Low and the White Mountains will be incorporated throughout the design.
"This type of playground serves so much more to the community, not just special needs kids," says Volmer. "It does open up the world to everybody."
"We have also received lots of calls asking for a splash pad," says Community Services Director Jay Brimhall. "We like the idea and want to include the same type of fun, inclusive and engaging activities within the splash pad feature."
Although the City of Show Low has allocated $200,000 to the $850,000 project, that leaves $650,000 that still needs to be raised.
"We need to fill the gap of funding," explains Volmer. "The leaders in this community already really understand the need for this. Many times local businesses will donate things like concrete, lumber, labor, fencing and site work."
"We are able to do consulting and grant writing to help with the project," says Mackay. "But, we also rely heavily on the local community for fundraising."
"We are at the design point and ready to develop a community team to spread the message and help us raise the funds," says Brimhall.
If funding is achieved, the timeline for completion could be as soon as two years. "Our intent is to have local business leaders getting involved," says Brimhall. "We request your support for the project and hope to convey the value of our community coming together around this."
For more information or be part of the playground committee or sponsor an element of the project, contact Jay Brimhall at 928-532-4014 or email jbrimhall@showlowaz.gov.