APACHE COUNTY — According to an independent contractor agreement approved by the Board of Supervisors in June, Veritas Research Consulting LTD, through "its agent, Doyel Shamley," also identified as a "contractor," will receive an amount of money not to exceed $75,000 in fees and costs up through April 2020. A former-county supervisor, Shamley's "contractor services" are in connection with the county's lawsuit against opioid manufacturers and distributors.
As of July 29, the county has paid out $20,000 in about eight weeks. But documents provided to the Independent by Apache County offer little detail about what Shamley is doing on the county's behalf.
Veritas is a domestic limited liability company organized in the State of Nevada. According to records from the Nevada Secretary of State, its sole manager is listed as Arcanus Management Corp. with an address listed as "Apartado 0816-00386" in city of "Republica De Panama" in the country of Panama. Its "agent" is listed as "Nevada Commercial Registered Agents LC," with an address in Las Vegas. Up to now, Veritas seems to have concerned itself with land usage, but there is very little about it in the public record or on the web.
What exactly Shamley's position is with the company is not made clear in these documents, besides his identification as an agent and contractor.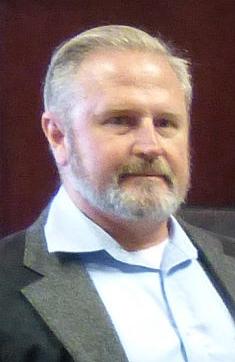 Doyel Shamley was elected to the Apache County Board of Supervisors in 2016 and served from 2017 until the spring of 2018, when he resigned to pursue an unsuccessful run for a seat in the Arizona House of Representatives Legislative District 7. Through Veritas, Shamley contracted with the county prior to his election as a natural resources consultant.
Apache County Purchasing Policy (revised 6/6/17) according to county's finance department per state statute (A.R.S. sec. 11-254.01) says professional services are not subject to the sealed bid process for goods, buildings or general services. Any professional services agreement over $20K per fiscal year is recommended by the "elected official or department head" to the board of supervisors for a vote. The supervisors approved the contract at the June meeting.
Pursuant to a public records request to examine the invoices from Veritas, the Apache County Manager's office produced eight invoices ranging from $9,500 to $2,000 between June 19 and July 29, totaling $20,000 for that time period. The description of the services rendered was unclear. For example, services performed were listed as "Opioid MDL (multiple district litigation) state court and demographic case data" and "meetings for media and community members."
The Veritas contract isn't for attorney fees and costs of litigation. The county has a separate agreement with three law firms for that — one in Phoenix; two in California. Navajo County has also sued opiate producers, but there doesn't appear to be any record of that county hiring an independent contractor to help in its suit. Navajo County Attorney Brad Carlyon has yet to respond to The Independent's inquiry about that.
County Attorney Michael Whiting doesn't see a problem. He responded to a request for comment and sent an email to The Independent with a long list of the activities that Veritas is engaged in; mostly data collection. Whiting wasn't in his office at the time and dictated from memory into a "talk and text" program.
He says that Veritas has been interfacing with state, county and local law enforcement, fire districts and departments regarding the number of deaths that have been linked to various opiates, the number of calls and responses to and by police and fire related to the drugs, consulting federal databases about the number and type of opioid distribution, financial research into the various defendant drug producers and distributors, their reports to the Securities and Exchange Commission and researching grants that can help abate the opioid crisis in future treatment centers.
The Independent made a second public records request for Veritas' work product, for "all documents" prepared and submitted to the county pursuant to the independent contractor agreement for which Veritas was paid. Produced were a one-page press release from the county attorney's office which was already on the county's web site, a two-page handout prepared by the Arizona Department of Health Services, a blank three-page survey, a one-page letter from the county attorney and three, one-page emails from Shamley. The emails are about gathering data, the lawyers' timing of the suit, a meeting, the handout from ADHS and a caution about what to put in a public document. The few documents provided don't include much written product of the work performed.
Particularly curious were invoices billed for "meetings for media and community members." No documents related to that description were provided. The Independent, the largest local newspaper in the area, never received notice of any public meetings or press conferences called by Veritas or related to the county's opioid litigation.
It might be noted that the invoices instruct the county to send the mail (presumably the checks) to Shamley's Eagar post office box. In one note, Shamley said that he was going to pick up the payment personally.
The Independent reached out by email to Shamley asking that he help the readers understand what exactly he and Veritas are doing for the county and what exactly was $20,000 of taxpayer money spent on. To date there has been no response despite emails to two different Veritas-related addresses and a voice message to Shamley's cell phone.
Whiting concluded his comments by saying that "There's many other items, issues, data, and various subjects they are assisting us with right now during the lawsuit, but I think this provides a basic overview as to the the value they provided in proceeding with the largest lawsuit in the history of Apache County."
According to the contract, the county has an obligation to pay an additional $55,000 to Veritas by next April.