Plagued by a pandemic, Apache and Navajo Counties appear headed for a disastrous census undercount, which will cost residents millions in federal and state aid.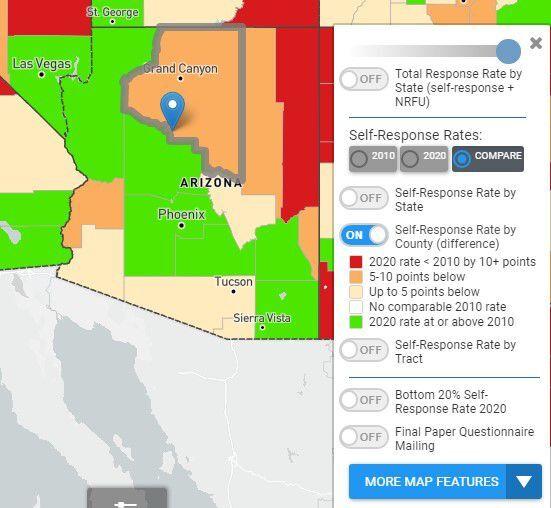 Apache County's "self-response" rate is the worst in the state — just 21%. That's a staggering 19% behind the percentage of households that sent in the census questionnaire before census workers knocked on the door in 2010.
Navajo County's doing better — but not much. The county's self-reporting rate stands at 31%, a daunting 11 percentage points behind 2010, according to Census Bureau estimates.
Local officials implored residents to fill out the one-page Census form if they haven't already done so.
"We are very concerned that our communities will be under-reported in the Census, and that our residents may not see how critical the 2020 Census is to funding schools, hospitals, roads, and for helping families in need," said Assistant Navajo County Manager Bryan Layton.
Everyone should have received a form and information in the mail — both an initial mailing and a follow-up mailing for those who didn't respond. If you've lost your form, you can get a new form by phone or online. If you have the form but lost the envelope, fill out the form and mail it to: U.S. Census Bureau, National Processing Center, 1201 E 10th Street, Jeffersonville, IN 47132.
Census Bureau workers in the coming weeks will continue going door to door trying to contact people who have not yet responded. The Census takers are also trying to reach the homeless, people living in group settings, second home owners and other often difficult-to-reach people. All of the information on the form remains confidential, by force of law for at least 72 years.
The situation amounts to a head-counting emergency, since the federal government cut a month off the time the Census Bureau has to go door to door to fill the gaps. The Census Bureau must now complete the count by Sept. 30.
The alarming undercount in rural areas like Apache and Navajo counties will prove costly to the region, both economically and politically.
The Census not only determines the distribution of federal aid, it determines the number of seats in congress and the boundaries for every legislative seat.
Layton noted, "The federal government spends $675 billion every year in communities across the nation and we will only get our fair share with a complete census."
State and local governments get about $3,200 per resident counted in the census. So missing 5,000 people in Navajo County will cost local governments $16 million annually — a huge hit.
Arizona will likely gain a congressional seat as a result of population shifts after the Census. Those detailed population numbers will determine how the 10 congressional district boundaries get drawn — not to mention all of the state senate and house district lines.
So a big undercount in Apache and Navajo Counties effectively shifts economic and political power to already dominant Maricopa County — which is doing a much better job of counting all its residents.
At this point, Maricopa County has a response rate of 65%, a little higher than the 64% self-response rate at this point in 2010 response rate. By contrast, the response rate in Navajo County is an estimated 31% and a dismaying 21% in Apache County.
The Census Bureau has not at this point released the total count rate, which would include the results of the ongoing door-to-door efforts.
Navajo County has an estimated population of 105,848 living in 34,407 households. Another 2,857 people live in group quarters, for a total population of 108,705.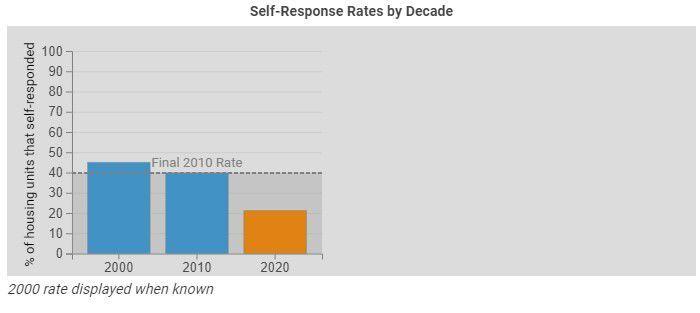 Apache County has an estimated population of 70,174 people living in 20,395 households and another 1,348 people living in group quarters for a total population of 71,422.
In 2010, estimates suggest about 1.6% of the national population never got counted – perhaps as many as 16 million people. Homeowners were overcounted, renters undercounted. Native Americans were undercounted, whites were overcounted. Native Americans living on reservations were undercounted by 5%.
The pandemic undoubtedly plays a role in the dramatic undercount locally. Apache and Navajo Counties were coping with one of the worst per-capita outbreaks in the country during the Census Bureau's early push to convince people to fill out online forms — or request a form through the mail. Both counties already face a challenge in getting an accurate count, giving the distances involved, the lack of internet in many households and even the lack of regular street addresses, especially on the vast stretches of the reservations. The undercount has gotten progressively worse in the last three Census cycles.
A tight deadline this year will complicate the effort to contact the people who haven't yet sent in their surveys — leaving less time to contact far more people.
The Trump Administration abruptly ordered the Census Bureau to wrap up the count four weeks early. Four former Census Bureau directors warned the early deadline could result in an inaccurate count and urged Congress to assess the quality of the count to date and to provide more time if necessary.
The Census Bureau has vowed to meet the new goal, but has been having trouble even hiring enough census takers, partly as a result of concerns about the risk of getting COVID-19 going door to door.
The administration argues the Census Bureau needs the extra time to process the numbers before the normal Dec. 31 deadline. The House had earlier voted to extend the deadline to April 2021, but the Senate declined to follow suit.
Democrats and Republicans have been locked in a dispute about whether to no longer include undocumented residents in the count. The Trump Administration had added a question to the census form to find out if someone was in the country illegally — but opponents filed a lawsuit saying the question would discourage many people from filling out a form at all. A judge threw out the question. However, the issue re-emerged in an effort to make changes to avoid counting people here illegally anyway.
Republicans argue this will avoid giving states money to provide federally funded services to illegal immigrants. Democrats argue the nation needs a complete population count. Excluding undocumented workers from the count will have a pronounced impact on states with large numbers of immigrants, including Arizona, Texas and others.
With less than a month left and an estimated 60 million people uncounted nationally, local officials and Census Bureau are beginning to panic.
"When door-knocking follow up began on Aug. 9 to count non-responding households in-person, Navajo County's self-response rate was 11 points behind its 2010 rate," the Census Bureau explained on its website. "That means a greater share of non-responding homes will need to be visited by census takers — an especially challenging task now that the Census Bureau has shortened the door-knocking timeframe by four weeks. Higher self-response rates mean fewer people are likely to be missed or counted inaccurately and fewer households will have a visit from a census taker to be counted in-person."
Layton said the undercount will affect Apache and Navajo Counties for a decade if residents don't rally.
"If we want more job opportunities in our region, we need every resident counted because businesses use census data to decide where to build factories, offices and stores," he said.