ARIZONA — Can we safely reopen the economy if we don't know who's spreading the virus?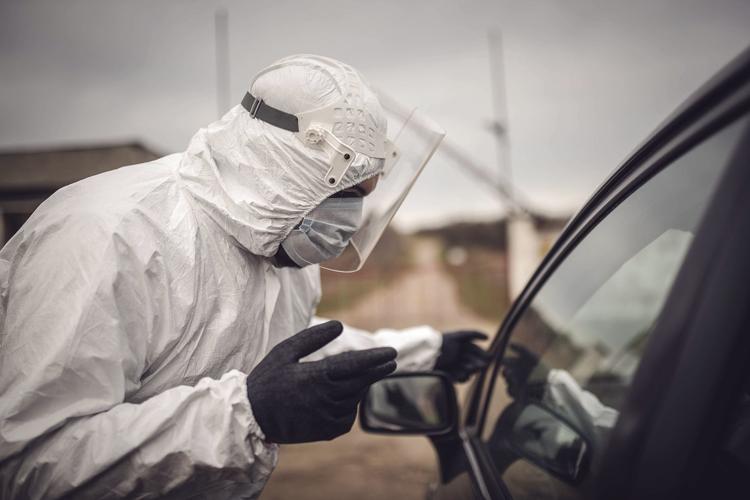 That's the key question behind the state's effort to mount a "testing blitz" for the next three weekends – perhaps doubling the number of COVID-19 swab tests done since the outbreak began.
Health experts say testing remains one of the biggest question marks when it comes to reopening the economy without a new, lethal surge in cases – especially in rural areas and states like Arizona which has one of the lowest testing rates in the state and the daily number of tests administered has leveled off instead of accelerating.
The state hopes to test between 10,000 and 20,000 people every Saturday from May 9 to May 16. The testing will take place at drive-through locations statewide. The sites listed for May 2 are all in the Valley or Tucson, with none in rural areas of the state. Sites for the following two weeks have not been announced.
Until recently, only people with serious symptoms could get the throat-swab test to detect an active infection. The state relaxed those guidelines last week, but you still need a doctor's order to get a test. The state and private labs have administered some 67,000 tests since the start of the outbreak, with 9 percent coming back positive.
Gila County has administered 593 tests (as of Monday, Apr. 27) with 2 percent positive – about one quarter of the state rate. The county has so far had 11 cases and no deaths and does only 38 tests a day.
Navajo County has done 2,400 tests, including about 70 per day last week. Some 24 percent have come back positive, roughly three times the state rate. This suggests only the most seriously ill patients get tests in the county.
Apache County has done 2,000 tests, about 80 tests daily last week. About 15 percent of those tests have come back positive – twice the state rate..
As of Monday, May 4, Apache County has 549 confirmed cases and Navajo County has 800 confirmed cases. Gila County only has 14 confirmed cases and also has one of the lowest rates per 100,000 — just 21. Navajo County has one of the highest rates population with 709.1 per 100,000 population.
The US has by far the worst outbreak in the world. And while the rate of increase has slowed nationally, the nation continues to suffer about 2,000 confirmed additional COVID-19 deaths daily.
Many public health experts say that the US will need to dramatically increase the number of daily tests administered to identify new cases and track their contacts. Without identifying those still infected, reopening the economy will likely result in a second wave of infections. Countries like New Zealand, Australia and South Korea have relied on a much more extensive use of testing and contact tracing to dramatically reduce the rate of spread of the virus. New Zealand has gone several days with no new cases and is moving to cautiously reopen its economy.
By contrast, Arizona until recently only tested people with symptoms, even though studies show perhaps half of those infected can spread the virus even though they have few, if any, symptoms.
Fortunately, the daily death toll in Arizona has leveled off or dropped. Moreover, the demand for hospital beds to treat COVID-19 patients has dropped, along with the need for ventilators – even though the number of new cases confirmed daily has remained stubbornly high, although no longer rising quickly. Computer projections suggest Arizona has perhaps already passed the peak of new infections and may have the virus contained in another month. No one's sure whether the onset of warm weather will also dramatically slow the spreads of the virus, as it does every summer with the flu.
However, all those statistics and the computer projections are influenced by relatively low testing rates. Lacking widespread, random testing or even aggressive contact tracing, doctors aren't sure how many people are actually infected and can't track down all the people exposed when they do find a case – precisely the strategy that has worked to dramatically slow new infections and deaths elsewhere.
In Gila County, for instance, health care workers only talk to three to five close contacts when someone tests positive – mostly immediate family members.
Three months after the first confirmed case in the US, states are just beginning to get the test kits, swabs, reagents and other materials needed to undertake widespread testing. With new cases on a painfully slow decline, many states are debating how they can ease "stay at home" orders and allow businesses and schools to begin reopening even without adequate test data.
Nonetheless, after months of agonizing delay, the volume of tests has started to rise. The US conducted about 1.2 million tests from April 16 to April 22 compared to 200,000 tests between March 16 and March 22, according to a test-tracking database maintained by the New York Times based on state and federal health records.
The US has adopted a three-phase plan for business reopening, although the decision ultimately rests with each governor. The federal plan at this point does not include a comprehensive testing strategy, although the most recent Congressional stimulus/relief package includes $25 billion to develop such a plan along with support for state testing programs. The federal plan calls for business reopening once states establish a "downward trajectory of documented cases" over a period of two weeks, plus vigorous contract tracing and a "sentinel surveillance" program testing people without symptoms – especially in vulnerable populations like nursing home residents.
Arizona doesn't yet meet any of those criteria.
Assorted private health and research groups have recommended testing anywhere from 1 and 20 percent of Americans weekly. In Arizona, that would increase the current 1,700 tests daily to somewhere between 15,000 and 300,000 daily.
Other estimates suggest Arizona would need to do at least 100,000 tests per month to adequately identify and isolate those infected before they can spread the virus, particularly if the state starts to reopen the economy. It took seven weeks for Arizona to test the first 51,000 people and the state only last week removed the prohibition on testing people without serious symptoms – which still requires a doctor's order.
Unfortunately, the standard swab test misses an infection perhaps 15 to 40 percent of the time in people with an infection, depending on the technique and experience of the person taking the sample. The test requires a health worker to push a swab into the back of the throat or nose to take a sample. This often causes the person tested to cough violently, which prompts the technician or doctor to pull back. Experts think this accounts for the large number of false-negative tests.