PINEDALE – A 19-year-old Lakeside man has been arrested in connection with the alleged shooting deaths of two domestically owned horses found dead near Forest Service Road 9890G in Pinedale.
Ryland Haynes was taken into custody by the Navajo County Sheriff's Office on Friday, Oct. 11 and has been charged with disorderly conduct involving weapons, unlawful killing of livestock and criminal damage, according to a news release issued by Navajo County Sheriff's Office (NCSO) on Monday, Oct. 14.
The arrest comes less than two weeks after deputies were dispatched to a forested area near Capps Ranch Road, north of State Route 260.
On Monday, Sept. 30, deputies responded to a report from an unidentified party that discovered the deceased animals. The following day, NCSO issued a news release confirming the horses were in fact domesticated and were privately owned livestock.
On October 1, the Sheriff's Office requested assistance from the Arizona Department of Agriculture Livestock Field Office. Necropsies were performed the following day and "projectiles were removed from both carcasses," according to NCSO Sheriff David Clouse during a brief phone interview with the Independent on October 3.
"The horses had wounds that appeared to be made by small caliber bullets present in the chest area. The horses looked to have been deceased for several days (judging by) decomposition and scavenger presence," also stated the news release.
Since then, NCSO's Criminal Investigations Division took over the case and "began interviewing potential suspects" which led to "enough probable cause" to arrest Haynes. This includes an October 5 break in the case when the Sheriff's Office "received information in reference to several possible suspects that may have information about the shooting of the horses."
Although the horses were privately owned, they were found on Apache-Sitgreaves National Forest lands heightening concern that the incidents could be related to recent deaths of Heber Wild Horses.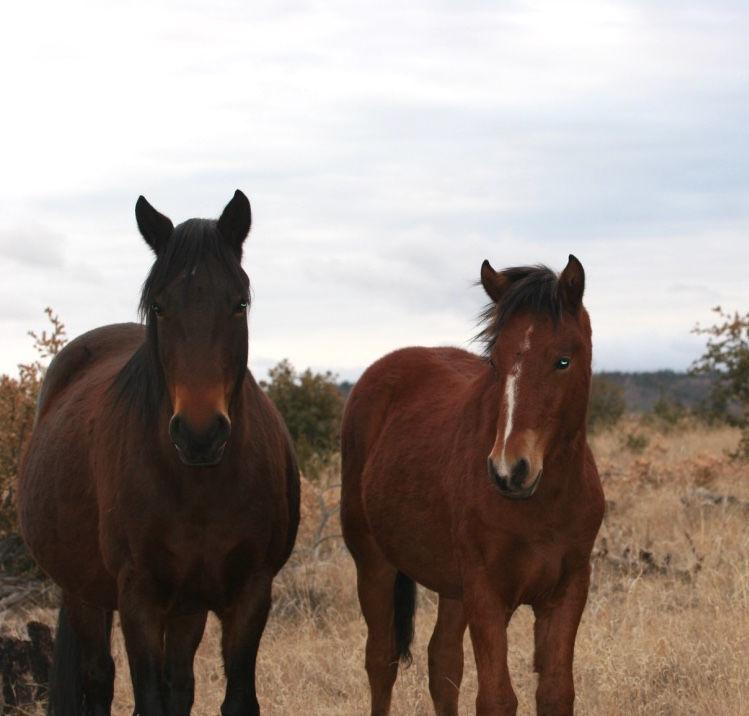 "The Forest Service is aware of an incident that occurred on September 30, 2019 involving two deceased horses near Capps Ranch Road in Pinedale," writes Apache-Sitgreaves National Forests, Supervisor's Office Information Assistant Steve Johnson in an October 17 email to the Independent. "We were made aware that a suspect in this case was arrested on October 11, according to the Navajo County Sheriff's Office news release issued on October 14. While the incident did occur on National Forest land, state agencies investigated the case due to the horses being the private property of the respective horse owner."
It is unclear at this time if the two horses found on September 30 were owned by a ranch with grazing rights on forest land. It's also possible they were part of a permitted trail-riding outfit or a guided hunt outfit. "There are any number of reasons that the horses could have been on Forest Service land," confirmed Johnson.
It has not been confirmed by NCSO that the horses had livestock branding; that information was contained in a social media post.
NCSO also stated in the October 14 press release that "more arrests may be pending" and confirmed that they are communicating with the Forest Service daily.
"There are other individuals we are looking at," stated Navajo County Sheriff Chief Deputy Randy Moffitt in a phone conversation with the Independent on Wednesday. "We have confirmed that the horses were owned by two different individuals which we are still interviewing."
"Part of this process is to ensure the horse owners want to be named as victims," adds Moffitt. "We had to do a lot of follow-up to locate both horse owners and we expect to release additional details as they become available."
"This has not been a simple case to investigate. As of today, we are still gathering evidence to make the best case possible for prosecution," states Moffitt.
"The Sheriff's Office has been working diligently on this case since we received information about the deceased horses," adds Sheriff Clouse. "We are pleased that a suspect was identified and arrested but we still have a lot of work to do. This was truly a senseless crime that needed to be resolved as soon as possible."
Police reports and forensics and all of the information gathered will also be reviewed by the Navajo County Attorney's Office to determine if additional charges will be filed.
The domestic horse shooting comes in the wake of 11 documented shooting deaths in the past year of Heber Wild Horses on Apache-Sitgreaves National Forests east of Heber/Overgaard and south of State Route 260.
Is there a connection between the most recent shooting and the Heber Wild Horse shootings? That's the million dollar question that the public is asking.
At this time there is no answer.
Since October 2018, there have been 11 documented cases of free-roaming horses in or near the Heber Wild Horse Territory showing "evidence of gunshot wounds" according to Forest Service press releases issued this spring.
The Heber Wild Horse Territory, however, lies south of State Route 260 and is several miles west of Pinedale and Capps Ranch Road. The Territory is not adjacent to the area where the two horses were found on September 30.
To date, no arrests have been made in connection to the Heber Wild Horses deaths and the investigation continues.
"At this time, we do not have any additional details on the investigation that we can provide," confirmed Apache-Sitgreaves National Forests, Supervisor's Office Information Assistant Steve Johnson in an October 8 email to the Independent.
"The Navajo County Sheriff's Office is sharing information with Forest Service Law Enforcement and the Apache-Sitgreaves National Forests will provide further comment as more information becomes available," adds Johnson.
The information-sharing between the Forest Service and Navajo County Sheriff's Office may prove critical in determining if the cases are linked in any way.
Anyone with information related to this incident is asked to call WeTip 1-800-78 CRIME or NCSO dispatch at 928-524-4050. Calls remain anonymous and a reward may be offered for information leading to an arrest and prosecution.