PHOENIX — The Arizona Department of Health Services (ADHS) reported 17,234 new COVID-19 cases Sunday, a record one-day high for the state. The only bright side is that there were no new deaths reported on Sunday. The high number of new daily cases exceed the state's previous record of more than 12,314 new cases almost a month ago on Dec. 8.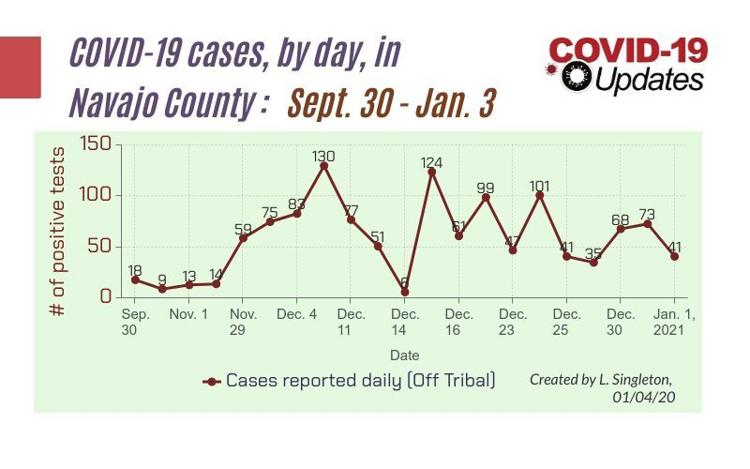 On Monday morning before 10 a.m., there were already 5,158 new cases reported in Arizona, bringing the new state total to 561,542. There have been 9,064 deaths, also as of Monday morning.
A week ago, there were 504,423 cases and 8,469 deaths reported in Arizona. That's an increase of over 57,000 cases in a 7-day rolling count of cases.
It's surmised that the new cases continue to peak following holiday weekends and people continue to gather, celebrate and let down their guard when it comes to social distancing.
In the federal Centers for Disease Control Data Tracker, Arizona also second in the U.S. for seven-day new case averages. California was the only state on Sunday, Jan. 3 that had a higher number of average daily cases per 100,000 in the last seven days. The top five states, in order, were California scoring a 98.8 average, Arizona and Tennessee both scoring 90.5 average, followed by Kansas at 88.5 and finally Oklahoma at 87.2.
Navajo County stood at 11,922 COVID-19 cases Monday, ready to tip to 12,000 cases with 347 deaths. There were 57 new cases reported on Monday morning which is about average for new cases reported daily over the last week.
The Apache County case total was 7,785 on Monday morning with 244 deaths to date. There were 27 new cases the same morning.
Also as of this past weekend, the percent positivity statewide was 26% of those tested which is almost double that of Navajo and Apache counties. The Navajo County positivity rate was 14.8% and Apache County reported slightly less at 11.8%.
Navajo County daily cases increased slightly immediately following Christmas with 78 new cases on Dec. 29, 68 new cases on Dec. 30 and 73 cases on Dec. 31. The numbers dipped down on New Year's Day to 41 but are expected to return to the 70's following the holiday.
Meanwhile, the Navajo Nation to the north of Show Low and the White Mountain Apache Tribe (WMAT) to the south are battling the same case surges.
Navajo Nation President Jonathan Nez and Vice President Myron Lizer reported 146 new cases Sunday, bringing the total number of cases to 23,728. Also notable were 12,191 recoveries since tracking began.
The Navajo Nation includes areas in Arizona, New Mexico and Utah.
WMAT reported their new total on Sunday at 3,397 cases since tracking began in April. They reported 16 new cases the same day.