SHOW LOW — An end of an era is coming January 2020, when Pet Allies veterinarian Dr. Steven Andersen plans on retiring after 10 years there. He is married, his wife, Sally  and they have grown children. He would like to see his grandkids, do some fishing and travel. Retirement is just around the corner, however that leaves Pet Allies Director RJ Owens the task of finding a replacement.
Veterinarian job duties are to care for the health of animals and work to improve public health. They diagnose, treat and research medical conditions and diseases of pets, livestock, and other animals. It takes a special person to care for these animals and Dr. Andersen has gone above and beyond these duties as staff and volunteers try to imagine what they will do without him.
Dr. Andersen recalls joking, "I am surprised I ever got hired because the one dog that we didn't spay, had 19-20 puppies because it was term …" Before Pet Allies he worked at Heartside in Snowflake, Alta Sierra, White Mountain Animal Hospital, a combined total of 10 years.
His type of personality has brought out the best in his staff, who he says is "dedicated and unwavering."
"There is no one that can fill his shoes," said Front Desk "Wizard" Jenni Jarrell with a tear in her eye, as they have shared sarcastic humor together.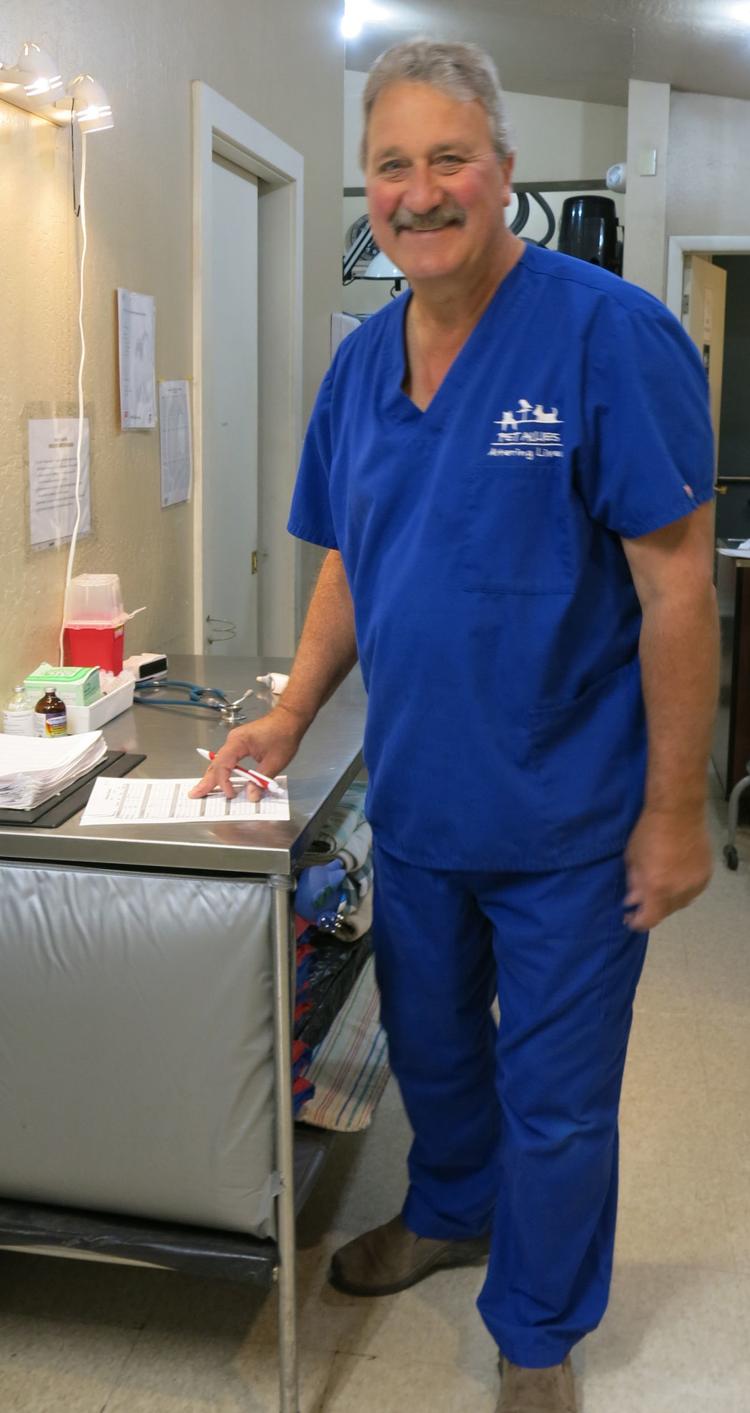 Let's back up, before Pet Allies, about 20 years ago, Owens, who handled rescues and took them to Heartside, noticed the special care Dr. Andersen and his colleagues gave to pets there. She said "I just picked them out of all the vet clinics I've been to, these are the ones I want, I am going to start a clinic somewhere and I am going to hire these people." She went on to say, "it took me 10 years and I finally got them all in the same building. I always thought he was great doctor when I saw him practicing at Heartside and he actually came to us, we had a doctor at the time that wasn't really fitting in very well, she was good but she didn't fit in to what we were doing."
Owens also remembers, "It was a big change for him too." As a regular doctor he was used to only doing 4-5 surgeries in a day. We were asking him to do so many spay/neuter surgeries in a day … to handle 20-30 in a day and we just gradually added more things for him to do for us." Owens continued "he stepped up to the plate every time we tried to task him with something new. He just took on pretty everything, sometimes he would say, we really can't do this at this clinic, but most of the time, he would figure out a way to try to save that animal or help a family that had no money."
If you have taken your pets to Pet Allies, you know Dr. Andersen handles what could normally be a stressed situation with confidence, is also very calm and is kind to both the animal and pet owner. "Handling a surgery procedure on one table and having an emergency situation on the table next to him, he can tell his techs what to do, until he is finished with that surgery and then jump over and take care of the emergency with ease," said Owens.
Former co-worker of Andersen, Karen Beebe came to Pet Allies to get an animal spayed and saw other co-workers she worked with was there. She volunteered for three years before transitioning to a paid employee and has been their recovery technician for five years. "He's one of the best bosses I've ever had, indirectly he is my boss, I have never worked with anyone who has been more fun."
"I worked with Doc since I got to Arizona, since 2004 at White Mountain Animal Hospital and Alta Sierra Veterinary Hospital. We just kept running into each other within a year or two. Then he came here (Pet Allies). It's been awesome, it's been like a family here, so that is going to be really hard," said Lead Tech Debbie Collins-Riviera. Laughing "he sings like one line of the song and that's about it. Same thing over and over." Even though we are doing 35 animals a day, we make it fun and he's been part of that. I've never worked with such a fun laid back, but on the ball doctor, even in emergency situations, he's calm and doesn't get all frustrated."
"I thoroughly enjoy it and love what I do," said Dr. Andersen. "There is a need for what I do to provide low cost veterinary services. It's a long day, gotta make it fun … it's been an honor to work with them all." He added "We can't do what we do without the volunteers, doing what they do to help us get through the day, watching the animals, answering the phones, call backs."
"The mission for Pet Allies is to speak for the animals who can't speak for themselves and do what they can. It's not just the clinic, there is the shelter, grants, donations. Whatever it takes to keep it running," said Andersen.
Pat Barton who has volunteered for almost four years "I'm heartbroken," and "he's the greatest man to work with." "Some of the rescues are so beat up when we get them, he goes above and beyond to save them. He and RJ just make it like family."
Referring to Andersen Cecily "CC" Preusser said, "He is probably the kindest, most professional vet that I have ever worked for and I've worked for 10-11 years in the vet field. I've never worked for a vet who worked for the love of animals … anybody that I have ever mentioned Dr. Andersen's name to, who is a pet owner, has nothing but wonderful things to say about him. He's a great guy, he is great to work with, fun to work with, he's wonderful to the pets that come through Pet Allies and Alta Sierra. We are going to miss him terribly and this community is going to miss him and I don't know how we will replace him."
Teresa and David Hantzsche moved up in 2010, with five dogs. She also captures the feral cats where she lives in Fool Hollow for altering. "He's just a great vet, he's always treated us right. He takes care of all the animals." Her husband David added, "We acquired Gypsy (a lost dog), when we brought her to Pet Allies — with the weekend, vet bills would be much more had it not been for their low cost clinic. He's a good, good doctor, listens to you, cares for the animals. The personal information he gives really comes in handy. He's been a big help and down to earth, not out to gouge you."
"We are looking for a doctor that can be flexible, doesn't feel like he has to do five tests to find out everything before he actually does the surgery, and that's not a bad thing," said Owens. "A lot of people say if you can't afford your pet, you shouldn't have it." Not so said Owens, "I don't think poor people should be excluded from having a pet, Dr. Andersen just wanted to be able to help people and that was a perfect match for us, because we wanted him to do that too. We offer all kinds of care to people so they can have a pet. There are a lot of dogs out there that need homes, so I want to find them a home, if I get them in a home where someone can care for them, then I better to fix the problem, so we can provide those services. Dr. Andersen is just caring person and was willing to work himself really hard. He has a good heart."
Pet Allies is looking for a part time veterinarian to work Mondays for the shelter animals and access to care for the low income clients, Tuesdays and Wednesdays taking care of the high volume spay and neuter services and who is dedicated working with a trained staff. If you want to make a difference for homeless pets and save lives, call RJ Owens at 928-242-0695 or email rjowens@petalliesaz.org.