SHOW LOW — Show Low Unified School District is already beginning to reap the benefits of the $10 million capital bond approved by voters in November 2017. In addition to the bond, several School Facilities Board (SFB) projects were approved and funded by the state that contribute to the District's recent energy bill savings.
Multiple projects have been underway on campuses throughout the school district since 2018. Contractors worked throughout the summer and, in many cases, before, during and after classes.
Energy-saving updates were completed on all campuses last year are already resulting in dramatically lowered utility bills for the district.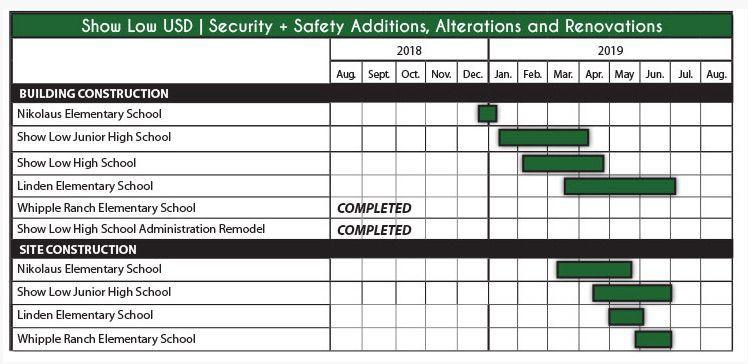 Old lighting fixtures were changed to LED lighting. Faucets, water fountains, toilets, urinals, valves and drains were updated to increase efficiency and reduce cost.
Dropped ceilings were also installed where appropriate to maximize cooling and heating and air conditioning was installed in many areas.
Parking lot lights were also changed to LED lamps.
Heating, ventilation and air conditioning (HVAC) systems were upgraded to a web-based system to proactively control temperatures and provide maximum efficiency.
Midstate Energy and APS worked with the school district in providing guaranteed energy savings and rebates.
Here's a breakdown of recent savings provided by Show Low District Superintendent Shad Housely:
Electric/Solar - During November 2019, SLUSD decreased electricity use by 22,974 kWh (-11%) and decreased $7,157 (-21%) on costs, compared to November 2018 last year.
By minimizing demand, Show Low Junior High's account #2613180000 meter #EE4597 decreased costs while increasing usage.
Show Low High School account #6438740000 meter #DC8706 significantly reduced costs by both decreasing usage and dropping billed demand from 70 kW to 2 kW.
Solar production at Whipple Ranch and Show Low High was down 11% in January 2020, according to Housley who said this was likely due to November 2019 being cloudier and rainier than last year on average.
Water — During November 2019, SLUSD decreased water use by 230,700 gallons (-15.8%) and decreased $1,394 (-15%) on costs, compared to November 2018 last year.
"At several meters, like Whipple Ranch's account #5711900, savings in cost lagged behind savings in usage," says Housley. "This is because of an increase in usage rates with City of Show Low."
Gas - During November 2019, SLUSD decreased gas use by 3,915 therms (-25.3%) and decreased $923 (-10%) on costs, compared to November 2018 last year.
Weatherization — District-wide weatherization will being this spring which will contribute to energy efficiency. All schools in the district will be re-sealed on the exterior walls where needed. In addition, they will all have new exterior paint. All non-efficient windows will be also be replaced.
For detailed information about the bond projects including timelines and pictures, visit the district website at https://www.showlow.education/. From the Home page, go to the left margin and scroll down to Bond Information under the Quick Links heading. You can also call the district office at 928-537-6000.