HOLBROOK — A local citizens network got a boost to their efforts to protect the Coconino Aquifer and other local water resources, including their private wells.
Activists with Protect Our Water Arizona, led by several local citizens, including Dr. Kevin Gibson, a retired mining engineer who lives in a rural area south of Woodruff, were excited to hear that the Bureau of Land Management (BLM) has agreed to conduct environmental and other studies required under the National Environmental Policy Act (NEPA). The announcement was made in a press release last week.
For now, the BLM has suspended leases on 4,200 acres in both Apache and Navajo counties, stretching approximately from the Petrified Forest National Park in the east to the Silver Creek watershed in the west.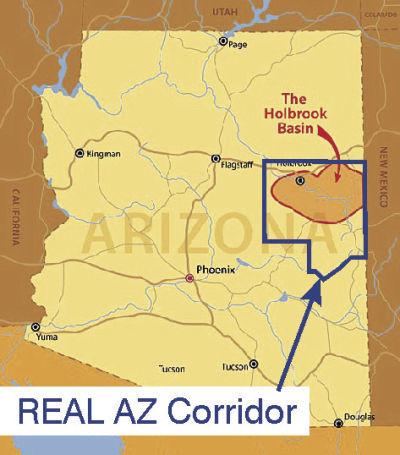 The BLM was sued by the Center for Biological Diversity, WildEarth Guardians and the Sierra Club to force the NEPA studies. The BLM concluded in 2018 that under new Trump policy guidelines that no NEPA environmental studies were required to issues leases for oil and gas extraction, including possible fracking. The suit has been withdrawn for the time being.
"In July 2019, conservation groups sued the U.S. Bureau of Land Management in U.S. District Court in Phoenix, saying the agency violated several federal laws by refusing to conduct new environmental reviews or consult with area tribes when it approved the leases. Instead, the agency issued two checklists, claiming a 1988 resource management plan that predates modern fracking satisfies its legal obligations under the National Environmental Policy Act," stated a press release from the Center for Biological Diversity issued Feb. 5.
"I am very pleased, but all we are really doing is making them conform to the law," said Gibson in a telephone interview on Friday. Gibson, the lead speaker for Protect our Water Arizona, which he describes as "a network," said that members of the group were cooperating in the lawsuit, serving as "declarants" in the suit.
"The public deserves a thorough and very transparent process … protecting the aquifer is in everyone's interest," Taylor McKinnon, public lands campaigner for Center for Biological Diversity, told the Independent.
At issue, said Gibson, is the possibility that fracking for oil, gas or the abundant helium resources in the Holbrook Basin could endanger water resources not only in the local area, but potentially throughout the state, if fracking activities polluted the Coconino Aquifer.
A chemical cocktail, including acid, is often used in fracking, injected deep underground at high pressure to break up layers of rock to allow oil or gas to rise to the surface.
"What started out as being a Holbrook issue," Gibson explained, became something much bigger after he and his neighbors started thinking beyond the potential impact to their private wells.
"But then of course we realized that the Coconino Aquifer feeds the Colorado River, Lake Mead and into the Central Arizona Project," he explained.
Gibson told the Independent last year that he does not believe in the safety of fracking. He said he has heard industry assurances, but he's not convinced. Gibson is an unlikely person to come out in opposition to mining interests. He is a PhD mining engineer who spent 20 years drilling for oil in Saudi Arabia working for Aramco.
"One of the things that got me into this … (s)omebody got up and dropped the classic oil company lobbyist line: 'We've been doing this for years and it's perfectly safe.'"
"Those are lies," Gibson said. "They've only been doing modern hydraulic fracking for the last 10 years or so."
On the industry assertion that fracking is safe, Gibson replied "No mining operation is safe. Anybody who says so is lying," he said in an interview last year.
Gibson said that he plans to continue to fight fracking on the state level as well.