SHOW LOW — Joe Tank Road murderer Louis Martin Villa, 53, was sentenced to 10 and one half years in prison for killing Tyler Alexandre, 31, at a camping spot near Joe Tank Road on March 23, about one mile from State Route (SR) 260. Judge Dale P. Nielson of the Navajo County Superior Court handed down the sentence Wednesday, Oct. 7.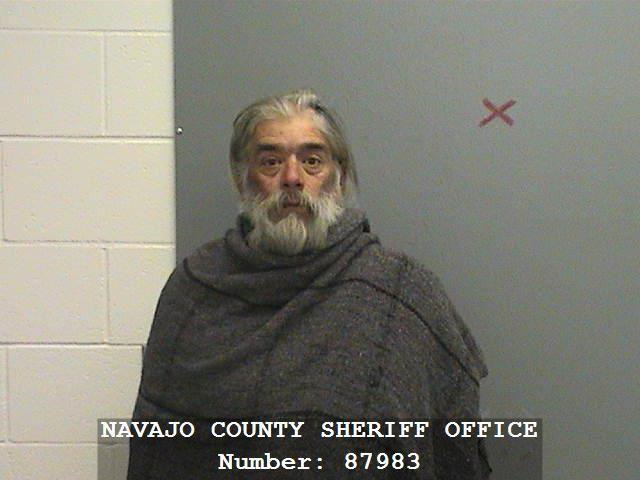 Villa stabbed and slashed Alexandre to death during a camping trip. It is unknown if, or how, the two men knew each other. The Navajo County Attorney's Office originally charged him with the first-degree murder, a Class 1 felony, and aggravated assault with a deadly weapon, a Class 3 felony, also against Alexandre.
Villa pleaded guilty on August 31 to a "modified" charge of manslaughter, a Class 2 Felony. The range of sentence for such an offense in Arizona is seven years at the low end, a presumptive sentence of 10.5 years in prison and 21 years on the high end. The parties had agreed that the judge could go as low as 10 years, and as high as 21 years in prison.
"Mr. Villa was sentenced to the presumptive term of 10.5 years in DOC, (Department of Corrections)" wrote his counsel Dirk O. LeGate in an email response to the Independent.
There was no probation available, and court records say that Villa, who was 52 years old at the time of the crime, was a Show Low resident and had no prior felonies. Prosecutor Joel H. Ruechel of the Navajo County Attorney's Office represented the State of Arizona.
Court records say that Villa called 9-1-1 emergency at 4:45 a.m. on March 23 and told the regional dispatcher in Show Low that "he had killed someone who just tried to kill me."
Show Low police officers and Navajo County sheriff's deputies responded to the caller's location. Once there, they reported that an "unidentified male was found deceased at the scene outside of a truck," the report stated. The victim had "severe knife wounds in the area of his neck and possibly spanning across his neck," deputies stated. They noted that a dog was loose in the area.
The report says that Villa, who had been drinking, had blood on his clothes and on his hands, and told officers that he "had (expletive) killed him" because Alexandre had tried to steal Villa's truck. Then the officers, referring to the body lying on the ground next to a truck, asked Villa, "Who's your buddy?" Villa replied, "Not my buddy." Deputies discovered a knife on the dashboard of the truck.
They arrested Villa, about five hours after they showed up. He has been in the Navajo County Jail ever since, originally on a "no bond" hold.
The reduced crime that the parties agreed to let Villa plead guilty to, and the presumptive sentence for that particular crime, suggests that the state was satisfied with that term in exchange for avoiding the risk of a jury trial.
Villa's statement to the police suggesting that Villa acted in self defense would have raised the "justification" defense under Arizona law.
Once a defense like that is raised, the state not only has to prove that the accused caused the death of another beyond a reasonable doubt, but has to prove to the jury, and the verdict has to be unanimous, that the death was not in self defense, beyond a reasonable doubt.
The aggravated assault charge was dismissed. Villa can receive one day "release day credit" for each six days he serves according to the plea agreement. He was also given credit for 198 days for time in jail that he has already served. He could be released when he is 62 years old.