It was a beautiful day at Tall Timbers Park September 5, 2020 as we all watched children and dogs playing and laughing in the grass. Pastor Nicks band Siringo was rocking on stage in the gazebo with a crowd on the lawn jiven' to the tunes.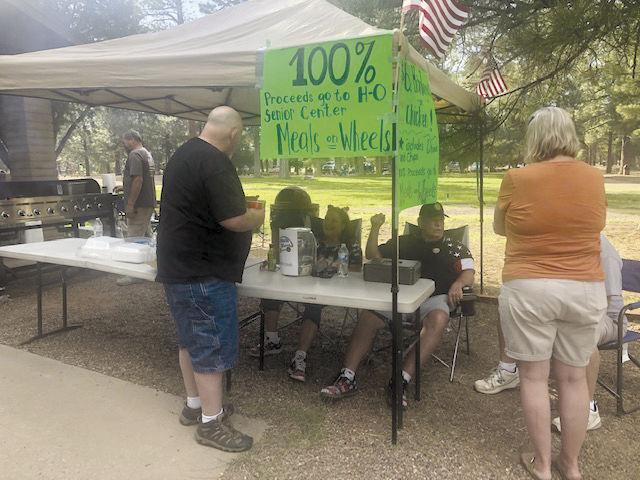 It was missing the rows of food and retail vendors this year and there was no Beer Garden, but there were spreads of home made foods for sale by the American Legion Post 86. They were provided by the Auxiliary and the Sons to benefit a fundraising for Meals and Wheels.
The one thing not missing at this event was the undying spirit of the small town of Heber-Overgaard.
Auxiliary member, Barb Bryant told me they had at least 300 people gathering on this day and more expected into the evening hours. She said it was a fun day overall and it was apparent that people are starved for fun and missing that connection with other people.
Bryant gave an update on business at the American Legion Post 86. The bar is open and they are complying with social distancing. Two people can be together at the bar separated by two more bar stools with a maximum combined total of 75 people allowed inside and outside of the building at one time. They remain optimistic and expect to be serving food soon.
Mogollon Rim News owners Gary and Stefanie Spears had a colorful booth selling hot dogs, burgers, soda drinks and T-shirts. They have been sponsoring Forest Flix at the park throughout the summer and the featured show this night will be Onward, a fun family movie. Stefanie Spears explained how the concessions pay for the movies and they do not profit from these events.
The Chamber of Commerce canceled Oktoberfest this year for reasons out of their control and the community pulled together and made the best of the situation. They found a way to gather and bring in the Fall Season with a Non-Oktoberfest. Hats off to you Heber-Overgaard!