The old woman just wanted to talk – about her oxygen mask, her lingering weakness and her fear – but mostly about the lost love of her life.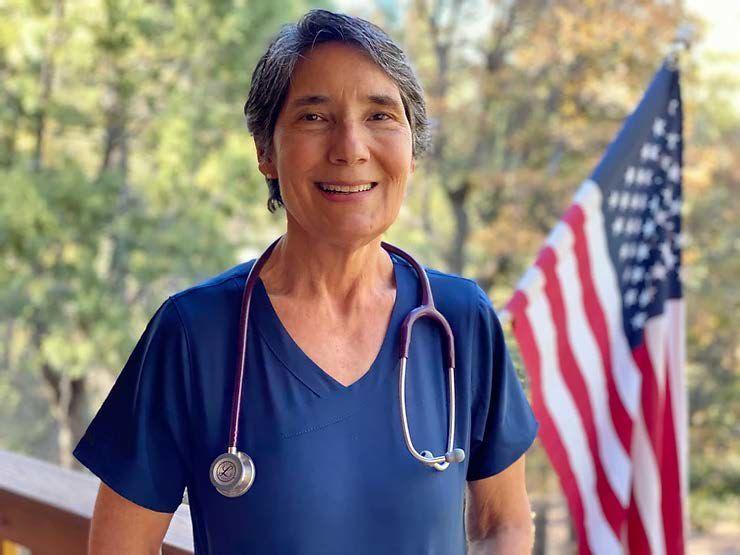 So Felicia French, helicopter pilot, combat veteran, nurse and case management volunteer on the Navajo Reservation, mostly just listened.
French, a retired U.S. Army colonel now running for the District 6 state senate seat, suspended her campaign to spend a month in Tuba City, case-managing one of the worst COVID-19 outbreaks in the nation.
The memory of her hour-long conversation with the old woman alone, now among the windswept plateaus of Navajo sandstone has stuck with her — like scenes from combat and its aftermath in Afghanistan — where French worked to build community health systems in the dust and the stones.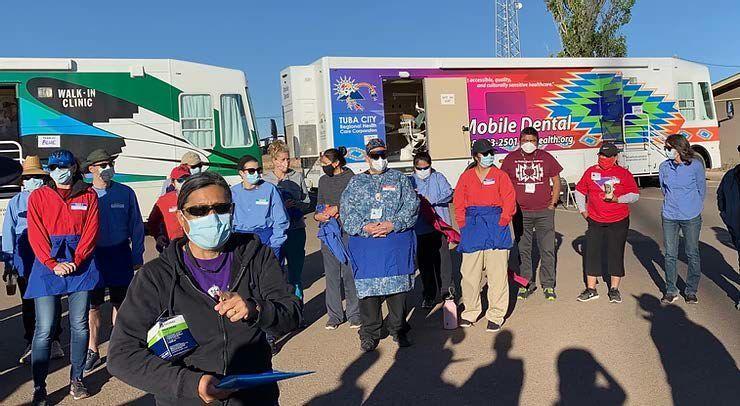 "They had been married over 40 years," French said. "He was the love of her life, a childhood sweetheart. He had just retired. They were looking forward to going fishing with kids and grandkids – he was very healthy. They were very healthy. Extremely careful. He was air-evacuated to Phoenix — and he died — on Facetime — on her phone. It just tears out your heart. This is something we would never imagine would happen. Bad enough to lose someone, but to not be with them — terrible for the whole family."
The woman also contracted the virus and wound up in an ICU ward in the hospital, but survived. "She was on oxygen and I called her to check and make sure she knew what to do, had the supplies," recalled French. "We talked for an hour on the phone. So very sad. This virus is so very capricious. That makes it even scarier. It's not as fatal as Ebola — but people can carry it without knowing. They can spread it without knowing. That's why it's so very important to wear masks."
French said she found herself increasingly outraged that generations of loss and discrimination has left many on the Navajo reservation without easy access to healthcare, without electricity, even without water to wash their hands, as the doctors endlessly advised. On the other hand, she was also moved by the sense of community.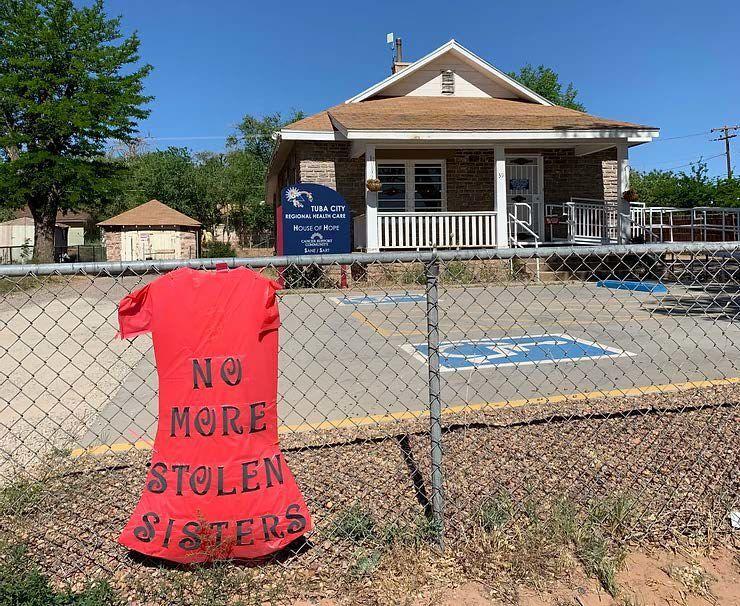 "It was so bitter-sweet," she said now. "Everyone was coming together. No one was complaining about wearing a mask. They knew it was for the right reason — to protect themselves, their coworkers, their elders. That was very positive. On the other side, I didn't talk to one person in the month who was not directly affected by the death of a loved one or a coworker."
So far on the Navajo Reservation, almost 10,000 have tested positive for COVID-19 and nearly 500 have died. Some 7,000 so far have recovered. Since the start of the pandemic, more than 10% of the 87,000 tests have come back positive. Despite months of lockdowns, curfews, tests and contact tracing, the tribe suffers five or six new deaths every day. Still, the number of new cases and deaths has finally started dropping.
They cite overcrowded, multi-generational housing, lack of access to health care and the nature of the tight social networks dominated by clans and families in place for generations. The popularity of gatherings, like rodeos and ceremonies and church gatherings has also played a role — at least before the lockdowns. Doctors connected the first cluster of cases to a tent revival meeting that drew people from across the reservation for days of prayer, singing and fellowship.
The high death rate among Native Americans who get infected has also plagued the reservations. It might reflect a delay in obtaining healthcare, genetic factors or a high prevalence of risk factors, like diabetes.
Of course, death, pandemics and health woes have deep roots in the windswept reaches of the Navajo reservation, with its population of nearly 200,000 spread across three states.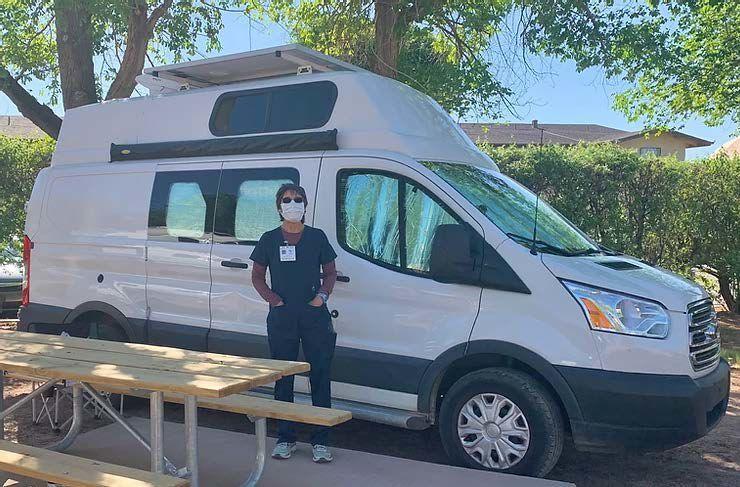 In both Arizona and New Mexico, Native Americans are suffering an infection and death rates two or three times higher than the general population. However, the statistics remain fragmented and inconsistent. Arizona reports zip-code based infections and deaths — except on the reservations. Here, the pandemic vanishes statistically. Moreover, although Congress earmarked money for the tribes in the CARES Act, it took more than month to start distributing much of the money as the pandemic raged on many reservations.
Pandemics have a long, bitter history for Native Americans, whose thriving communities were repeatedly devastated by viruses and bacteria brought to the New World from the old. Historians now estimate that perhaps 90% of the Native Americans on the continent were killed by pandemics in the first few decades of contact with Europeans. Even into the 1880s, the U.S. Army and settlers sometimes distributed smallpox-infected blankets and goods to Apache and Navajo bands, waging a primitive form of biological warfare.
In modern times, Native Americans have suffered a plague of chronic health conditions, including diabetes, heart disease, obesity, cancer, drugs, and alcohol abuse and respiratory diseases. Age-adjusted death rates among Native Americans are 30% higher than the general population and their life expectancy is about six years less at birth. Death rates are two to six times higher for accidents, diabetes, liver disease, influenza and pneumonia, suicide, assault and infection, according to records from 2009 to 2011 kept by the federal Centers for Disease Control.
French said that on the reservation she was frequently, forcefully reminded of the conditions she observed during her 32-year career in the Army and the Arizona National Guard, providing medical care for troops and communities all over the world – including Afghanistan.
She said decades of mining have consumed the Navajo's limited water resources, draining water tables, drying up wells and leaving many people without water.
"They've been hit so hard, with the lack of access to water to even wash their hands. Their aquifer has been drained from coal mining. Many people don't have indoor plumbing. Then you add underlying conditions like asthma and emphysema that have been compounded by the coal-burning power plants. COVID-19's a respiratory virus and if your lungs are already compromised, you're in trouble. The topsoil's ripped off, the drought has hit hard, so they can't grow food. They have only a handful of grocery stores and don't have electricity to run refrigerators — so they rely on processed food and you end up with diabetes. They just got hit hard on so many levels and angles."
However, she also witnessed the deep sense of community, respect for the elders and unity in the face of a crisis.
"They have so much more respect for their elders than in much of the rest of the United States. I have the utmost respect for the culture they have maintained in the face of centuries of austere conditions. I can't say enough about their resilience, working together, trying to take care of each other. They'll get through this as a result. It will be painful. More will die than need be. I think it has strengthened my resolve to make sure that we're more inclusive of everyone in our community. Instead of pointing fingers at who did what wrong, we have to be inclusive and collaborative instead of just tearing each other down."
She recalls a woman she encountered — a detective with the Navajo police. She was recovering from an infection. The detective and the retired colonel got to talking. Turns out, the detective was working on trying to find a Navajo woman who had gone missing. More than 5,000 Native American women have gone missing nationwide. One of them was the detective's sister.
"I was shocked. I said there's no way there could be 5,000 women missing. I thought, there's no way. But I looked it up. Started doing my own research – and it's true. It's just shocking. I'm just outraged."
Federal law often prevents tribal governments from prosecuting major crimes like rape and murder – especially if committed by non tribal members living on the reservation.
"The Native American population for hundreds of years has been treated unjustly. We can't just do nothing. We need to speak out. We have to find out where they can use our help."
Starting with simply listening as your heart breaks as an old woman tells you about watching the love of her life draw his last ragged breath on a small screen so far from the sound of the wind across the mesa tops.