PINETOP-LAKESIDE — Blue Ridge High School senior, Chasity Lamb, is 17 going on 37. She is on her way to adulthood, managing life as a student and as a kennel assistant, employed by White Mountain Animal Hospital in Lakeside.
Lamb began her work experience through volunteering at the veterinary office. At the beginning, Transition School to Work (TSW) program coordinator Greg Schimmel drove her there after school. Chasity would help clean up and do other assigned tasks. Her grandmother would pick her up when she was finished.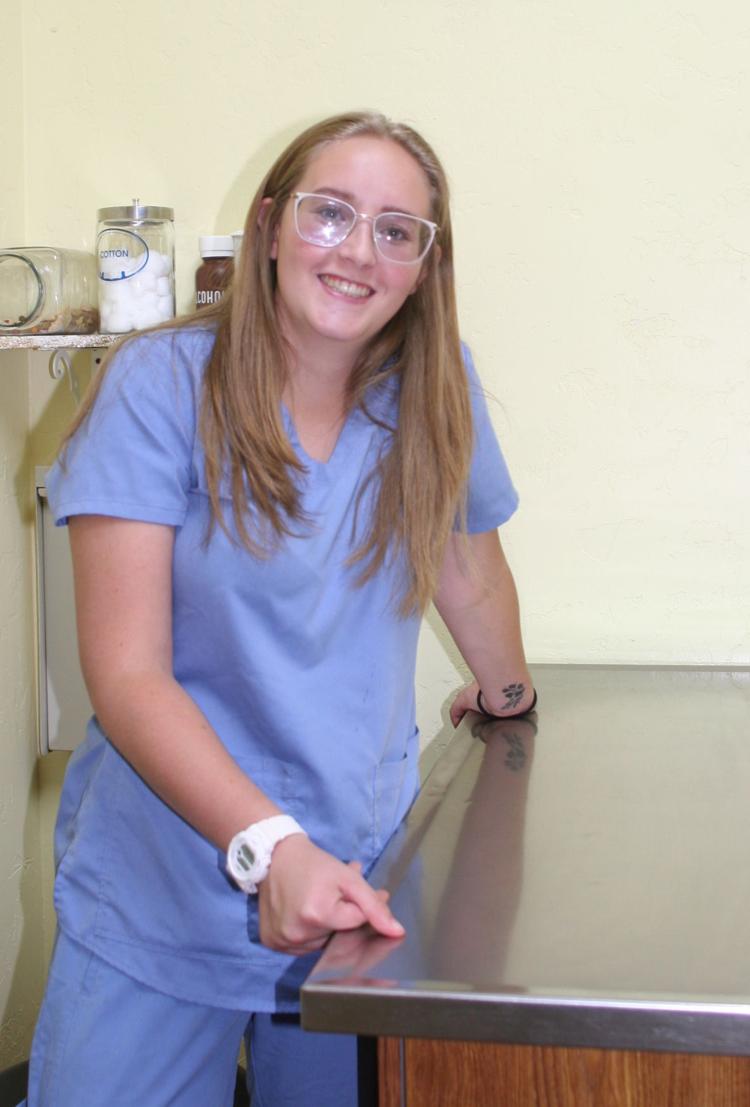 It wasn't long before Lamb was hired and began being paid for her time.
Now, she has a dynamic schedule and balances her home, school and work responsibilities with ease. She came to be employed by the Transition School to Work (TSW) program, coordinated by Blue Ridge staffer Greg Schimmel.
Lamb works as a kennel assistant at White Mountain Animal Hospital approximately 18 hours per week. Her school day begins at 11 a.m. and lasts until 2:40 p.m.
She does her homework in the morning before class. At lunch time she gets ready for work.
After school she goes to the veterinary office from 3 p.m. to 5 p.m. on Monday through Thursday and from 10 a.m. to 4 p.m. on Fridays. She also works on Saturdays from 8 a.m. to 12 p.m.
In addition to time management, prioritizing her tasks and goals seems to be a breeze for this young lady.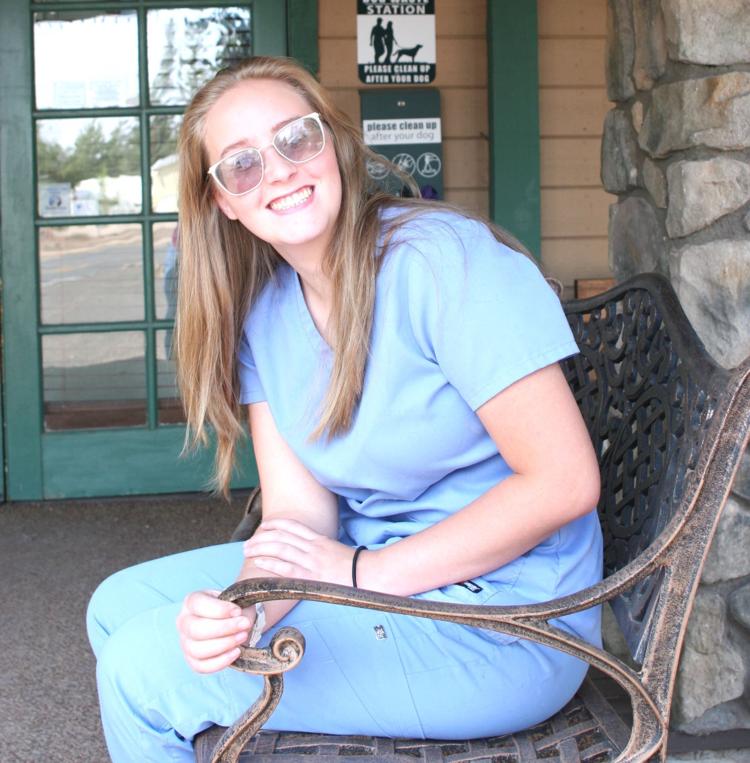 And she's flexible in addition to being able to get everywhere on time and prepared. When The Independent first scheduled a time to take photographs of Lamb, she rescheduled explaining that the office was really busy that Friday and they needed her help.
"I make sure when the animal is okay when they get out of surgery," says Lamb. "I make sure they are walking like they should be, not bleeding and not licking the area. I clean up after the technicians and make sure that everything is ready for them too."
She also prepares the animals and the equipment for x-rays. This involves handling sophisticated equipment with competency.
Lamb says her favorite part of the job is "helping the animals and making sure they are good to go home after surgery."
She has three dogs named JoJo, Tessa and Aticus. The busy teenager also has a cat named Tori and a bird named Handsome that she hand-raised after it fell out of a tree and "could barely open its eyes."
Lamb has two brothers, ages 11 and 15. As the oldest of three siblings she is setting the example for them. Currently, she has 23 credits towards the 24 she will need for graduation.
"My brother that is 15 always asks what's the craziest that I've seen," said Lamb. "He thinks it's pretty cool that I work at White Mountain Animal Hospital and with Dr. Ole Alecumbrac. (Everyone calls him 'Dr. Ole'.) I like working with Dr. Ole a lot. He's a great teacher and he's very funny sometimes."
Lamb said that her Mom thinks "it's wonderful" that she has this opportunity in the Transition School to Work Program.
"My Mom thinks I should become a veterinarian, for sure," said Lamb. "And my Dad is glad when I come home safe. He worries I'll get bit by an animal. My grandma really likes it a lot too because it's my first job and it's doing something that I really wanted to do."
This program originated years ago as the Youth Transition Program, later becoming the Transition School to Work (TSW) program.
"It's a governmental agreement that falls under the Department of Economic Security (DES) umbrella," said Schimmel. "It's part of Vocational Rehabilitation managed by Cindy Husk who works really closely with the students and the schools."
Some of what Husk does, through coordination with local schools, is obtain work releases for students. She is the person that initially "gets the kids qualified and gets the ball rolling," said Schimmel.
Some students like Chasity start the program as a junior in high school but the idea is to get them thinking about their future employment opportunities as soon as they enter high school said Schimmel.
"I try to be a part of their school schedule from their entry into high school," said Schimmel. "We start with getting these kids thinking about building their resume and write a cover letter. Then, we help them get a job and learn how to keep a job. Finally, we help them budget their money once they start making money."
Schimmel sets up programs within the school as well as off-campus.
"I go to the cafeteria, the print shop, maintenance department and others areas of the school to develop these work programs," said Schimmel. "The Blue Ridge school district has been awesomely supportive."
Generally, there are about 15-20 students in the TSW program each school year. Blue Ridge had 23 in the process of getting qualified when the school year ended abruptly due to COVID-19.
Ideally, Schimmel looks for a job that will last 90 days. After that time, the company may decide to hire them. If the student begins working in a field or industry where they want to be, the DES vocational rehabilitation program may be able to supplement their salary which creates a win-win for the company and the student.