LAKESIDE — Solterra Senior Living has a very special lady with a very special Christmas tradition living at the assisted living home.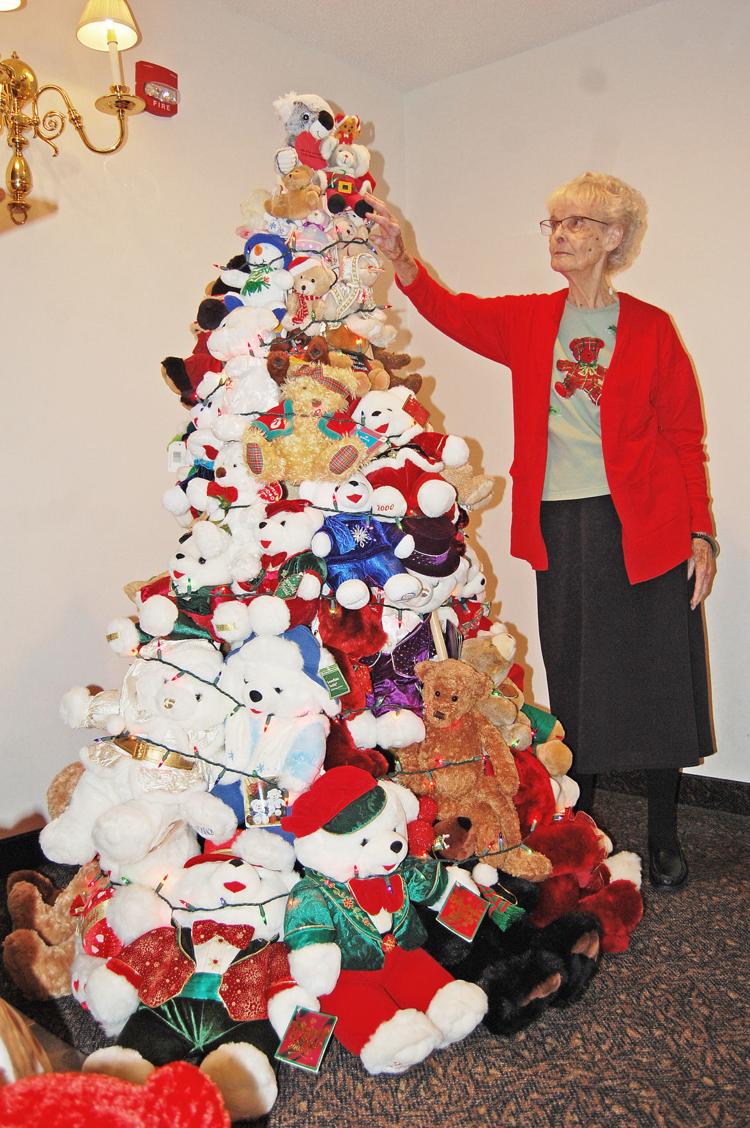 Jean Reed, a former teacher of Cortez, Colorado, started her tradition of making teddy bear Christmas trees 29 years ago because of her husband, who died in 2010.
Vernon and Jean Reed were married in 1953. Jean said her husband always had a hard time picking Christmas gifts for her, but knew she was very fond of teddy bears.
Every year one of the gifts she would get from him was a teddy bear.
Over the years they began to pile up, so Jean decided in 1990 to build a Christmas tree of teddy bears.
When others found out about it they wanted to be part of the fun.
"My students started bringing in some of their own, so I started putting them on the tree," Jean said.
That is when the tradition really began because every year after that she and her students would build a teddy bear Christmas tree in the classroom with new teddy bears becoming part of it every year.
In the course of Vernon and Jean's 57 year marriage they had four children.
One son, Mark, was killed in 1984, Jean said, when a group of pizza restaurant chain officials were taken on an airplane flight by Mark, who was a pilot by profession, when the plane crashed and everyone was killed.
Jean still has two children, one in Show Low and another in Grand Junction, Colorado, along with a grandchild.
Jean said she would take the wire frame she made to attach the teddy bears everywhere she and Vernon moved over the years. When they were living in Tucson, a friend made her a PVC pipe frame that is much more manageable and can be broken down and set up quickly.
That is the one she uses now.
When it came time for another move after Jean retired from teaching, she said prayer led her to Show Low, and of course the teddy bear Christmas tree tradition came with her.
She has been living at Solterra for a year now. But the tradition did not stop. Jean took all of the teddy bears she collected over the years, about 130 of them, and put them in a storage shed at Solterra nearly filling it to the brim.
When the people who run Solterra found out about Jean's tradition they were more than happy to accommodate it, and even brought in some of their own teddy bears to add to it.
The beautiful teddy bear Christmas tree can be seen at Solterra. Anyone can visit and even take a photo of it if they choose.
Jean said one of the most special teddy bears on the tree is one with the year 2010 embroidered on the right paw, the year Vernon died.
Jean says that every time she sees a teddy bear it reminds her of Vernon and all of the students who would help build her teddy bear Christmas trees every Christmas.