SHOW LOW — Chris Jones, M. Ed., a fourth-grade teacher at Nikolaus Homestead Elementary was recently awarded a $5,000 grant from Fiesta Bowl Charities.
She applied for the grant in October and discovered she, along with 200 other teachers across the state were chosen to receive their "wish" as she calls it.
The funds will be dispersed through donorchoose.org which allows teachers to choose the items they would like to purchase with awarded funds — as specified in their grant application. Through the Donors Choose website, teachers can post classroom project requests and donors can choose the ones they want to support.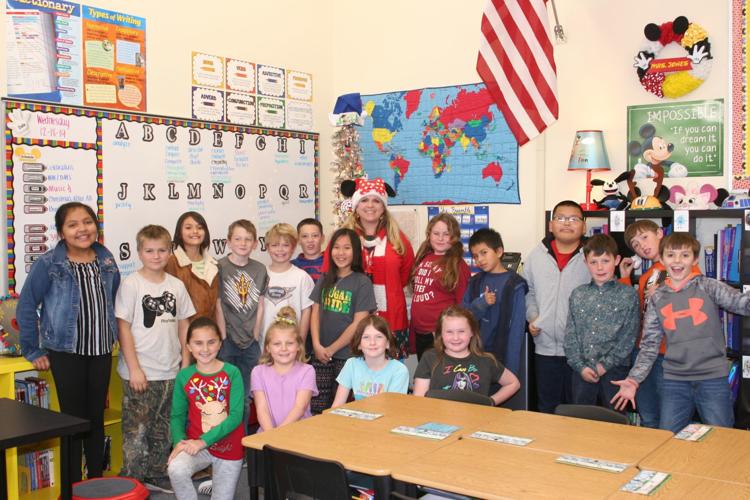 "I am in the process of purchasing 35 Chromebooks and the charging cart for my classroom," says Jones. "They were super excited!", she said of her students when asked what they thought of her grant award.
Five of the 30 Chromebooks will be utilized in another classroom. Jones also ordered a second wiggle chair for her classroom and a bookshelf that has a cozy niche for kids to sit in as they read.
"When the application came up we talked as a class about what kind of things would we want for the classroom for that kind of money," she adds. "Last year I did a 'Donors Choose' for new classroom desks and it was funded. I am super grateful!"
In addition to all of the synergy created by the Chromebooks, Jones has started a Nikolaus Homestead Newspaper Club with another teacher, Alex Deitering.
"We are going to call it the Cougar Chronicle," says Jones. "We already have 27 students that have shown interest and are filling out their 'applications'."
The newspaper concept stems from increasing literacy through projects that simply get kids to read more.
Some of the kids want to be writers, while others have their sights set on being contributing artists, photographers, comic writers and editors.
They began meeting on Wednesday afternoons and anticipate publishing their pilot 1 to 2 page edition at the end of January.
Jones is in her second year as a teacher at Nikolaus Homestead Elementary. Prior to that she spent 18 years in the Litchfield School District on the Valley's west side. She is currently working on her National Board Teaching Certification in Reading-Language Arts.
She is also working on her second masters degree, her first being in educational leadership. The second is a is a Master of Arts in Reading. "My heart really is teaching our kids about the love of reading and writing!" she said.