HEBER/OVERGAARD — Gotta love the Patriotic Spirit of our small town of Heber/Overgaard!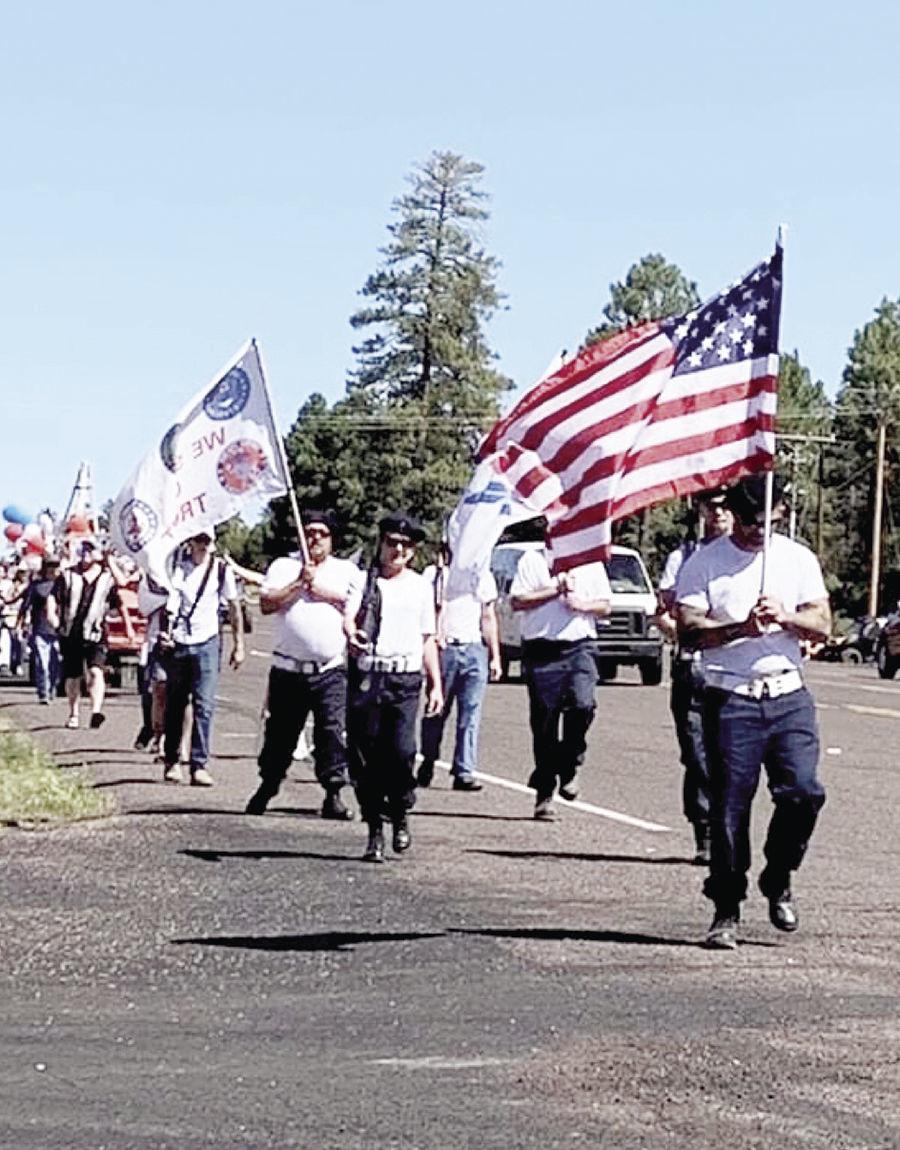 Chamber of Commerce president, Brandon Martineau, reminisced about 40 years of successful firework productions here and never a fire, he tells me we have only cancelled a couple of times because of rain.
So when Arizona's Governor Ducey issued his restrictions mandating businesses to uphold social distancing, and the strict wearing of mask, as businesses we do not have the option to not comply with them, and it became necessary to cancel our annual event.
"We are supposed to be supporting profit and non-profit businesses. Vendors lines are typically 150 people in line for a period of four hours. Gov. Ducey's requirements made this impossible to profit enough to fund the fireworks, it's just not worth it to take the risk, there would be too many lawsuits if anyone contacted COVID, the people are not angry just unhappy," Martineau said.
Heber/Overgaard marches to its own drum and it didn't take long for a group of citizens to come forth with a new plan. Some of our local businesses and residents were able to promote enough funds to support the fireworks. It was a little different with current restrictions because they would be watching from their homes and their vehicles for the most part. According to Kathy Gibson Boatman it was the most patriotic feeling she has ever had ending with a beautiful boom of fireworks.
Heber/Overgaard's undying spirit and fierce patriotism chose to not give into Governor Ducey's mandate and our local Gibson Boatman formed the first independent parade naming it "Patriots Parade" and they chanted "We are Free, We are Americans, and this is our right."
She said, "We stepped out of the circle of the Secret Squirrel Group and made it happen".
The parade began at Lumberjack Road and marched to the Chamber of Commerce on the 260 Highway into the Tall Timbers Park. It was peaceful, it was colorful, it was American made, made from the passionate hearts of Americans living in a small rural town who are not just sitting at home scared. "Free speech and the right to assemble are constitutionally protected," Gibson Boatman said.
I arrived at the American Legion on Saturday, July 4th where the parade assembled and took pictures and chatted with some of the participants and was overcome with such pride for our people and our nation and our small American town of Heber/Overgaard as they prepared to march to the tune of "I'm Proud To Be an American", the atmosphere was peaceful and happy and I was happy to be witness to the good of all.
The Honor Guard of our American Legion Post 86 were set to march and were told they could not so a group of them said 'I quit' and walked in the parade as the Independent Guard with their own guns.
I spoke with one of the Independent Guard Tom Lindsey (TJ) as he explained this split to me and in his words; "It is our right, it is our Independence... the British wanted to take our guns away once". Kathy and her friend Kenny Garvin were escorted by Deputy Kirby as they were the first to kick off the parade. Deputy got them safely on the road. They just felt that if anyone was going to be arrested it would be them. Kathy says the mood of the parade was peaceful from the beginning to the end with no arrest or mishaps. She said there were at least 1,000 people on the sidelines.
As they ended at the Tall Timbers Park handing out candy and Bill of Rights cards she had goosebumps and tears. She said; "all went down as planned, it was a day blessed by God."
The events of the day included a Patriots Run, Pastor Nicks band Siringo and a local lady sang 'Star Spangled Banner' and the children recited their own patriotic program. When our state senator, Sylvia Tenney Alan showed up Kathy said she just hugged her and told her she felt safe with her there. Kathy was happy to report there were no shots fired and not garbage left behind.
We all remember when the town of H/O took their stand during that critical time with the Rodeo-Chediski Fire in 2002 and saved this town from burning. I still hear stories of that time. Our family had a home here but I didn't live all year round then. The Tenney Ranch kept their pond full so helicopters could dip into it.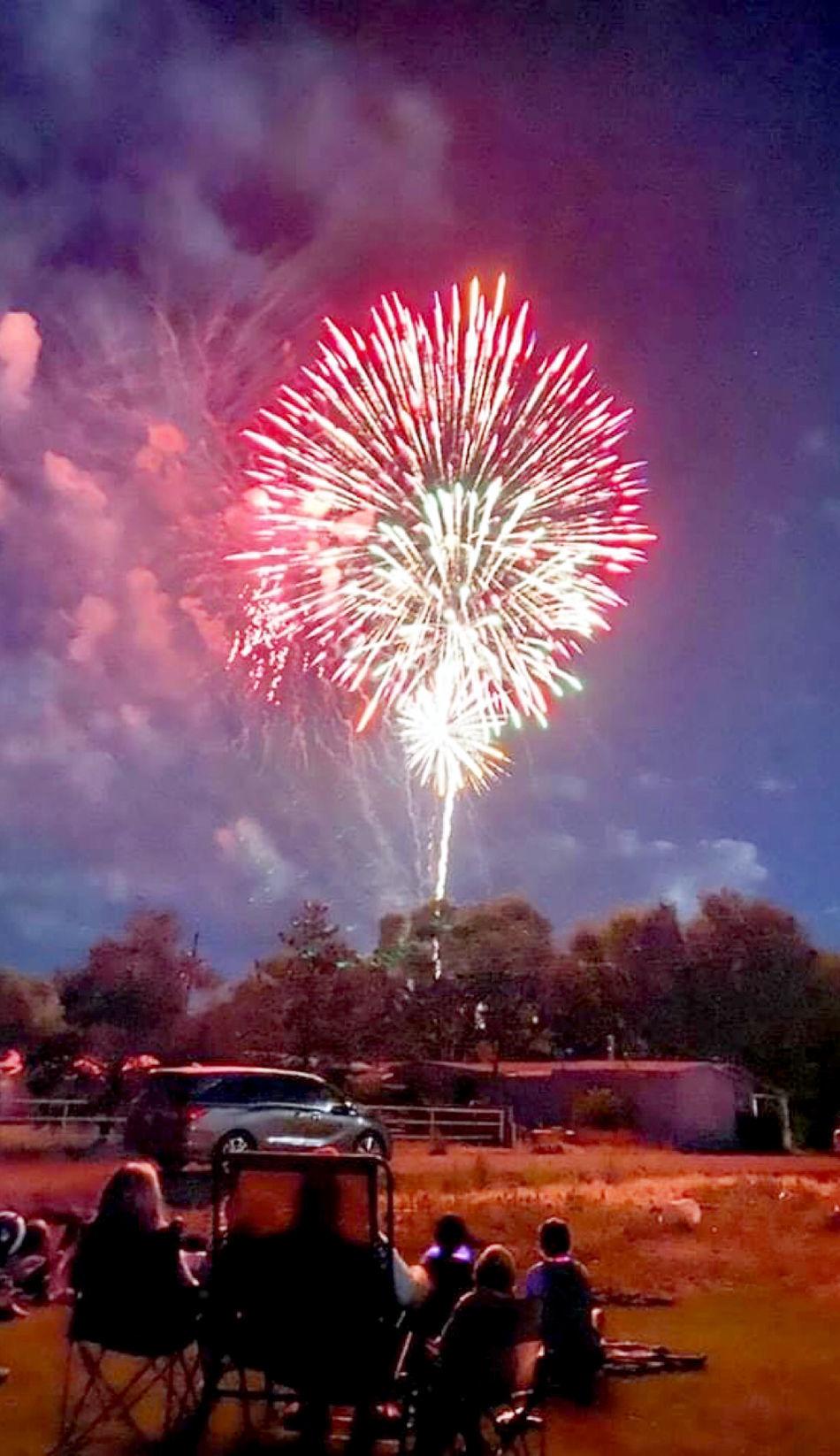 Hot Shots were dropped to save the Tenney Ranch and the community worked with them. The community used their own water hoses to save their homes and surrounding homes. Police force chased these people to arrest them because they were ordered to stay put and not leave their property.
Our fire department stayed in because they were told they could not leave. It is the community of H/O that saved our town.
It was the most heart felt Independence Day for me as well. Thank you Kathy Gibson Boatman for your love of country, and God and your bravery for making this happen.