APACHE COUNTY — On Jan. 6, 2020, Apache County resident Denise Blackwood, 45, was charged in the St. Johns Justice Court with 10 felonies alleging animal cruelty. She is presumed by law to be innocent.
The events which led up to the charges allegedly occurred between Aug. 27, and Oct. 21, 2019, in Concho. There, Apache County deputies on Oct. 21 reportedly found dead one mastiff-type dog that an officer said he recognized as belonging to Blackwood, another small dog dead in a wire kennel, five dead dogs in a steel Connex-type container, a skeleton of a small dog under boxes, two dead rabbits, one dead goat and one goat still alive. If convicted, Blackwood could receive years in prison.
Police have had contact with Blackwood before at different locations, and the prior contacts all appear to involve dead or neglected animals. For example, on March 3, 2018, St. Johns Police responded to Blackwood's call to them to report a missing male goose and a dead female goose. The dead goose had a broken neck. She told the officer that there were no suspects or witnesses, "but she needed a police report for her insurance," according to a police report. Police closed the case.
Then, in January, 2019, a resident reported to police that he had seen "4 or 5 deceased dogs and several more that were injured," at a different address in Apache County according to a police report.
Apache County deputies responded and discovered a hellish scene. There were five dead dogs still on their restraints, seven other restrained living dogs, three of them had neck injuries caused by the skinny ropes around their necks. There was also one horse who "appeared very frail from malnutrition," and a "calf having a severely swollen abdomen," according to the report. No one was home, the animals did not have food or water and very little shelter. The police contacted the appropriate animal authorities and swore out a search warrant from the Round Valley Justice Court.
Then the person who originally called police called again to say that a vehicle which he had seen coming and going from the property was broken down in the area. Police traced the license plate to a post office box in Concho and based on a tip, went to a retail store in Concho where Blackwood worked and spoke with her. According to the police report from the January, 2019 incident, Blackwood "stated that she bought the property from an LLC out of state and was planning to build an off-grid residence there."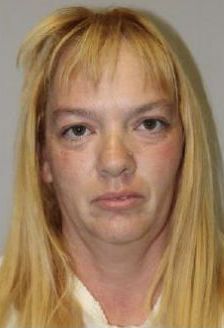 She said that she was aware of the animals there and went to the property once a week to care for them and that they were all alive last time she was there. The deputy thought that was strange considering that there were signs of food being dumped on the ground in the pens in which the live animals were kept in, but the pens containing the deceased dogs didn't have traces of food. The officer wrote that "shows that she was aware of the deceased dogs because she made the cognitive choice to not place food in their pens." She was arrested for eight counts of cruel mistreatment and five counts of neglect or abandonment of animals.
But the January, 2019 case went nowhere. Charges were not filed — not yet anyway. The statute of limitations in Arizona gives authorities seven years to file charges in this type of felony. Then the October call came in.
Apparently, in October 2019, Blackwood had been renting the Concho home from which the formal 10 charge arose. It's a different property than the location of the January incident.
The landlady for the Concho rental property had asked a male friend to go out to the property because Blackwood hadn't paid rent in two months and may have moved. There, deputies found the scene described above which resulted in the 10 charges. Once again, officers visited Blackwood at yet another address, this time, at a residence on Short Lane.
According to that agency's report, Blackwood said that she didn't live at the rental property anymore and claimed that she was unaware of any animals still there. That when she moved, she had given them all to unidentified persons on Craigslist or Facebook. She claimed that she actually has seen pictures of her animals with their new owners and she can't help it if some of the new owners never came to get theirs, or brought animals back to that property without her knowledge.
What about the mastiff? the deputy asked. Blackwood said some guy named Mike from the Valley took the mastiff. The deputy believes that wasn't true considering that the mastiff was found dead along with the other dogs, rabbits and goat. The report indicates a bodycam was used to record her interview. She was then arrested again and booked into the Apache County Jail.
In yet another twist, the court date scheduled after her October arrest was vacated, it seems the county attorney wasn't quite ready to charge her at the time. Charges were filed through an amended complaint this month.
Her next court date is Jan. 22.