HOLBROOK & ST JOHNS — As just about every facet of society is working to contain the COVID-19 menace, the court system has very quickly developed strategies that best suit the institution and its participants.
On March 16, the Arizona Supreme Court issued its administrative order 2020-47 titled Authorizing Limitations Of Court Operations During A Public Health Emergency. Yesterday, they already updated it. Instead of a diktat to all lower courts about how to conduct business, it is a flexible document which allows "the presiding superior court judge of each county (to) determine how any in-person court proceedings are to be conducted in each of the county's court rooms, under conditions that protect the health and safety of all participants."
Apache and Navajo county superior courts wasted no time in determining their processes and on March 16, Apache County Presiding Judge Michael Latham signed an administrative order regarding "COVID-19 Mitigation Measures." Like most efforts underway, the order focuses on containing the spread of the virus by limiting in-person contact.
Worldwide focus in meeting this threat has concentrated on keeping people away from each other. This derives from the scientific consensus that viruses come and go, and if a virus does not have enough healthy hosts in which to thrive and reproduce, it dies. Without a medicinal cure or a vaccine, that's the only strategy that exists at the moment: stop the spread and it will die.
The Apache County Superior Court now allows "all parties to all cases" to appear telephonically for any hearing that is "permitted by law." Video conferencing options are being developed.
Perhaps most noteworthy is that only "Essential Personnel" are allowed in the courthouse. That means parties to a case, lawyers, law enforcement, victims, victim representatives and "pre-authorized members of the media." Nobody else. In fact, the essential personnel will have to scrub up before they enter the building at a washing station outside the courthouse — those who don't, will be denied entry.
Courts have been moving to a system of electronic filing of documents for years now, but few courts are electronic only. For paper filings in Apache County, filers will now deposit the paperwork in sealed envelops into the clerk's overnight drop box. Those requesting court records will fill out a request form available at the court security station at the front door, and then deposit the form in the drop box. That protocol will apply to court payments as well. Latham's order has been sent to the justice courts in the county including St. Johns, Puerco, Round Valley and Chinle.
Navajo County Superior Court Presiding Judge Robert Higgins has also issued an order for the court and the justice courts in the county. The courts are to remain open, the order states, but "whenever possible," filings are to be done electronically, parties are to appear by phone or video conferencing, "essential personnel," defined like in Apache County, are "encouraged to attend court in person only when necessary," and each individual judge will decide the appropriate number of persons in that judge's courtroom at one time." Finally, judges are to be "lenient" when it comes to ruling on continuances.
For criminal cases in Apache County wherein the defendant is not in custody, plans are in the works to continue those types of cases until more becomes known of the nationwide predicament. And regarding those in custody, jails throughout the state are also developing anti-contagion measures.
According to a March 17 press release from Navajo County Sheriff David M. Clouse, the Navajo County Jail will no longer allow jail access to "volunteers, clergy visits, educational visits, tours, in-person visitation, or any other contact visits (besides) jail or medical staff." That jail already has a system of video visitations and will continue to use it.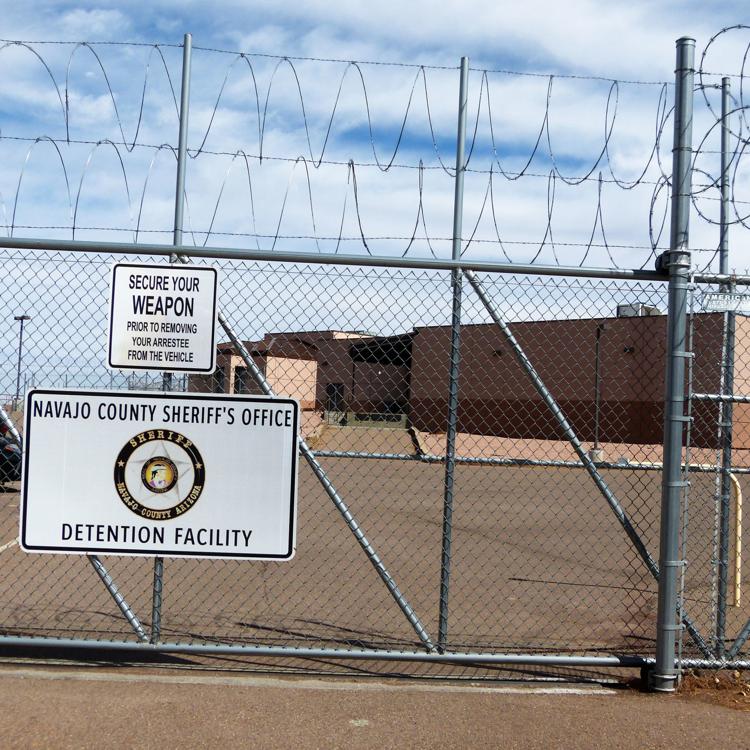 In Apache County, Sheriff Dedman has ordered that jail personnel take every inmate's temperature every day. All lobby visitation is cancelled, but phone time will be allowed to inmates to connect with turned-away lobby visitors. Inmates who return to jail after court or medical appointments will be given fresh jail clothing. New inmates will be screened and if needed, isolated for 14 days. Any jail visitor, like persons showing up to be fingerprinted, who has a temperature of 100.4 or higher will be denied access to the lobby.