VERNON—James P. Jaikin, 34 of Vernon appeared in the Apache County Superior Court Monday to answer two allegations that he committed second degree murder, a Class 1 Felony and tampering with evidence, a Class 6 Felony in connection with the shooting death of his neighbor, David Anthony Morales on September 3 at approximately 8:45 in the evening according to court records. The men's homes were about 200 yards apart but they apparently didn't known each other. Jaikin is presumed by law to be innocent.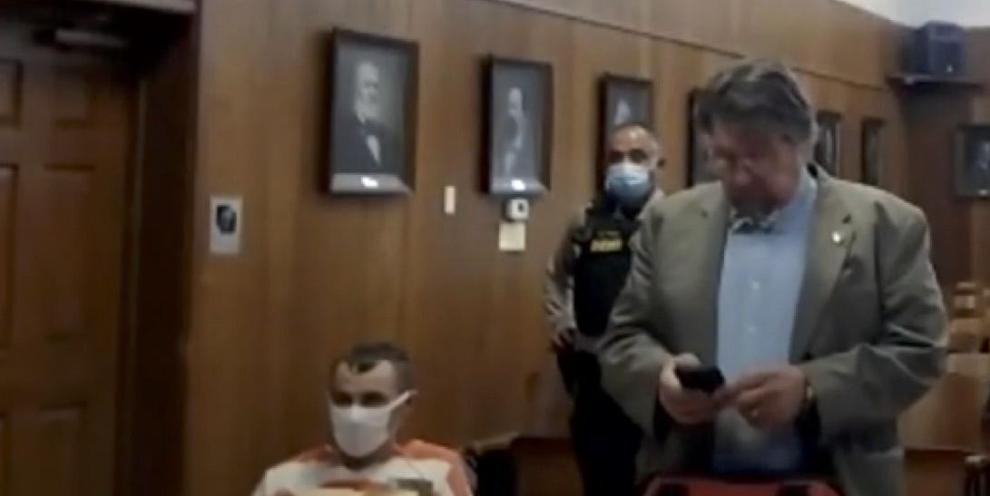 Jaikin is being held on a $500,000 bond in the county jail since his arrest on September 3, and still hasn't had a preliminary hearing to establish probable cause for the charges which is a violation of his rights and is in contravention of court rules, according to his attorney Ronald Wood.
The curtain opened on this case when the Apache County regional emergency operators received a 911 call from Morales saying that he had been shot in the shoulder by his neighbor whom Morales didn't know, and that Morales was lying in the dirt outside Morales's home along County Road 8299. Vernon Fire responded.
According to one of the probable cause statements filed in support of search warrants, while Apache County Deputies were enroute, they learned that someone named by deputies as "Steven" was on scene performing CPR on Morales and that the victim was "turning white and having a hard time breathing," that Morales had been "shot in the chest near David's nipple." He was later pronounced dead there.
The deputies' statements are replete with references to "Steven;" he appears to be an important witness. But there are three Stevens named variously as Steven Hook, Steven Hooker and Steven Easton. Whether the names are meant to indicate three, two or just one Steven is glaringly unclear and probably frustrating to the reader.
As best as can be understood, when deputies first arrived they noted the responders attending to Morales and "two subjects who were washing their hands with water and assisting Vernon Fire personnel by holding flashlights." One of the subjects was Jaikin. Vernon Fire told deputies that Jaikin had driven up to Morales' home and appeared intoxicated, and had injuries to his face, ear, lip and mouth.
Deputies questioned him about his injuries and Jaikin reportedly told them that he gotten them when something hit him while he was riding his dirt bike along CR 8235, but that he didn't remember much. He said he called a friend whom deputies named as Steven Easton to give Jaikin a ride home. Jaikin denied knowing anything about Morales.
By contrast, Steven Hook or Hooker reportedly told the deputies that he was at home when Jaikin called him "frantically" asked him to come to Jaikin's house, because Jaikin needed help, that "I shot someone." Steven said that Jaikin was covered in blood and when Steven asked Jaikin whose blood was on him, Jaikin replied "it's his," and "he's been shot help him." The statement said that Jaikin handed Steven a gun covered with blood. Steven then said that from Jaikin's residence, Steven walked through the bushes to Morales' home next door and Jaikin's girlfriend followed him. Steven said he called out to Morales asking permission to come on the property; Morales reportedly responded that "He needed help and said he was dying."
The girlfriend is apparently Jaikin's ex-wife; they apparently reconciled and according to court records, lived together with four children on two lots in a site-built cabin. She told deputies that on September 3 she was lying in bed when Jay heard music playing in the distance. The s tatement said that the girlfriend had told Steven that Jaikin "started freaking out," and she told deputies that Jay left the house and told her that "he was leaving to make new friends." He returned covered in blood and she saw him hand a gun to Steven when Steven arrived at the their residence.
A second probable cause statement filed with the court has a second deputy identifying "Steven" as the Steven Easton whom Jaikin said he called about the dirt bike incident. As stated, whether that's the same Steven that the first deputy calls Steven Hooker or Steven Hook is unknown, but the second deputy reported that Steven Easton saw Jaikin get into Jaikin's truck as Easton pulled up to the Jaikin home. That Steven saw the emergency lights nearby and told Jaikin that Steven would "bring him over to the cops to talk to them." Jaikin reportedly said that "I can't go to jail, I just got my family back."
The two charges against Jaikin arise from the authorities' belief that Jaikin killed Morales, and that Jaikin tampered with evidence by cleaning blood off himself and changing clothes. Regarding confusion with the Stevens' names, it is noteworthy the county attorney's office brought the charges against "James Jaikin;" Defense counsel Wood had to inform the court that his client's name is actually Jay Jaikin.
The case is now set for a contested preliminary hearing. The parties hope that the deceased's autopsy report will be finished by then. Wood told the judge on Monday that there were a number of firearms found and the identification of the particular caliber of the bullet is important. The next court date is December 10.