FLAGSTAFF — The National Weather Service at Flagstaff released the 2019 monsoon rainfall summary on Sept. 30, for 21 locations in northern Arizona, and every location but one showed significantly reduced monsoon precipitation.
The exception was Jerome, which received 100 percent of normal monsoon rain.
The monsoon season, which officially ended Sept. 30, blasted out on a windy note, as the low pressure system that brought record-setting snows to Montana and Idaho gave northern Arizona wind gusts as high as 50 mph instead of a final dose of much-needed rain.
The 21 sites selected for the summary are locations where the National Weather Service has historical climate data, making comparisons to current data possible.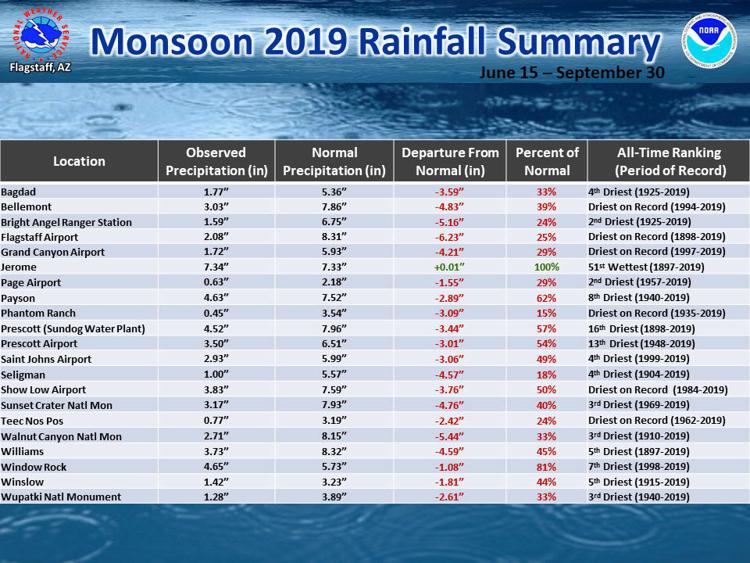 Rainfall data from the Show Low Airport indicated the driest monsoon on record for the city, dating back to 1984. Show Low received 50 percent of average annual monsoon rainfall — 3.83 inches; normal is 7.59 inches.
Although records for the city only date back 35 years, Show Low wasn't alone. Fully half the reporting locations indicated that the season was in the top 5 driest monsoons, including some where records date back as early as 1905, like Seligman. Seligman received just 18 percent of the normal amount of precipitation, making it the hardest hit reporting location.
Page Airport and Bright Angel Ranger Station in the Grand Canyon both reported the second driest monsoon. Walnut Canyon National Monument and Wupatki National Monument experienced their third driest monsoon. Payson's monsoon rain was 62 percent of normal, down 2.89 inches.
St. Johns Airport received just 49 percent of average annual precipitation at 2.93 inches. Tiny Teec Nos Pos, in far northeastern Apache County near the Four Corners, also had the driest monsoon on record with less than an inch of rain. Northern Navajo and Apache counties have remained in drought conditions this year while other areas of the counties received above normal snow last winter, easing the drought. Winslow received 44 percent of average precipitation, down 1.81 inches from normal.
Locations in higher elevations, such as Alpine, fared better but still did not experience a normal monsoon. Alpine received about 75 percent of average moisture, according to the National Weather Service.
Meteorologists say the precipitation predictions for the fall and winter season are not conclusive so far. The current prediction shows equal chances of below average, near average, and above average precipitation.
"In other words, there is not a strong signal any way," wrote NWS Mark Stubblefield at the Flagstaff office in an email to the Independent. But he did not seem optimistic that the region would be able to catch up on rainfall.
"Show Low has received 11.47 inches so far this year. The yearly average is 15.89, so you would need 4.42 inches to catch up. That is 111% of average for the last three months of the year," he wrote.