SHOW LOW — A petition to recall Arizona Gov. Doug Ducey is underway and circulating the state, including Navajo and Apache counties.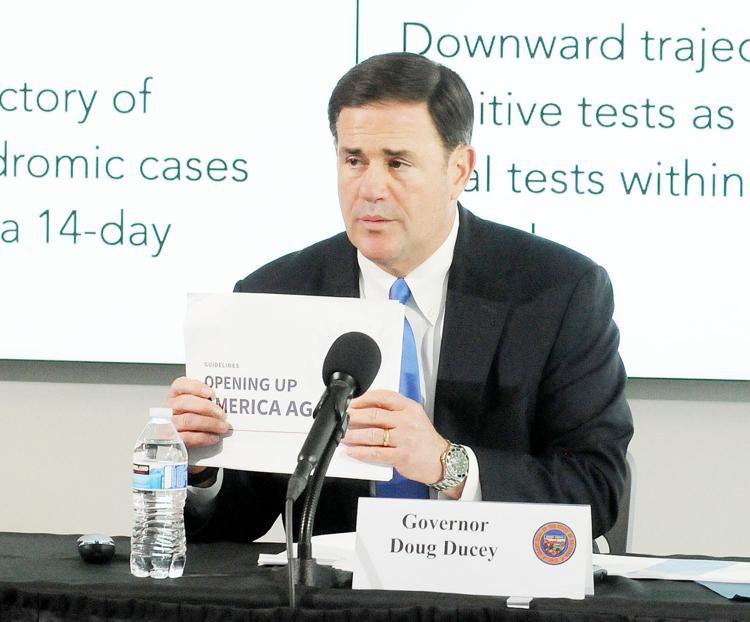 The recall petition was launched May 1 and supporters have only until August 29 to collect the 594,111 signatures required to launch a recall election against Arizona's governor.
The number of signatures required to qualify a recall attempt for the ballot is 25% of the number of votes cast in the last election for that office.
Recall supporters are angry with Ducey over his stay-at-home order due to the coronavirus pandemic, first issued on April 29. They think Ducey has shut down too much of the business sector and caused unnecessary economic damage to many Arizona businesses.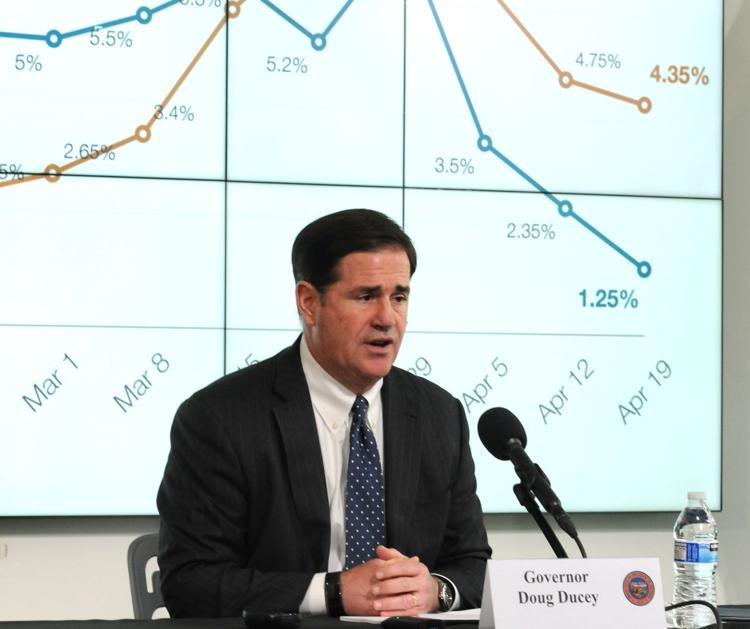 Ducey extended the stay-at-home order through May 15 and then into July and August. The order allowed some retail establishments to reopen but other businesses such as bars, hair salons, and barbers were still prohibited from opening. Ducey cited public health data for the extension.
During a press conference to extend the state's stay-at-home order on April 29, 2020, Ducey said, "We're going to continue to act with both our heads and our hearts on this. We're putting public safety and public health first. We realize that every decision made affects the citizens of Arizona. And we want you to understand why we're making decisions and in what order. Because we're asking a lot of the people of Arizona."
The recall effort is organized by Arizonans for Liberty and the recall petition was filed with the Arizona Secretary of State's office on May 1, by Marko Trickovic, Steve Daniels, and 2020 congressional candidate Josh Barnett (R).
The petition reads: "We the people of the state of Arizona submit this petition to recall Governor Doug Ducey. Governor Ducey has committed a violation of his oath of office A.R.S. 38-231 by issuing an unconstitutional executive order, by unequally enforcing the law on Arizona citizens and businesses, and by failure to address citizens grievances. It is the duty of the citizens of the state of Arizona to hold our elected officials accountable and to protect our God given rights. By signing this petition we publicly withdraw our support for Governor Ducey and demand that he be recalled from office."
In the area, the petition can be signed at the Stanford General Store, located at 4 County Road 8235 in Concho between 9 a.m. and 6 p.m. The store is just off U.S. Highway 60, east of Show Low, at the Y with SR 61.
Store owner Jon Dahl said he normally doesn't speak out on political matters but this time, "the governor is governing too much."
Dahl said Ducey is usually invisible and transparent, "as a governor should be."
He said Ducey changed when the COVID-19 global health emergency started.
"In defense of our governor, he behaved like most other governors in our country. He immediately shut down everything but what he called essential services. Then the shutdown included gatherings, such as churches, and educational institutions that we paid billions of dollars to build in this state. We're still paying taxes on them but during that shutdown the buildings were unused and I think forgotten."
Dahl said Ducey, "should have been more well-rounded is his thinking about his response to the so-called pandemic."
Dahl said the governor focused on shutting things down rather than helping businesses and average citizens.
"My business has been affected. Take three zeros and a couple more numbers on the left and that's what we're losing per month – because our bar has been shut down," Dahl said, explaining the Y Bar has a Class 6 liquor license. "The first time we shut down here at the Y Bar was March 18. We were allowed to open for three weeks and then we had to close again on June 29 — for 30 days."
He said Class 6 and 7 establishments were closed while those with Class 12 and 14 licenses (private clubs and restaurants) remained open throughout the pandemic.
"My most recent motivation for his recall has to do with the way he's handling the bars. Class 6 and 7 are bars that serve food. Our primary reason for having a liquor license is just to serve alcohol. There is so much discrepancy between who is allowed to continue operating these past months and who is required to shut down. We serve as much food and booze as they do – the difference is they have targeted one particular type of license," he said.
Dahl said the governor's restrictions have been very harmful to many businesses in the White Mountains and across the state.
Dahl said at least his business is widely diversified with other products and services. His business will survive because they offer essential services like groceries, a deli, laundry, hardware, automotive, bulk water, fuel and propane.
"That part has not been closed. Thankfully, we have a good customer base that is able to support us in the other departments," Dahl said.
He added he's losing "tens of thousands per month" in gross sales. Also the summer season is key for the success of the Stanford General Store, as sales are slower in winter.
Dahl said the most important thing about Ducey's recall effort is to send a message to the governor.
A recall can be filed against any public officer on any grounds. The recall may not be filed until after the elected official has been in office in his or her first term for at least six months. This six-month limit does not apply to state legislators. In the case of state legislators, a recall petition may commence five days after the start of their first legislative session after their election. In the case of other elected officials, there is no six-month limit for subsequent terms in office.
A recall petition must be filed at the office in which the officer being recalled files for nomination. The petition must contain a general statement explaining the recall, and it may not exceed 200 words. This petition must be signed by the sponsors who swear an oath that all signatures collected will be valid signatures.