RIM COUNTRY — Readers may remember the article I wrote last August about Bernie, our winter-visiting bald eagle, who almost didn't make it back to the Rim Country for his annual winter stay.
Bernie was found in a small village in southwest Montana, lying on the ground, suffering from lead poisoning and taking what could have been his last breaths. But after the quick action of area wildlife rescuers and six weeks of rehabilitation, they released Bernie back into the wild and on his thousand-mile journey again to Payson.
Now, another bald eagle, this time found in our neighboring Apache-Sitgreaves National Forests, is the victim of lead ingestion. And this story does not have the same happy ending.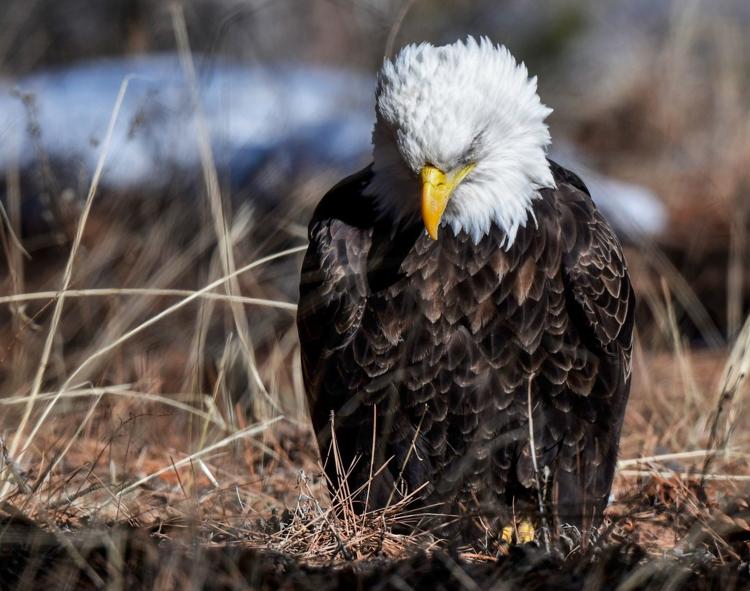 On Jan. 14, my friends Kathey Murphy and Anne James were sloshing along in their vehicle on a muddy and icy Black Canyon Road hoping to photograph wild horses, eagles or elk when they came across a bald eagle. The eagle was standing on the ground in a meadow, motionless, its head down.
"I stopped, and walked toward the bird very, very slowly until I got to within about 30 feet of it. That's when I could hear it making strange noises, and its eyes looked really weird. I didn't dare go any closer, for fear it would take off," said James.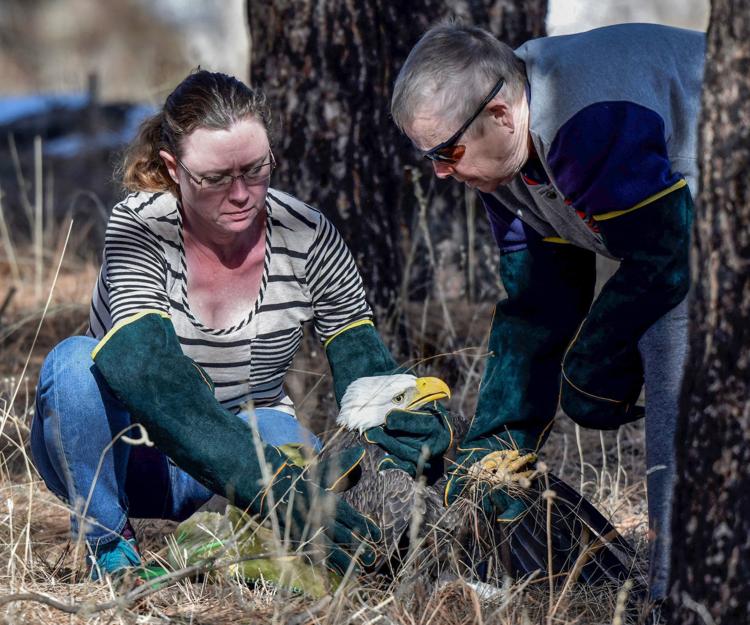 Murphy, waiting anxiously in the vehicle, called Delphia Strickland, Payson's wildlife rescuer, for help.
"I knew we had to act quickly," said Murphy.
Within 45 minutes, Strickland was at the snowy scene. She found that the eagle could not see and was in a dire state. She wrapped the eagle in a blanket, placed it in a cage in the back of her vehicle and took it to the Liberty Wildlife in Phoenix, which is licensed to care for eagles.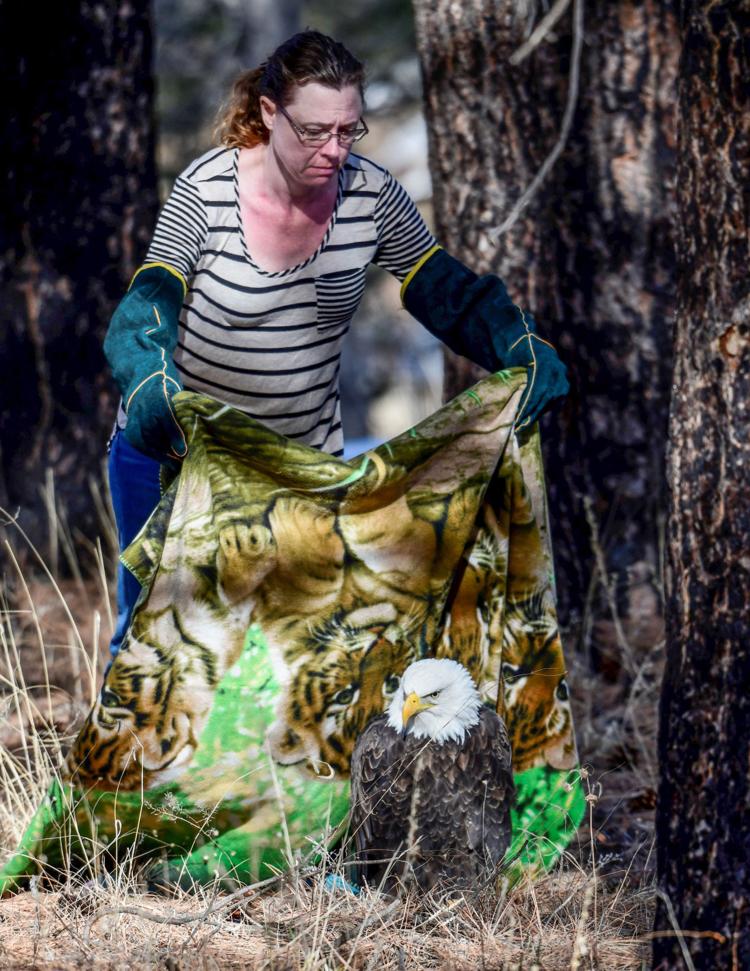 "When we got to Liberty Rescue, the eagle was diagnosed with a high level of lead poisoning and immediately given subcutaneous fluids and started on chelation medication. Eagles and other wildlife usually end up with lead poisoning because they feed on gut piles left behind by hunters who use lead ammunition. All it takes is five pellets worth to kill them," said Strickland.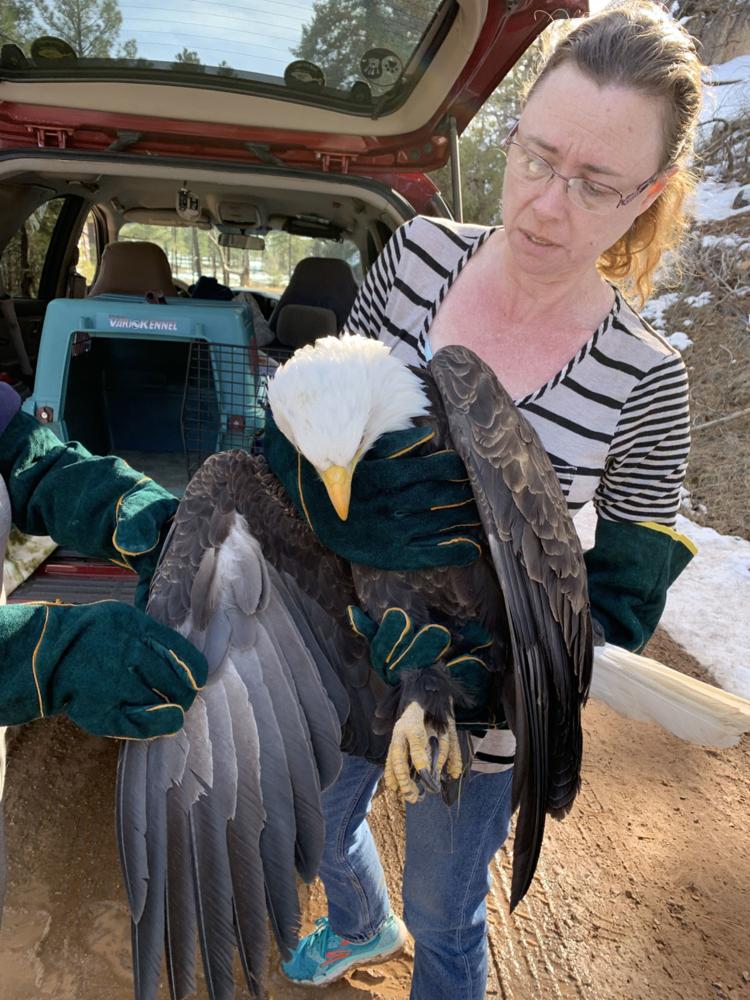 The eagle held on, but died Tuesday morning.
"While there is no way to be certain, the evidence is quite strong that the eagle had been feeding on carcasses of the Heber Wild Horses, which have recently been shot nearby," she said.
(The Independent reached out to the Forest Service for comment about potential lead in horse carcasses, but did not receive a reply.)
"There is a push by wildlife conservation groups and state wildlife agencies to persuade hunters to use non-lead ammunition. Lead bullets fragment widely, and pose a threat not only to scavengers, but also to those who consume the game meat."
Arizona Wild Rescue is a nonprofit. To donate, go to their Facebook page or call them at 623-203-6473, text preferred.