PINETOP-LAKESIDE — With the dissolution of the Advertising and Promotions Committee Nov. 7, Ad and Pro held its final official meeting Nov. 20. With experienced marketing and promotional staff having been hired by the town over the last couple of years the town will assume the duties of Ad and Pro beginning Dec. 7.
Mayor Stephanie Irwin attended the final meeting. "I was able to recognize, Jeanne (Begovac), Ceci (Byrne), Bill (Gibson) and Whitney (Giokaris) at the last town council meeting for their service and all they have done for the Town of Pinetop-Lakeside. I am here to recognize the other members and give them their plaques for serving on the Committee. I appreciate all of the time and insight put into serving on the Committee. During my time on the Council, this has been the best group of Advertising and Promotion committee members and you have done such a good job. We appreciate everything that you have done and the Town will continue with an advisory group and Manager Alba will be reaching out to you to see if you are interested in being a part of the advisory group. Your opinion is valuable so anytime that you have comments, suggestions or questions you can contact any of us."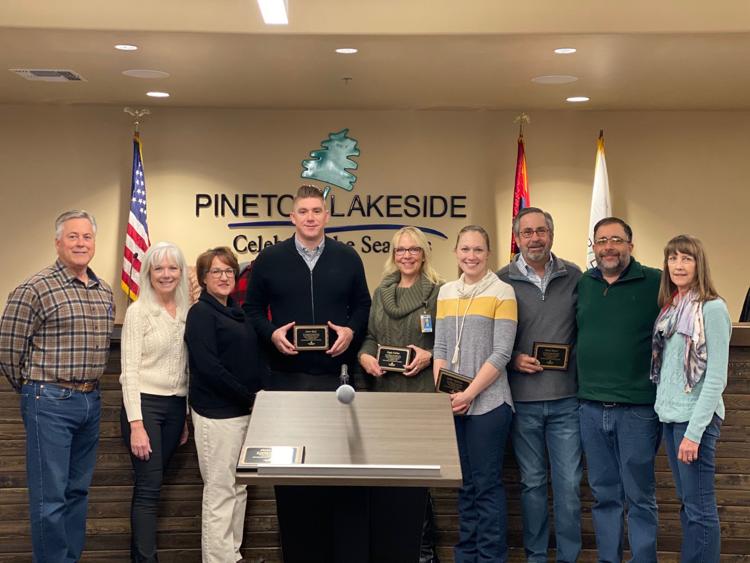 Chuck Teetsel, Kellen Nicholson, Angie Fabian and Simon Rizk were presented recognition plaques; Owen Laluk, also a member, was not present to receive his plaque.
Vice Chair Ceci Byrne gave an update on the current financial standing of the committee. She stated that in 2017 there was $171,000 for the committee to spend; after a bylaws change in 2018 the committee was allowed to spend up to $232,000 per Fiscal Year. She said, "The first year the Committee had a budget of $221,000 and this year a budget of $231,000."
Sam John of Larry John Wright Advertising made requests for $5,000 in advertising funds for Dec. 2019 for video ads, $2,000 for banner/social ads, $500 in contest dollars and an additional $1,000 be added to the remainder of November to promote skiing; all were all approved.
Promotion and advertising updates were presented by Birdman Media, Sunrise Park Resort, White Mountain Nature Center and TRACKS.
Validating the decision for the town to take over the duties of Ad and Pro, Tourism Marketing Coordinator Annie DeRosier reported that 1,487 visitors came into the visitor center over the last five months and the average in October was 8.5 people per day; the busiest days were Monday and Tuesday. Visitors primarily requested information on lakes, maps, events, hiking, fishing, real estate, museums, hotels, restaurants and RV camping. Retail sales equated to $2,230 with coffee cups and t-shirts being the biggest sellers. DeRosier added that businesses can bring in brochures and handouts for distribution to visitors.
Community Services Manager Tony Alba further validated to the committee that the town is capable of assuming Ad and Pro duties. Alba reported that the VIC welcomed 231 guests in October alone and that a part-time Visitor Information Specialist, Susie Anderson, will be covering weekends at the visitor center, allowing DeRosier to work a regular weekday schedule.
Alba said their work with the Arizona Office of Tourism has fostered a positive relationship and Pinetop-Lakeside was recognized in AOT's e-newsletter. The article, "48 hours in Pinetop-Lakeside," featured several local businesses: Whispering Pines Resort, Darbi's Cafe, Pinetop Brewing, Charlie Clark's Steakhouse, The Lion's Den Bar & Grill, The Burly Bear and The Bistro at Annie's.
Another positive Alba reported was that the town reached an agreement with the organizers of Santa's White Mountain Adventure (SWMA) to run a scaled-down operation in the town council chambers this year. With SWMA's change in management, the event was in danger of not returning, but with DeRosier's intervention, SWMA will occur this year at the affordable price of $10 a child and free for two accompanying adults with that child.
Alba said the town won a bid to bring the Vietnam Veterans Memorial Fund's "The Wall That Heals" to Pinetop-Lakeside next November 5-8, 2020 to Mountain Meadow Recreation Complex. Pinetop-Lakeside is the only community in Arizona to host the Wall and one of 35 nationally.
To ensure compliance with Arizona's Public Records Requests regarding the town's social media accounts, Alba said that the town entered into an agreement with Archive Social.
Networking with pilots and others at the Albuquerque International Balloon Fiesta last month, Alba said he returned with some good tips to consider for the White Mountain Hot Air Balloon Festival next summer.
Alba said positive reports have been received by the town from the nine visitors they hosted on Oct. 18-20 through Local First Arizona's "Weekendzona," a program to encourage Arizona residents to vacation in Arizona.
Alba reported that the town's tree lighting ceremony on Dec. 6 and the White Mountains Chili Cookoff are both underway. The Chili Cookoff Feb. 8 has added cooking competitions in several categories — salsa, cornbread and cobbler – to go along with its traditional and home-style chili competition. Summit Healthcare is the cookoff sponsor.
Free Christmas lights are available to businesses located in the town limits of Pinetop-Lakeside. Qualifying businesses can pick up four boxes of lights, provided they display them at their business location through Jan. 31, 2020.
The town is also sponsoring a business decorating contest for Christmas, offering with three cash prizes. Judging will take place Dec. 11 with the winners to be announced Dec. 12.
Recognizing the work the committee has done on behalf of the town, Alba ensured members that the town will continue to work on the branding and communications messages. He also noted that the website is ready for its next step. He announced that quarterly advisory meetings have already been set for 2020 for Feb.19, May 20, Aug. 19, and Nov. 18 and said he hopes all committee members will be part of that group going forward.