CONCHO — Billie Bell has arrived many times in her life at different plateaus. She's leveled off, then had to jump onto another stage. Her best feature is her ability to say "yes," to a job, then learn how to do it.
She is an embraceable survivor of early struggles. Her family teetered on the brink of homelessness and was officially homeless she says, "three days during her childhood." In refreshing candor, Bell speaks from a shameless place, which is exactly what we need.
Now Billie Bell is the lady who tends to the bills, contracts, bidding for the building upgrades, and employee salaries with all the fine tuning that each project needs as the business manager at the Concho Elementary School (CES).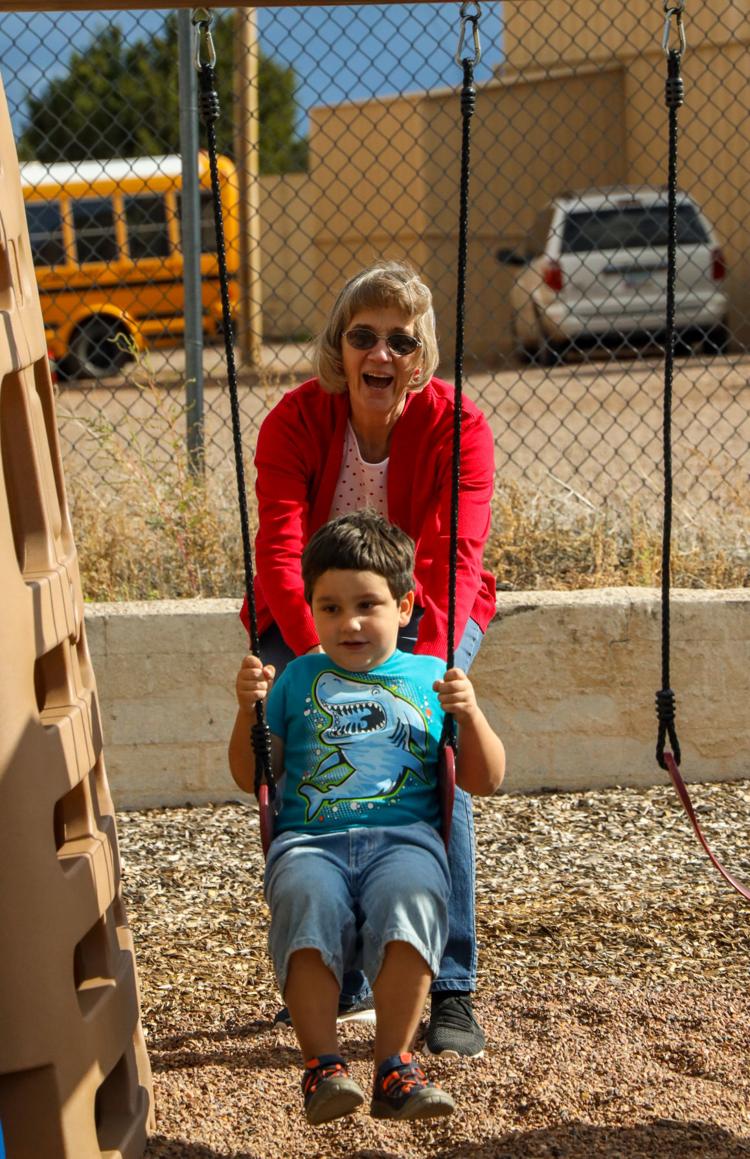 It's the small, can-do school that fits gently into the landscape of the White Mountains. She's behind her desk or walking the halls to find someone; papers in hand, focused on solving the details that go with balancing the annual school that figures in the millions. She's on a constant mission of securing what is best for the young lives that she quietly holds in her spreadsheets. She cherishes children.
The early life challenges she experienced also surface in the children she sees on a daily basis. The past prepared her for unimaginable strength and the powerful pull to care for others, especially children, with not only food insecurities, but educational needs as well.
Her demeanor is soft, her voice gentle, yet her eyes see and watch from her past life with the fire of a meteor soaring through the atmosphere knowing where it will land, how, and when. Early chaos in her home life was not an indicator of how her world would be as an adult.
"My father had a gambling problem," she said. The family moved around a lot. The important things in her life were kept in a treasure box, she took with her, and still has it today.
"If it didn't fit in the box," I couldn't take it with me," she said, "except for clothes."
"My treasure box was a bit bigger than a shoe box. I learned how to organize. I had things like ribbons I won at school; special school things. I still have that box. It's a small stationary size, and one of the things I still have is my patch from the eighth grade track team for the Panthers at the Madison Park School in Phoenix."
"The core reason for moving a lot was my father would wear out his welcome. One time there were rumors we left because the 'local boss' was after him." Her education was in pieces. "Normal for us was moving a lot. By the time I graduated high school I had been in 26 schools. It was very hard in high school. I was very fortunate in 1970. We stayed in Glendale for 2 1/2 years. My parents were getting ready to move again and I said I am not going. I was engaged and going to get married."
Growing up, she discovered "I was good with numbers."
Despite tough beginnings Bell earned a bachelor of science business management from the University of Phoenix and a master of education in educational leadership, Grand Canyon University, in 2016.
She doesn't need to be coaxed to remember her previous jobs. They interspersed with family needs and career development.
One experience in particular was when she quit a job because she was accused of usurping her boss at the time. She put the keys on the table and left. She wasn't going to let this "bad boss" assault her character.
She evolved with her first years in schools as a secretary in transportation and food service in Cashion, to the business manager at the Concho Elementary School. Reflectively, the in between experiences were the foundation she needed to fill the position at CES.
"Right now, we're working on the annual budget that entails making sure everything is in the right place. We do that before we purchase anything. We … have capitol money put aside in case we need a bus, or a roof. I try very hard to keep emergency money. This year we had a lot of kids that needed one-on-one help, so we are hiring temporary staff for that," she says.
Bell has been revving up and preparing to run in 2020 for the Apache County School Superintendent position. Her clipboard is filling up with signatures in support of this new venture.
Her resilience came as a bi-product of perhaps the contents of the treasure box that she held on her lap during those moves. She learned that even with the tough encounters in her life, she, Billie Dorthea (Prentice) Bell, along with her treasure box, could be somebody.
Kareena Maxwell lives in Concho with her husband in a WWII styled Quonset hut. She's a ten-time award winning author of seven books as well as the novel "The Birds of Concho."