It's got the weather man freaked out.
An "astonishing" massive ridge of high pressure has been camped over the western US for months — leading the record heat, cancelling the monsoon, spawning wild megafire and flummoxing the US Weather Service.
And there's no end in sight.
The high pressure ridge has turned the Jetstream into a blowtorch, blasting hot, dry air into the west — fueling apocalyptic wildfires all along the west cost and prompted the Tonto National Forest to reimpose fire restrictions in a month where they'd normally hasten to set prescribed fires.
"The actual pattern itself is not that unusual for September and is actually somewhat common," said U.S. Weather Service Meteorologist Mark O'Malley. "However, the prolonged nature of how long these features have remained in place has been unusual. We've never had this kind of measurement in September," said O'Malley.
Essentially, October's dominated by a weather pattern that's usually found in May and June — as Show Low heads into the week with a forecast calling for high temperatures in the 70s and 80s — about 10 degrees above normal.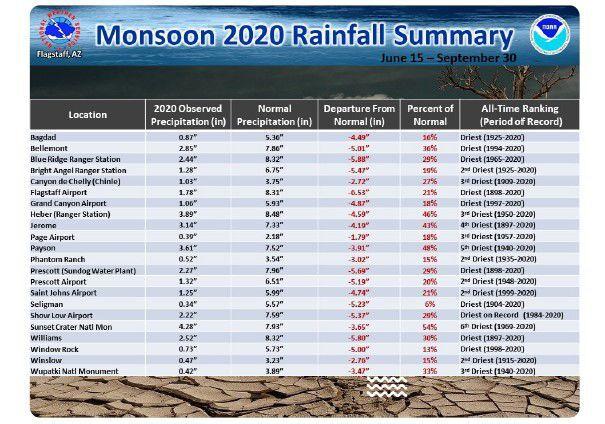 During the monsoon, Show Low got just 2.2 inches — just 29% of normal. The summer ranks as the driest on record for the Airport recording station — which dates back to just 1984.
Flagstaff got 1.78 inches — 21% of normal and the driest summer since 1898.
St. Johns had just 1.25 inches, about 21 % of normal. Meanwhile Winslow had half an inch, 15% of normal and Window Rock had .0.73 of an inch — about 14% of normal.
The order prohibits campfires, smoking, shooting and other activities at least through Oct. 31.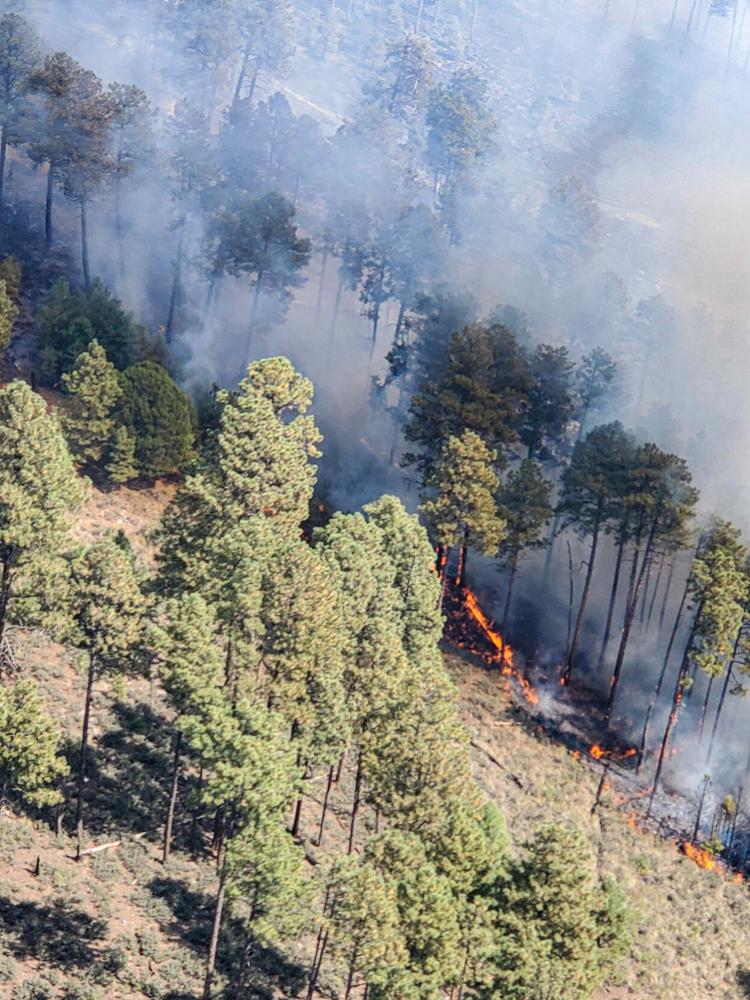 "This seems very odd for October. We are seeing values that are normally seen in mid-June and all values continue to trend upward," said Gary Strickland, Forest Fire Management Officer. "Wildfire occurrence is rising in reaction to receptive fuels. Firefighters are currently engaged in fire suppression operations on the Cow Canyon Fire and the Jake Springs Fire and continue to respond to an increase of abandoned campfires and new starts on the forest. We are asking the public for their cooperation during this time to keep our communities safe."
"We appreciate the public's cooperation during this unprecedented season of extreme fire danger," said Acting Forest Supervisor Tom Torres. "The Tonto National Forest is still experiencing an active wildfire season. Firefighters are currently engaged in fire suppression operations on the Sears Fire and crews continue to respond to new starts on the forest."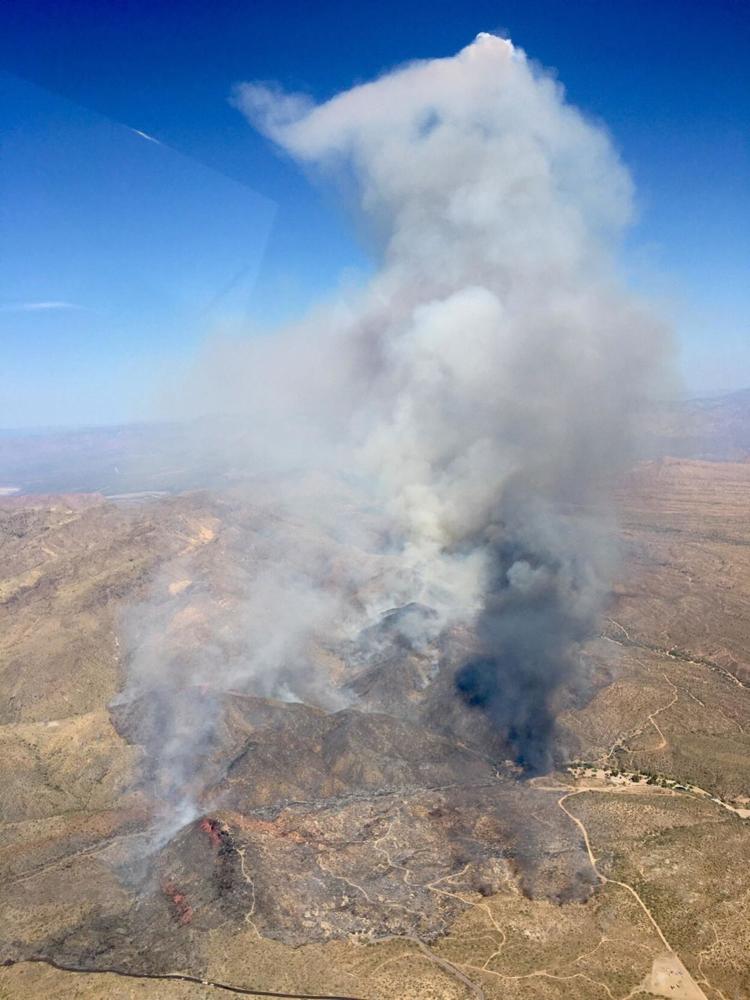 The Sears Fire near Cave Creek consumed 14,500 acres and was just 74 % contained as of Oct. 7. Flames forced evacuations and destroyed at least three homes while also cutting off access to Bartlett Lake.
Crews are also monitoring the 19,000-acre Cow Fire near the town of Blue, near the Arizona-New Mexico border. Started by lightning on Aug. 18, the fire continues to burn in rugged terrain — with only 13 firefighters to spare monitoring the perimeter. The fire's considered just 12% contained.
The 86-acre Jake Springs Fire is burning in the Springerville Ranger District. The 60 firefighters as of Thursday had 70% containment, with the help of a dozer and two helicopters working in heavy loads of bone dry fuel. Some was visible from Vernon, Greer, Eager, Springerville and Hidden Meadows.
All of this record-breaking fire activity as well as the hottest Arizona summer on record and this year's "nonsoon" stems from that same unprecedented ridge of high pressure.
O'Malley said the pressure of 500 millibars was recorded at 6 kilometers above the surface – a dense high pressure ridge in May, June or July — but "astonishing" in September and October.
The fire season weather straight through the monsoon and into the fall has fueled the megafires in California, Oregon and Washington that have so far burned more than 6 million acres – roughly double the worst fire season on record.
In Arizona, fire crews and last-minute wind and weather shifts kept several major fires from spinning out of control, although Tonto Basin faced evacuation orders twice and Pine at one point when onto a pre-evacuation alert.
All of Arizona remains in drought, with all of Gila County and most of both Apache and Navajo counties in a state of "extreme drought." Most of Pinal County remains in "exceptional" drought.
Climate scientists predict that the current conditions may not rate as so "exceptional" in coming decades, thanks to a projected steady rise in average temperatures. Some climate models suggest Arizona's vital monsoon may all but dry up in the decades ahead. Other models predict the monsoon will simply grow more fickle, with more "nonsoon" years along alternating with years that produce unusually violent storms and flooding. Most predictions agree that the fire season will lengthen. The high-danger months have already expanded from June into May on one side and on into July on the other — even in years when we do get a decent monsoon.
Droughts will also likely grow more frequent and severe, according to many researchers. Already, the 19 years from 2000 to 2018 ranked as the worst megadrought since the 1500s — and might rank as the worst two-decade drought in the past 1,200 years.
In Arizona, all 10 of the largest fires on record have occurred since 2002. In California, nine of the 10 largest fires have occurred since 2003.
Active Arizona Fires in Northern Arizona:
• Cow Canyon is more than 19,000 acres near Alpine was caused by lightning and as of Thursday was 18% contained.
• Jake Springs Fire, on Thursday was 86 acres. The fire started on Oct. 4 near Springerville and is 30% contained. The cause is under investigation.
• Griffin Fire, 62,000 acres was started by lighting 16 miles from Globe on Aug. 17 and is 100% contained.
• Medicine Fire, 8,900 acres, was started by lightning. It is 100% contained 25 miles from Globe.
• Alder Fire, 633 acres, was started by lighting 16 miles north of San Carlos on Sept. 4. It was close to the 19,000-acre Rockhouse Fire which was started by anther lighting strike on Aug. 21. Both are fully contained.
• Lofer Fire, 1,300 acres, was started by lighting on Aug. 18 15 miles east of Whiteriver on the Fort Apache Reservation and is fully contained.
• Salt Fire, 22,000 acres, was started by lightning on Aug. 17 two miles southeast of the Highway 188 and 288 junction and is fully contained.