HOLBROOK—Taylor resident Joey Fish, 19, was sentenced on Tuesday in the Navajo County Superior Court to two years of misdemeanor probation, a $915 fine and 30 days in the county jail "deferred," meaning if he complies with the terms of his probation, he won't have to do any time at all. Fish has no prior convictions and has a job.
On July 1, a jury found Fish not guilty of two counts of kidnapping with the "intent to inflict a sexual offense," and two counts of sexual abuse.
Instead, the jury found him guilty of two lesser counts of unlawful imprisonment, which can be either a Class 6 felony (the least serious of any felony) or Class 1 misdemeanor, (see below). Fish was indicted by a Navajo County Grand Jury on November 28, 2017, on the four charges, all concerning an incident in the boy's locker room at Snowflake High School on November 20, 2017. Fish had held down a younger boy and groped his genitals — twice.
The sentencing began a little late, as Judge Dale Neilson worked through that day's docket. Once it started, it was contentious. Although the jury flat out found no sexual motive to Fish's actions, Prosecutor Robert Edwards wouldn't let it go. First he wanted the court to designate the two guilty verdicts as felonies. The law says that unlawful imprisonment is a felony if the perpetrator keeps restraining the victim and doesn't voluntarily release the victim to a safe place before the arrest.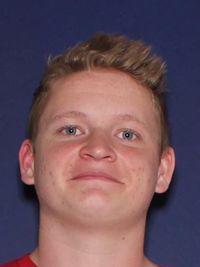 The judge noted that the sworn testimony at trial showed Fish had indeed voluntarily released the victim to a safe place (the boys' high school locker room) before his arrest.
Not really, argued Edwards; Fish, he claimed, released the victim only when Fish got tired of doing what he was doing and only when he found out that a coach was on the way to break up the meleé. Besides, Edwards argued, the locker room wasn't a safe place because Fish was in it.
Judge Neilson wasn't buying it. Whatever the reason for the release, the judge reasoned, Fish voluntarily did so, and of course a boy's high school locker room in an occupied school is a safe place. Neilson designated both crimes as misdemeanors.
Then Edwards kept hammering about the sexual nature of the event, citing a "psycho-sexual evaluation" Fish went through after the verdict in anticipation of being sentenced. Although Fish had told his parents that his actions were merely locker room horseplay (Edwards played portions of the parents' recorded testimony from the trial), Fish has told the psycho-sexual evaluator something different, Edwards said. The prosecutor did not ask for prison time (prison is not available in misdemeanor cases) but he did ask for a sentence of at least 60 to 90 days in the county jail and asked the judge to require Fish to register as a sex offender.
That's when things got a little weird. Defense Attorney Bruce Griffin seemed exasperated. He noted that this isn't a sex case; that the jury explicitly found that it wasn't a sex case, so Fish is not required to register as a sex offender. Edwards then implied that Griffin should mind his professional ethics because the law requires registration and Griffin is misleading the court by making things up. "Never have, never will," retorted Griffin. Edwards then proceeded to read the sex offender registration statute which seemed to support his argument.
Neilson ordered both parties to "brief it," meaning that the lawyers will prepare written arguments backed up by specific legal authority supporting their respective positions.
The judge then sentenced Fish to two years probation with the terms including having no contact with the victim, a fine of $915, $65 monthly probation fee (Fish said he could make payments of $100 per month) and 30 days in jail which Fish will not have to serve if by February 2020 he is compliant with his probation.
Regarding the sex offender registration, if the prosecutor is correct, the judge may amend the sentence with that term included.