School has resumed and been in session for almost a month. It's in-class for some districts and online for others. The third model adopted by some districts is a blend of in-class and online, depending on the day of the week.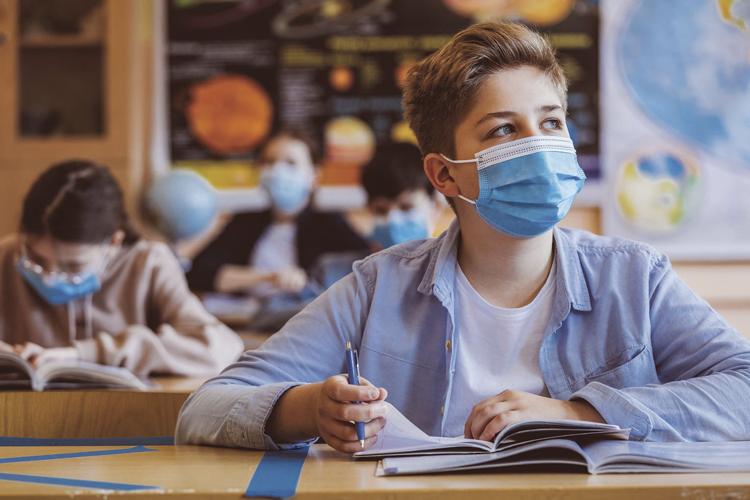 Whichever model a school utilizes, the key word seems to be "flexible." Here is a brief update of White Mountain School Districts:
BLUE RIDGE USD – The district, as of Sept. 16, resumed their Phase II hybrid model of learning. This is where students attend two days per week in person for face-to-face instruction and they attend three days per week online.
Blue Ridge schools had been online only until now. See your Friday, Sept. 18 edition of the Independent for an update, or visit the school's website at www.brusd.org. Click on "District News" and select COVID Update - Parent/Student Expectations, District Procedures/Protocols.
CONCHO ELEMENTARY USD — The school continues with a distance learning support model which is in line with the state guidelines and Gov. Ducey's executive orders. Students having difficulty with distance learning can obtain in-person assistance on campus. The district will re-evaluate the distance learning format for the second quarter. They are practicing social distancing, mask wearing and other state guidelines.
GEORGE WASHINGTON ACADEMY — School began distance learning on Aug. 4 and incorporated in-class learning on Aug. 17. Parents and families can choose the model that is best for them. If families find either option is not working for them, they have the opportunity to change after the first quarter has ended.
"The measures we are taking to protect our students and staff are the following," stated Principal Beth Kulish in an email to the Independent:
Having the students wear face coverings where 6 feet of physical distancing cannot be maintained, having tables in the lunchroom spread out, and encouraging physical distancing throughout the day.
Implemented staggered dismissal times in order to keep the capacity down in the gym during dismissal time.
Purchased face shields for all of our staff and students to help promote this guideline.
Sanitizing the classrooms after each core subject block and then deep cleaning after school.
Allowed students to stay in the Distance Learning model if they do not feel safe coming to school. One example of this is having Zoom sessions with the students to present the lesson.
"I personally teach a 3rd and 4th grade DL group, and have received feedback from the parents, that they really appreciate the opportunity for their child to still learn without physically being on campus," said Kulish.
Learning descriptions, mitigation plans and the face- covering plan can be found at georgewashingtonacademy.org. Click on Reopening Plan.
HEBER/OVERGAARD USD — School began online Aug. 5 and transitioned to face-to- face learning Aug. 17. The website includes teacher, parent and student responsibilities (by campus) to help prevent the the spread of COVID-19. Full-time digital learning options are also available. Visit https://www.heberovergaardschools.org.
LEXINGTON LIFE ACADEMY – In-person learning began August 19. Families have an array of educational opportunities. "The excitement of the students who are so happy to be in school with their peers and Lexington staff resounds throughout the school," said director Mary Kline.
MOUNTAIN CHRISTIAN SCHOOL – School opened Aug. 17 with in-person classes. Remote learning options are available by calling 928-537-1050. For additional information, visit https://mcsaz.org/ or follow them on Facebook.
NORTHERN AZ ACADEMY (TAYLOR) — School began Aug. 17 with multiple learning options including face-to-face daily attendance, hybrid attendance with two days on campus and three days distance learning, or online only learning. To view the online distance learning plan or related reopening policies, visit https://naacharter.org/guardian-resources.
ROUND VALLEY USD – In-person learning began Aug. 17 but options for online learning are still available to parents and families. A brief video is available that details the online learning curriculum through Engifunity at www.elks.net/important-enrollment-information/ and youtu.be/PYKgNPnSpP8. Also call (928) 333-6580 for information.
SEQUOIA VILLAGE SCHOOL – In-person classes began Aug. 17. Students are also able to continue working from home with an online learning model. "Things have gone really well and it's so good to have students on campus," said Principal Tony Rhinehart. "So far, students and staff have settled into the routine of wearing masks and following safety guidelines. Instruction is back to almost normal. Our parents have been so supportive positive during the transition." (SVS is an EdKey School like George Washington Academy.) Visit edkey.org/index.jsp for more information or call 928-537-1208 for the SVS campus.
ST. ANTHONY'S CATHOLIC SCHOOL– Classes began in-person Aug. 17. The school will continue to follow state guidelines for social distancing and all COVID-19 precautions. Virtual learning is also available based on student/family needs. "Everything is going well overall," said Principal Bryan Yorkshire. "Sometimes there are technical glitches like the internet goes out. And, it's a challenge to adapt to having kids learn in-person and virtually." Visit stantschool.org/ or call 928-537-4497.
ST. JOHNS USD – In person classes resumed Aug. 17 and online learning options continue to be available for those who do not feel comfortable returning to the classroom. This model is called Personalized Learning Plan and provides students with learning that covers all of the state standards for their grade level. Visit: sites.google.com/staff.sjusd.net/sjusdcovid-19/distance-learning.
VERNON ELEMENTARY USD – School opened Aug. 6 for online distance learning and in-person classes began Aug. 17. While on campus, all VESD staff and students must wear a mask, practice hand washing, and participate in social and physical distancing measures implemented to reduce the spread of the COVID virus. Those demonstrating medical restrictions and young children under 5 years old may be exempt from mask-wearing. For more info visit https://www.vernon.k12.az.us/ or call 928-537-5463.
WHITERIVER USD – In person learning began Aug. 24. The Return to Learning plan for the district is found at: /www.wusd.us/page/open/4800/0/WUSD%20DLP%208-12-2020.pdf, or call 928-358-5800 for more information.
Visit your school's website for more information and updates about on-campus protocols relating to COVID-19.