ARIZONA — Decades of research keeps coming to the same conclusion: Great teachers who connect with kids make a lasting difference. Bored, burned-out teachers set them back.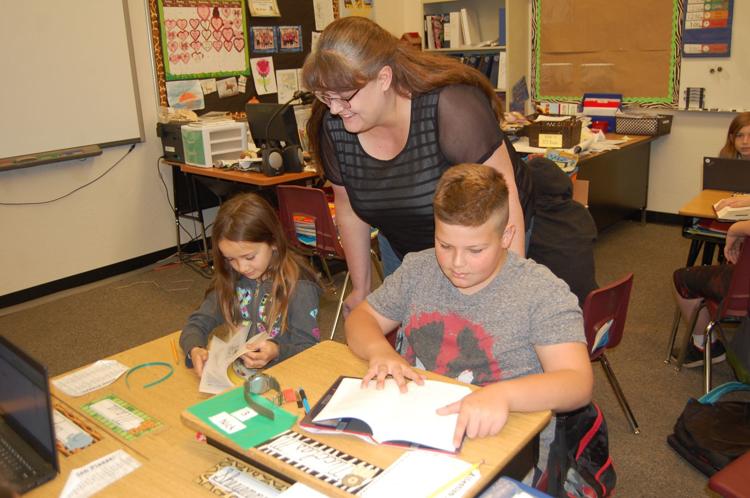 Granted, parents and family have the biggest impact. One landmark study following hundreds of thousands of students in a galaxy of school districts concluded family-based factors like poverty, parental education, divorce, family structure and background have four to eight times as much influence on student achievement as anything the schools do.
Studies also show the teacher has about three times the impact of any other school-based factor, including administration, facilities and curriculum.
Decades of research show a "highly effective" teacher can have a huge impact on a student's life.
Arizona continues to struggle with a statewide teacher shortage, linked to the lowest salaries and largest class sizes in the country. Thousands of teaching jobs remain unfilled statewide, with many districts filling in with teachers without formal credentials or teaching outside their area of training.
And that could prove costly in the long run.
Landmark studies have shown that a great teacher can increase the test scores, high school graduation rates, college attendance rates and even lifetime income of the students.
For instance, researchers from Stanford University linked teacher quality and student achievement in a study that spanned decades. They compared the progress of students who had a "great" teacher – one in the 84th percentile – with the students of the least effective teachers – those ranking in the 16th percentile.
Turns out, a group of 30 students with a "great" teacher will earn $400,000 more over their lifetime than students with an "average" teacher – rating in the 50th percentile. And students of an "ineffective" teacher will earn $400,000 less in their lifetimes than students with that "average" teacher, according to a summary of that research by Eric Hanushek, one of the researchers (http://hanushek.stanford.edu/publications/valuing-teachers-how-much-good-teacher-worth).
Hanushek noted that students in Finland consistently outperform students in the US – thanks to the effect of making teaching a high-status profession that draws the top university students. The difference in student achievement between Finland and the US knocks about $1 trillion annually off the US gross domestic product, he concluded.
Effective teachers have a "spillover" effect because their students do better in the next class they take, which means great teachers have a 30 percent large effect than earlier studies suggested. The study centered on data on 585,000 students and their teachers in New York City public schools between 1990 and 2010.
Teacher effectiveness has about three times as much impact on student scores as any other school factor, including services, facilities and school leadership. On-the-job performance can predict teacher effectiveness, but not age, experience and credentials. Effective teachers remain effective even when they change schools, regardless of school demographics. (Source: A research summary by David Evans, a researcher at the Pardee RAND Graduate School.)
And while experience matters, it's not everything. An analysis of 10 studies found teacher quality counts for two or three times as much as teacher experience when it comes to student learning.
Teachers get better during their first several years in the classroom, but then the improvements level off. A 2015 study found that the $18,000 districts annually spend on professional development has little impact on student test scores. (Source: Education Next research summary by Dan Goldhaber, director of the National Center for Education Data and Research at the University of Washington.)
So, we should reward the best teachers and fire the weakest teachers. Right?
That's what the Bill and Melinda Gates Foundation figured, based on decades of research. So the Foundation invested $575 million in a six-year experiment in three Eastern school districts and four charter school organizations. The schools set up a system to intensively observe and rate teachers. Schools financially rewarded the best teachers and fired the worst teachers.
The researchers compared those schools to others not in the program.
The result? No difference.
The researchers were at a loss to explain the findings. Perhaps the emphasis on rewarding some teachers and punishing others had "major negative consequences" on morale, teamwork and the atmosphere and culture of the school. Perhaps changes in state law, the effect of faltering early childhood education programs, the school learning environment, family support and other factors swamped the benefits of the program – at least in the short term.
And one recent landmark study focused on rewarding the most effective teachers and getting rid of the least effective teachers had relatively little impact on tests scores.
Harvard Education professor and researcher Susan Moore Johnson said her studies of six highly-rated schools demonstrated that great teachers do make a difference, but so does a school culture that involves teamwork and collaboration when it comes to hiring teachers, updating curriculum, evaluation and discipline. The most successful schools involve teachers in hiring as well as improving the skills of other teachers.
Peter Aleshire covers county government and other topics for the Independent. He is the former editor of the Payson Roundup. Reach him at paleshire@payson.com